Ecommerce Best Practices: 15 Ideas to Improve Your Sales
40696 views
11 min
May 19, 2022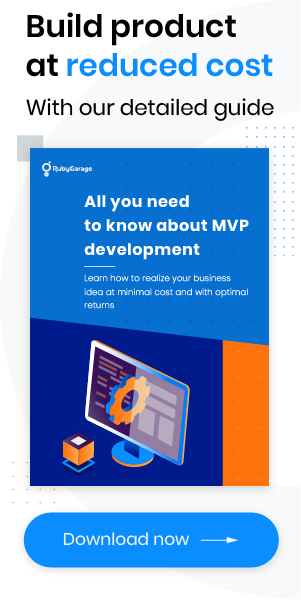 It's easy to distinguish a mediocre online store from a quality one, but what makes ecommerce stores successful? How do you create value for online shoppers?
In this article, we highlight ecommerce best practices that help keep your customers happy and improve online sales. Find out how to optimize your ecommerce UI, maximize shopping comfort, personalize content, and nurture customer loyalty.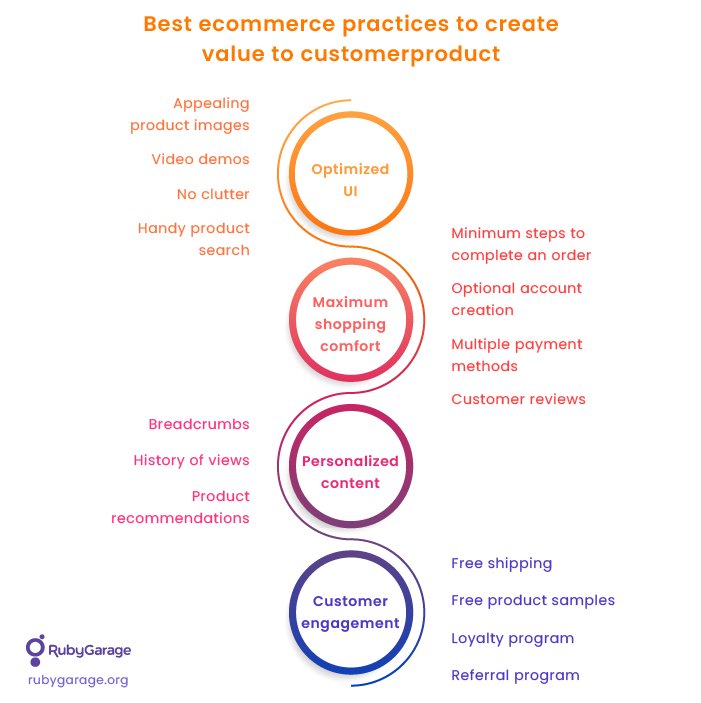 Optimize the UI
Use appealing product images
A picture is worth a thousand words, as humans perceive 80% of information through their eyes. Marketing specialists agree that images are powerful tools to engage viewers. According to internet marketologist Jeff Bullas, 67% of online shoppers believe that images of a product are more important than customer reviews or product information. That's why it's important to choose images that will grab your customers' attention.
One of the latest ecommerce trends is using 360-degree product photos. This feature makes sense if you're selling consumer goods (clothes, accessories, electronics) or properties (real estate, cars).
Video product demos
According to a recent report from Wyzowl, 81% of marketers say videos help directly increase sales, and 88% of consumers were convinced to buy a product or service because of a brand's video. From this data, we can conclude that video demos significantly impact customers' buying decisions.
The world-famous shoe store Zappos was one of the first companies to share video reviews of their goods. Back in 2009, Zappos proved that this was a winning strategy: Zappos-produced review videos brought anywhere from a 6% to 30% increase in sales. These videos feature Zappos staff, who work directly with the products being sold, instead of hired actors. After all, who can speak better about the goods you're selling than the people who interact with them every day?
Besides demonstrating the product, videos can effectively show off a product's packaging and any additional components or accessories. On the Michael Kors website, customers can not only view wristwatches from all angles but can see the packaging and included accessories. This is an effective way to increase sales, since people often buy wristwatches as a gift and thus want to see what they will look like when they come out of the box.
No clutter
Simple designs are good because they don't distract users from finding a required product and making a purchase. Avoid cluttering your designs with fancy graphics, dynamic interactions, big menus, and anything else that diverts users away from performing target actions.
As a seller, you want visitors to complete certain actions. For instance, search for products, view their descriptions, add them to the cart, and, finally, check out. Make these actions as easy as possible for your visitors and do not hide calls to action.
Efficient product search
While any modern ecommerce website has a search bar, not all offer comfortable and quick product search mechanics. Let users easily filter and sort search results according to their preferences instead of scrolling through random suggestions.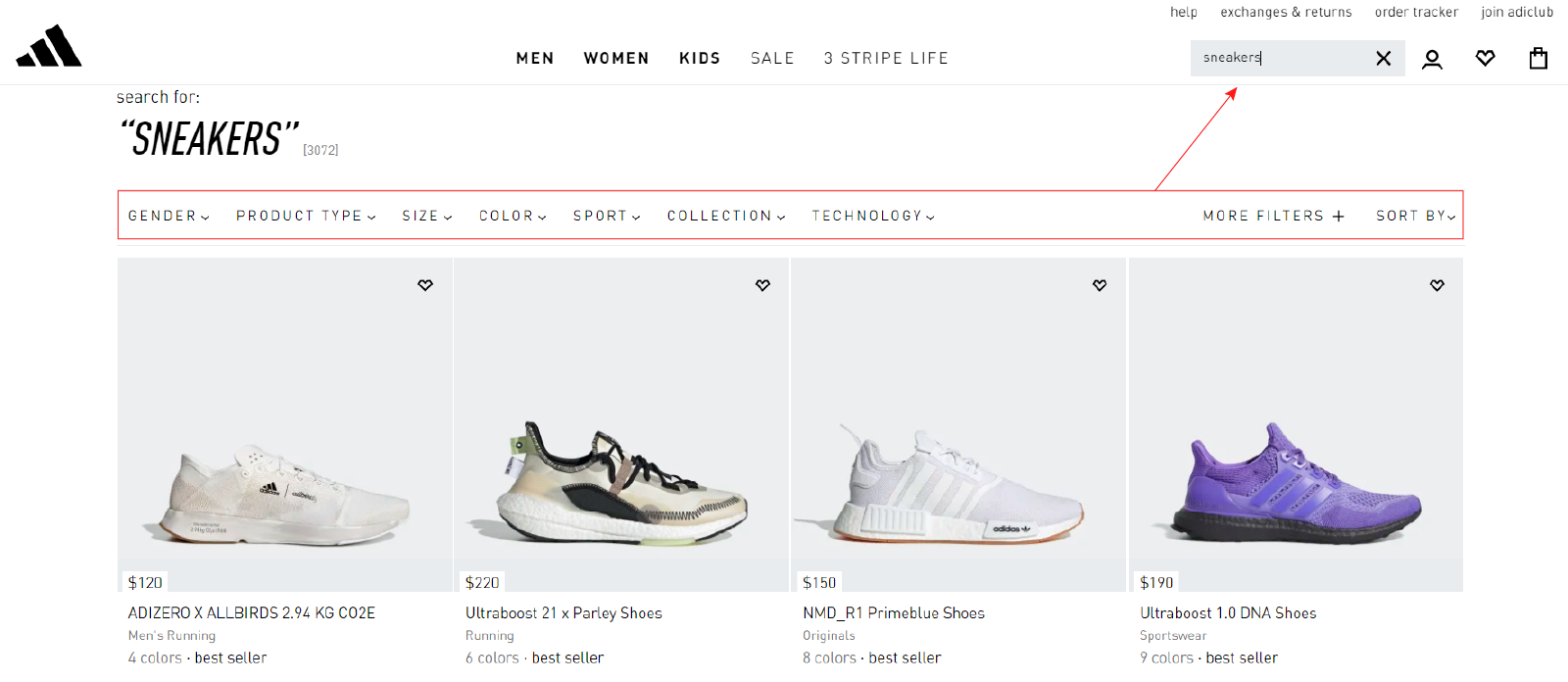 See how Adidas, a company that offers many clothes and footwear options, lets users easily find a product by setting specific search parameters at once.
Filters help website visitors find products in a matter of seconds. To provide the best shopping experience, optimize the search function for the types of goods and services you offer. For instance, if you sell clothing and shoes, consider filtering by brand, size, color, and occasion.
Maximize shopping comfort
Minimize steps to complete an order
Focus on letting users make a purchase without much effort. A shopper needs to be able to order a product even if they don't have an account. It would be useful to have:
A purchase button on every product page
A shopping cart icon in the website's header that leads to checkout
A quick checkout option that leads right to a checkout process that has payment and delivery methods on the same page
Require minimal information to complete an order to decrease the cart abandonment rate. On average, 70 of 100 potential customers do not complete checkout according to a Baymard Institute report.
Make account creation optional
The same report from Baymard Institute shows that the second most popular reason for checkout abandonment is an account creation requirement. Shoppers do not want to waste their time on registering and filling out forms. They just want to quickly make a purchase.
You can require users to make an account to access extra features, such as saving product favorites, writing reviews, joining the loyalty program, and receiving specials. However, it must not be a requirement to complete an order.
Offer multiple payment options
Customer have different payment method preferables. Some prefer paying by credit card, while most use Apple Pay, Google Pay, or PayPal. Having no ability to pay using the preferred payment method is a popular reason why customers skip completing orders.
The choice of supported payment methods depends on location. The Global Payments Report states that 49% of consumers use digital/mobile wallets like Google Pay or Apple Pay, 21% use credit cards and 21% pay by debit cards.
Enable customer reviews
Let's face it: people's opinions drive sales. A PowerReviews survey shows that in 2021, 99.9% of consumers consulted reviews when shopping online, and 98% said reviews are essential to making a purchase. Offering options to leave a review, rate a product, and post product photos are ecommerce best practices that build trust and loyalty. Also, it's a good idea to allow reviews to be immediately posted to your website without moderation. This shows your customers that you're honest with your buyers. And don't be afraid of negative comments. They can also build your reputation by demonstrating that your business is transparent.
Personalize content
The power of breadcrumbs
Breadcrumbs show viewers the path from a website's main page to the current page. Why are breadcrumbs important? First, breadcrumbs allow users to go back to the landing page with a single click. Second, breadcrumbs are proven to reduce the bounce rate. Breadcrumbs make it easy to go back to main product categories and easily move through large catalogs.
On the H&M website, breadcrumbs are shown as a navigation path from the main page to the current one: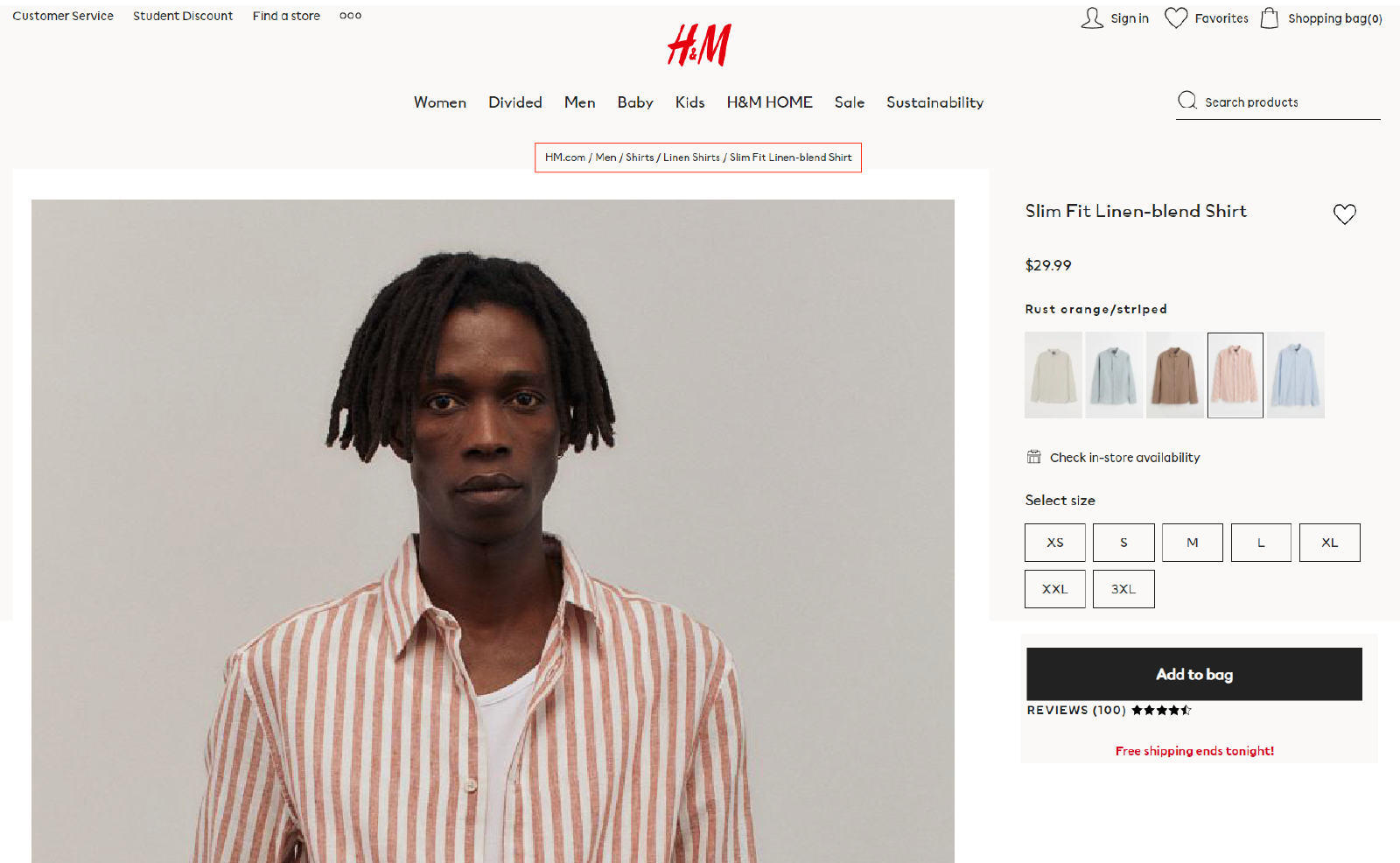 Enable view history
Displaying recently viewed products helps users see their choices and quickly make a purchase decision. Also, a user can easily get back to items they reviewed without searching again.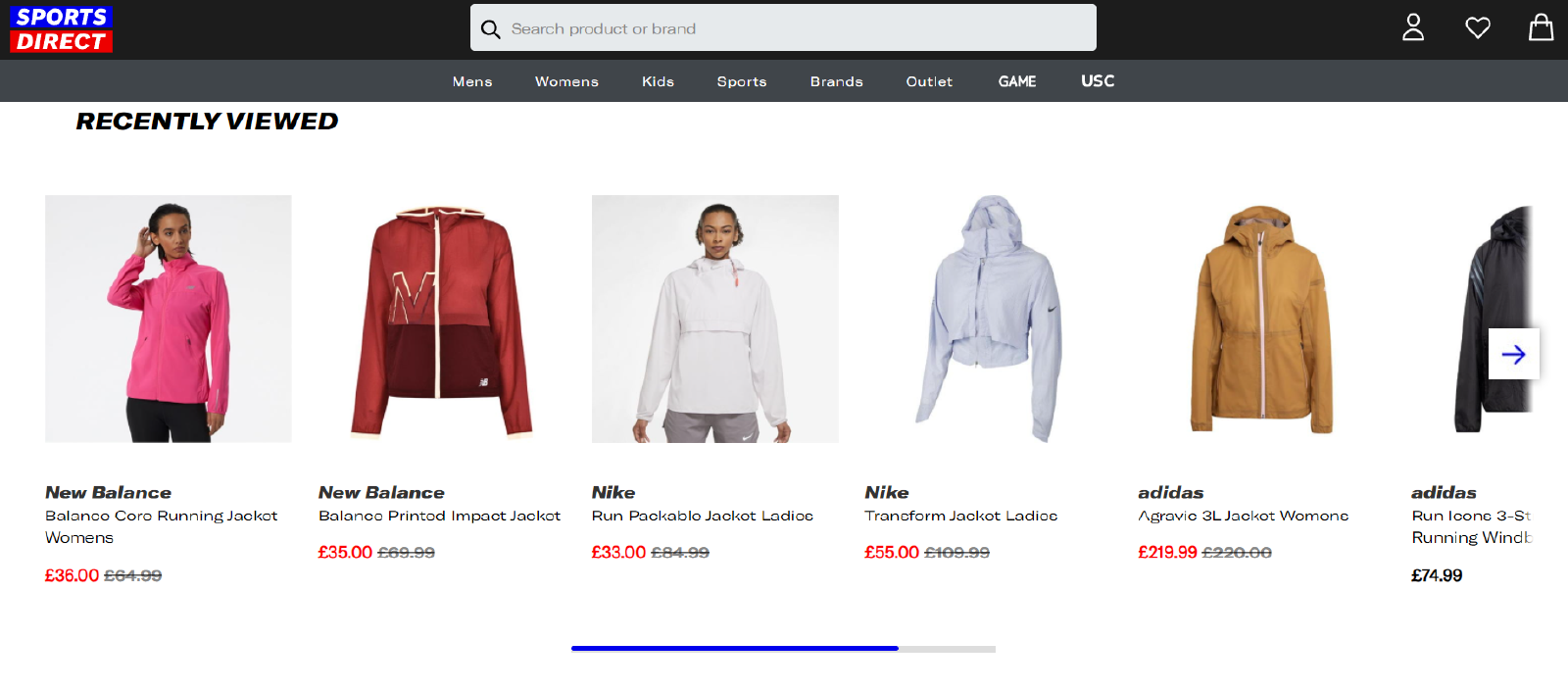 Tracking the view history also lets you provide personal recommendations to expand the user's choices with more relevant suggestions.
Provide product recommendations
Today, companies struggle to produce and deliver relevant content for their customers. Amazon and Netflix, however, are often credited with offering the most effective personalized experiences. The idea of personalized product suggestions based on previous purchases ("Customers who bought this item also bought") isn't new, but Amazon and Netflix have developed this idea further and have become especially effective in suggesting goods that will potentially engage the customer.
For example, Amazon tracks your browsing history and suggests items from the same brand. They make it easy to browse items you might be interested in with their "Inspired by your shopping trends" block. Amazon also welcomes customers to their site with a personalized selection of goods on the home page.
Netflix offers another successful personalization method. For streaming services, it's important to adjust your content for different age groups and interests. Netflix solves this issue by asking you to select movies and TV series you like so they can offer content that better suits your taste. Also, to keep kids from watching inappropriate content, they have a Kids channel that streams only approved movies or shows.
Nurture customer loyalty
Free shipping
Online shopping is convenient and saves time, but shipping can be a primary concern. According to the 2022 Consumer Trends Report by Jungle Scout, 66% of consumers expect free shipping on every online order and 80% would like to have free shipping after a certain purchase amount.
To avoid separate charges for delivery, you can include shipping in your product price. Even though the final price will go up slightly, customers will feel better about paying fewer additional costs at checkout. Additionally, you can offer multiple shipping options at varying costs. Walmart offers options from value to rush shipping.
If you have a brick-and-mortar store, you can offer in-store pickup to make deliveries even more flexible. Finally, an effective way to increase the average order value is by offering free shipping for purchases over a specific amount.
On Walmart's website, you're able to pick between a variety of delivery methods:
Free product samples
There's probably no better way to show your generosity than by including a few free samples with each order. Whether you sell cosmetics or food, you can reap benefits by offering samples of your products:
Introduce your clients to your product range
Strengthen your customers' loyalty
Encourage reciprocity: customers may be willing to buy more in order to give back after receiving free goods
French cosmetics giant Sephora successfully uses samples to attract and retain customers. They even let their customers select three items to sample instead of getting a random selection. Samples chosen by the customer are more likely to be used and more likely to lead to further sales. This is a brilliant example of how personalization and customer care can improve customer loyalty.
Loyalty programs
Customer loyalty indicates a customer's willingness to repeatedly engage with a brand. Loyalty is a result of positive customer experiences and the value the customer gets from each transaction. Offering a loyalty program is an ecommerce best practice that motivates people to sign up and become regular customers.
Ecommerce loyalty programs increase customer lifetime value, decrease acquisition costs, and build a true growth asset in the form of recurring revenue. A good loyalty program is a channel to strengthen customer relationships.
For example, you can apply a point-based program like Walgreens has. Walgreens offers 40,000 points for every $50 a customer spends on beauty products. These points can be redeemed for discounts on future purchases. Just keep your system simple so it's easy for customers to determine the value of their points.
There are also hybrid loyalty programs that combine more than one type of loyalty system. For example, you can implement a tiered point-based system that offers rewards depending on the tier. This type of hybrid program can make it easy for customers to calculate their points and encourage them to pursue the next loyalty level by purchasing more.
For example, Walmart has launched a hybrid loyalty program in partnership with Murphy USA gas stations, Neighborhood Market, Sam's Club, and Mastercard. Members of this loyalty program get discounts on products, including gas, and get monthly rewards based on how much they've spent and which products they've bought. A hint: don't combine too many different systems, as it will confuse your customers.
Referral programs
Referral programs are consistently rated one of the most powerful forms of marketing. Customer referral programs are one of the most effective ways to connect with new customers and get your existing customers to buy from you again. A referral program can also increase the loyalty of your existing customers by getting them to invest more in your brand
The main benefit of referral marketing is that it's targeted. With referral marketing, people tend to know their friends and social audiences pretty well. This is exactly where trust plays a role. With referral marketing, sales usually come from someone whom people either know well, like friends or family, or from someone people trust, such as a favorite blogger. Utilizing these relationships allows your brand message to spread more effectively than with most other marketing channels.
For example, the Evernotereferral program gives your friends Premium account access and gives you points that you can use toward Premium access or increased monthly uploads. You can also implement a double-sided referral program like Airbnb . Their program offers $25 to both the referrer and referee when an invited friend books their first trip. A double-sided referral program gives value to both participating parties.
Wrapping up
Ecommerce is challenging. The only way to become successful and acquire and retain customers is to keep up with the latest marketing and technology trends. No matter what business strategy you choose, remember to focus on your customers and make their shopping experience comfortable.