The Ultimate UX Audit Guide for Digital Products
3598 views
16 min
Jan 31, 2022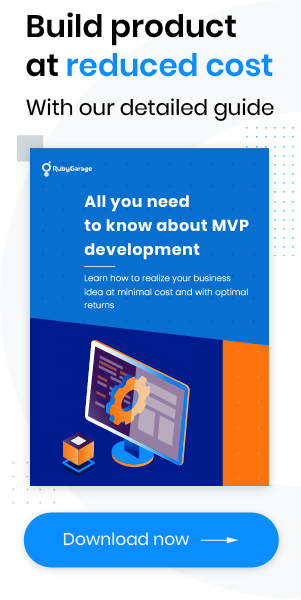 Every startup owner faces challenges on their way to success. Bringing a digital product to life isn't easy, and keeping it afloat is even more complicated. To get the desired business performance, it's vital to track metrics and apply efficient improvement tools. One of these tools is a UX audit.
What is a UX audit?
A user experience audit (UX audit) is a set of methods for identifying flaws in user interactions with a digital product. It consists of various techniques that highlight user experience pains and hint at how to improve the product to satisfy users' needs and expectations.
The primary purpose of a UX audit is to find gaps in your user interactions that prevent users from achieving their goals. Such an audit will allow you to transform your product to provide a smoother user experience. 
After conducting a UX audit, you'll get a complete roadmap of what needs to be changed in the user interface and user experience flow.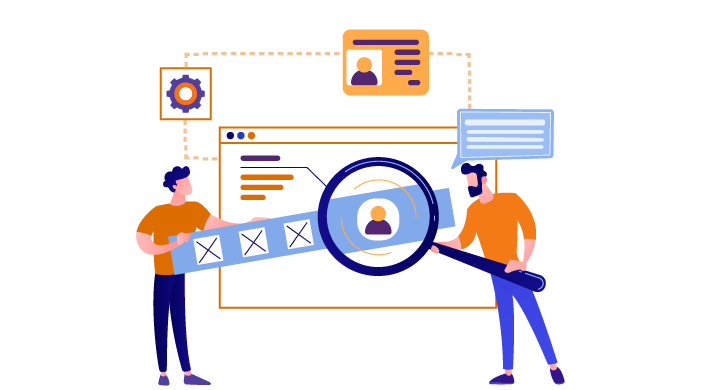 Purpose of a UX audit for your business
A UX audit benefits both your users and your business. If you conduct a thorough and fact-based investigation of your product's current state, you will be able to:
Make changes based on data, not guesses
Gathering information about your product's performance will give you a realistic overview of your users' intentions and challenges, how much profit you get, and what prevents you from achieving your business goals.
Align your product vision with user expectations
Typically, business visionaries have their assumptions about their business and its value. But alas, sometimes what you assume and what users see don't match. A UX audit will help you make sure you speak the same language as your target audience and make your unique value proposition clear.
A UX expert will point out how your vision differs from users' expectations and help you choose the right direction. With RubyGarage, you can always be sure that our experienced specialists will help you achieve your goals. Book a call with our UX audit team now!
Compare your product with competitors
A deep analysis of your competitors will allow you to determine success factors in your industry, actions that led to the achievement of certain positions, and your product's weaknesses and strengths. With this information in hand, you will formulate your unique value proposition and respond to the latest industry trends.
Get a deeper understanding of your users and their behavior
A UX audit allows you to look at your product from the user's point of view. Various tools and methods will help you determine who interacts with your product, why, when, and how. With this understanding, user behavior will be more predictable. Consequently, you will know what to do to satisfy your users and build a user experience they will enjoy.
Save money on further development activities
One output of a UX audit is a report that contains a roadmap for improving the UX and suggestions for increasing the value of your software. These recommendations will allow you to create precise action points with categorized priorities. Thus, you will be able to build a smooth development process, improve your product as a whole, and move from occasional bug fixing to a proper improvement strategy.
Increase profits and grow your target audience
The better the experience for your users, the more revenue your product will generate. Users will understand your product better and faster as you improve your value proposition, user interface, and communication. An increase in conversions will occur after you find and remove obstacles on the way to purchase. For example, if you simplify the registration process and make your product intuitive, more satisfied customers and referrals and fewer outflows will follow. In addition, this will increase your customer retention.
When to conduct a UX audit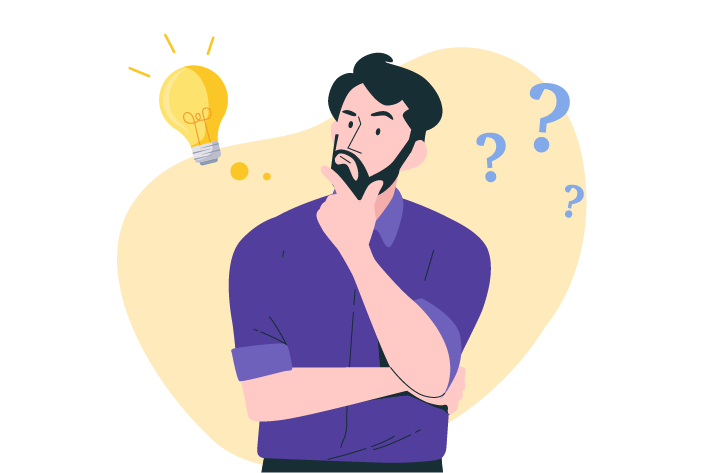 There are several indicators that a UX audit is necessary. If you experience one of them, you should consider conducting an audit right away.
Users complain about the UI
If users are dissatisfied with your product, they leave negative feedback about specific workflows and the UI itself. When you keep getting complaints and low ratings, you need to take action to rehabilitate your product's reputation.
The product doesn't meet business goals
Low conversion rates, profit losses, and customer outflows are signs that something must be wrong with the product's UI/UX. A UX audit will help you analyze why your product doesn't meet its business goals and reroute it in the right direction.
You want to update your product or release a new feature
To remain competitive, every business updates its product and/or adds new features to it. A UX audit allows you to make these changes as painlessly as possible, guided by users' expectations. This allows you to avoid making changes or adding features based on guesswork and not solid data.
You plan to redesign the product
To avoid obsolescence, every digital product must keep up with the latest trends. This, in turn, requires periodic changes to the product's design. If the design change concerns the business, then a data-based approach should be used for the audit.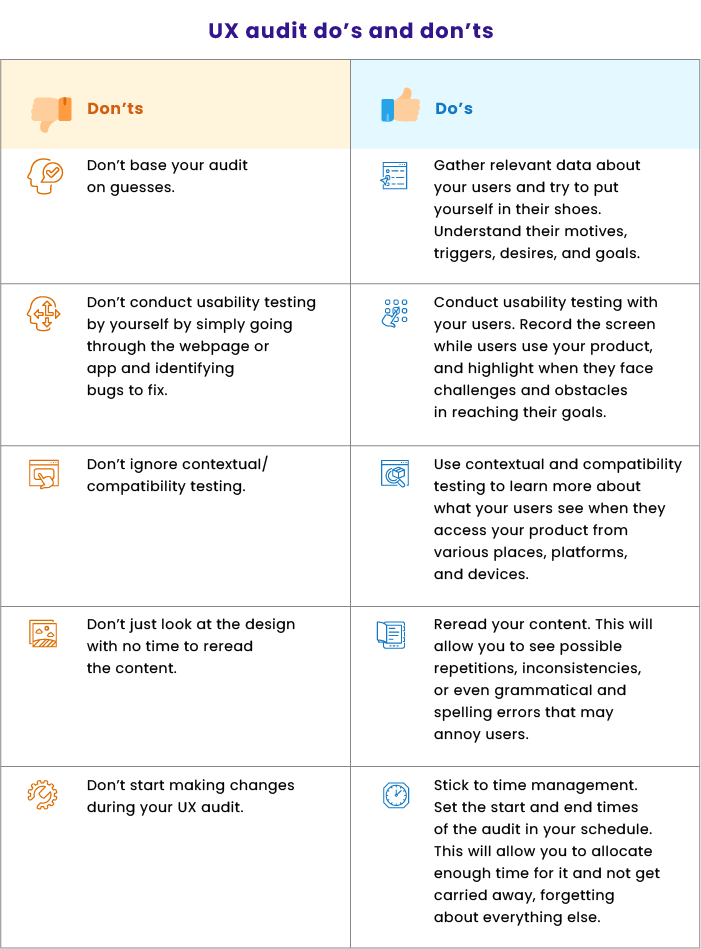 UX audit step by step
Step 0: Prepare for the UX audit
Before starting the UX audit, make sure you have an understanding and confidence in several aspects.
Define the goals of the UX audit
Make sure that you have set clear goals for the audit and what you want to get from it. The goals may concern any relevant business metrics in your industry. Typical metrics for IT products are:
Conversion rate
Revenue and profit
Customer satisfaction level
Customer retention rate
Set specific goals like "increase the number of purchases by 40%" or "get a 5.0 rating on the App Store." These goals will keep you determined throughout the audit.
Gather data about your current users and target audience
To understand your users, you need to know who they are and which goals they pursue when using your product. If you don't have this information, conduct complete user research to figure it out.
Keep in mind that your current users may not be your target audience. In this case, you need to give a clear definition of who your target audience is. It's also essential to answer whether you want to continue interacting with your current users, even if they're not your target audience.
Assemble a team
A UX audit requires a team of specialists with specific roles and areas of responsibility:
The decision-maker (you or a person you trust) tracks all research activities, validates the results, and gives a green or red light to recommended changes.
The strategist creates a UX audit roadmap, defines its goals, estimates timing, and formulates the definition of done for each part of the study.
The data analyst gathers and interprets the current state of business metrics and finds their correlations with UX flaws.
The UI/UX designer conducts user-related tests and gives their recommendations based on gathered data.
The developer can help perform technology-related research and estimate the volume of development.
The content specialist will check the texts of your product's pages and suggest solutions for their improvement.
Consider conducting a UX audit of your project and assembling a team of those you trust. Each specialist should be able to act independently in their domain AND effectively interact with the other team members.
Define time frames and budget
Make sure that each member of your team understands how much time the UX audit will take and which deliverables you expect. After you have presented the time frame, make a schedule for yourself to minimize unplanned situations. A schedule should contain:
Deadlines
Time frame with tasks according to responsibilities
Timeline with milestones for specific dates
The timing depends on your team's capabilities and the severity of your UX issues. The higher the stakes, the longer the audit will take.

Step 1: Define business goals
Before analyzing a digital product, you need to dive into the specifics of the business. This task lies primarily with the strategist, who must investigate the following factors:
Essence of the business
Revenue model
Expected results of the UX audit
The strategist can understand these issues through an introductory survey or communication with stakeholders. Here's a sample questionnaire for a strategist to get the information they need to complete this task: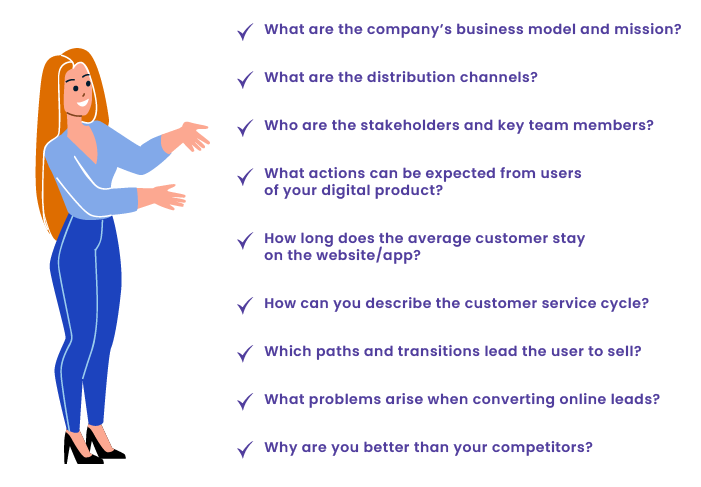 Having answered these questions, the strategist creates and presents the UX audit's business goals, values, and stages.
Step 2: Analyze the status quo
With your goals set, start collecting and analyzing data. You can do this yourself as a business owner or rely on a data analyst. Gather reports on such aspects as:
Website visits or app installations
Traffic volume 
Bounce rate
Conversion rate 
Number of leads and sales
Demographic and geographic information about your users
Users' device types and browsers
Any other information you find relevant to your performance
Every factor on this list can signal that your user experience is worth redesigning. Collect the results in a report and directly highlight those that impact your business goals. For example, a contact form that's too long prevents users from reaching out to you. Even if the traffic volume on your page is sufficient, this UX flaw will make you lose leads, and by extension clients and profit. 
Step 3: Conduct competitor analysis
Analysis of direct and indirect competitors is necessary to determine the overall picture of user expectations, design trends in the industry, and successful strategies of other products in your market segment. You may use SEO marketing tools like Similarweb or SEMrush to get the data you need. In addition, you can organize a test drive of your competitor's product by following their user path, making notes of what you liked and what you didn't.
When analyzing competitors, pay attention to:
Client traffic
Search ranking
Usability of their website/app
Product design
All this will help you understand what improvements you can adopt for your product and which ideas you should abandon.
Step 4: Conduct investigations
1. Usability audit
Test your website's usability, record your users' paths, and find issues that prevent users from achieving their goals. Based on your findings, create a user traffic map to see user actions on every page of your website or app.
List all the issues you noticed and highlight:
User blockers — points at which your users leave your website or app
Moments of confusion — when it takes too much time for a user to take the desired action
Bugs — when the user wants to act, but your product doesn't give them the chance
A UI/UX designer will help you identify these issues and suggest solutions, including quick wins (potential visible improvements that can give an immediate business result).
2. Visual design audit
Designers and strategists carry out a visual evaluation of the product. They analyze if your UI kit needs an update or full overhaul and identify design inconsistencies, scaling, alignment, and contrast problems. List all findings and highlight the issues influencing user decisions (maybe the buy button is too small and unnoticeable).
3. Accessibility analysis
When conducting an accessibility analysis, consider all categories of users, including those with special needs. Check if your website or app is accessible on an equal basis to all representatives of your target audience: people with weak sight or color blindness, elderly users, etc. 
During your accessibility analysis, keep in mind the laws of the country you're launching your product in. For example, in the US, digital project owners must make their websites or apps available to all categories of users by law.
Pro tip: Google's Lighthouse is an excellent tool for checking a website's availability.
4. Responsiveness testing
Developers should check if your digital product looks good on computers, mobile phones, and tablets with different resolutions. Then, they should list issues they find and identify responsiveness problems that prevent your product from reaching all types of devices.
Pro tip: Advise your developers to use the Bootstrap and Material Design frameworks to comply with responsiveness standards.
5. Performance testing
Unsatisfactory performance of the website or mobile app, which is expressed in its slow loading, has multiple adverse consequences like low traffic, a high bounce rate, and, consequently, low ranking on search engine results pages. A low SERP ranking means your product may not reach the target audience because of a low user rating.
If your pages load slowly, ask your developers to document the problems that might be causing this. The most common problems are heavy images or unnecessary scripts and plugins. List all the issues your team finds and highlight which can be eliminated without changing the page's look. Those issues will get the highest priority in future steps.
Pro tip: PageSpeed Insights is another free Google tool for checking the performance of web pages. 
6. Content assessment
Check all texts of your product's pages with statistics in mind: take the pages with the lowest performance first and analyze how the content influences the page's results. Typical flaws to pay attention to are large text fragments, ambiguous headers or buttons, or confusing scientific text. Remember that your audience should clearly understand what you tell them. Highlight texts that need to be edited and gather them in a separate document.
Pro tip: To check your content's grammar, style, and readability, we advise using the online Grammarly and Hemingway tools.
Step 5: Analyze the results and suggest solutions
Now it's time to see the whole picture. Gather all issues your team has found and divide them by severity:
Minor issues — need to be fixed, but they don't greatly hurt the user experience
Major issues — must be resolved since they hinder the achievement of your business goals
Critical issues — must be resolved as soon as possible since they negatively affect the overall usability and UX
Arrange the issues by priority and come up with solutions for each. They can appear during your investigation activities or require team brainstorming. Conduct additional best practices research to see if you can apply them to your case. Once your ideas are documented, get ready for action.
Step 6: Create an action plan
Now it's decision-making time! You need to arrange the tasks for each team (development, design, content) and create a prioritized backlog for your product updates. 
Set realistic (approximate) deadlines and track activities to see the impact of your actions. A/B testing will allow you to see which improvements influence business results.
Top UX audit tools
Apart from the services mentioned above, plenty of online tools will help you in your investigation.
Google Analytics is already a market standard for tracking website data. It provides a wide range of data that will give you insights for your analysis:
Where visitors come from (through external links, through a search engine, etc.)
How long users stay on the page
Number of unique visitors
Reaction of visitors to the CTA
Pages that attract the most visitors
Demographic data
User interests
Location
Languages used
Devices used
The same information and more specific mobile app metrics can be found on the Firebase platform, which is also a Google Analytics product for mobile applications.
You can add more narrow insights to Google Analytics with Mixpanel, which analyzes your users' behavior in detail. For example, a retention report shows which categories of users visit the website.
Kissmetrics offers in-depth analytics about customer actions and gives you all you need to know about your marketing and sales funnel. The platform's toolkit includes functionality for:
Ranking functions by quantitative use
Tracking the churn rate
Tracking monthly recurring revenue
Counting subscriptions
Counting new trial starts
Determining the most visited pages
Tracking the best customers
Detecting weaknesses in the funnel
When compared with the previous two tools, Kissmetrics provides more profound analysis than Google Analytics but at the same time is not as detailed as Mixpanel.
HotJar is designed to present a picture of actions of website users so you can understand what they're most interested in. To do this, HotJar presents four features:
Heat maps — color-based descriptions of active and inactive areas of the page
Scroll maps — recordings of how your visitors move down the page
Move maps — recordings of user sessions without mouse clicks and scrolling
Surveys
Real-time feedback
The behavioral analysis tools in Crazy Egg are similar to those in HeatJar and include heatmap and scroll map reports. Apart from those, you'll get:
Confetti report — click recording for each user
Overlay report — the organization of clicks by different criteria: new and regular users, user device type, UTM campaign
List report — the percentage of clicks for each clickable element on the page
Crazy Egg gives a relatively complete understanding of how visitors behave on the website, which allows you to see the solution to UX problems.
UXCam is a great tool for conducting UX audits on mobile apps.
The main features of this tool are:
Heat maps
Recording, analysis, and sharing sessions
Tracking the screen flow
Failure and error logging
Firebase integration
These features will help you determine the model of user behavior and the characteristics of users' interactions with the app.
UserTesting is a platform that allows you to be constantly in touch with your target audience.
On UserTesting, your users can leave their reviews in the format of audio and video messages about your website or mobile app. In addition, this tool allows you to schedule direct communication with your potential users for further investigation.
Thanks to UserTesting, you will be able to have one-on-one conversations with your users and check the perception of your design even before the product development stage.
UX audit costs
Outsourcing UX audits can be a more profitable solution than doing everything within your team. However, the price of a UX audit will depend on several factors, including your budget, time limits, the type of entity you work with, and the size of your business.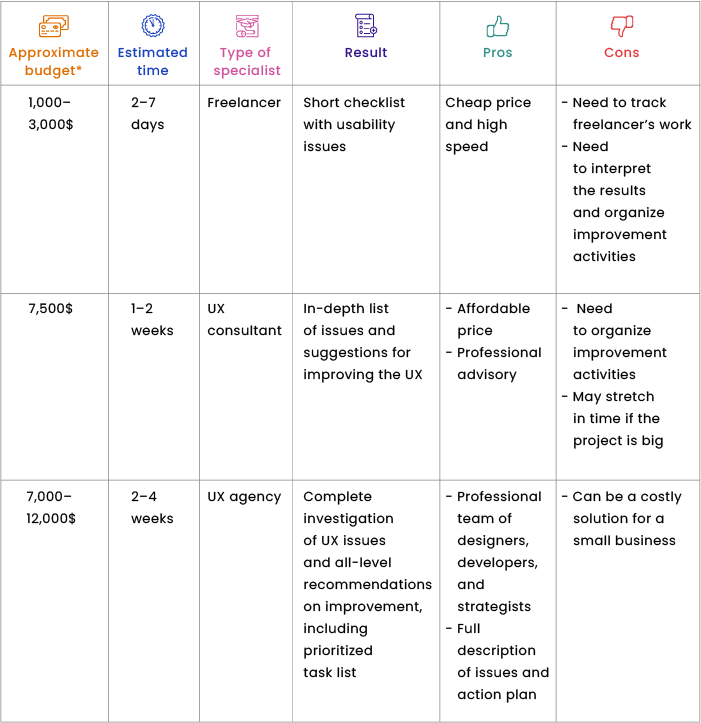 To sum up
For a successful business, it's crucial to maintain close communication with customers, know their problems, and solve them. Then customers will come back to you again and again. A UX audit is precisely the method that shows the pain points of your digital product that your users are facing. By solving the problems that a UX audit has identified, you can bring your product closer to your customers and increase your business turnover.
FAQ
A user experience audit (UX audit) is a set of methods for identifying flaws in user interactions with a digital product. It consists of various techniques that highlight user experience pains and hint at how to improve the product to satisfy users' needs and expectations.

A UX audit benefits both your users and your business. If you conduct a thorough and fact-based investigation of your product's current state, you will be able to make changes based on data, align your product vision with user expectations, and save money on further development activities. Furthermore, UX audit will help you Get a deeper understanding of your users and their behavior, compare your product with competitors, increase profits, and grow your target audience.

There are several indicators that a UX audit is necessary. It will be a must if your users complain about the UI, if the product doesn't meet business goals. Also, you should think of a UX audit when you want to update your product, release a new feature or plan a product redesign.