A Guide to Building Uber For Babysitters: Cases From Bubble, Babysits, and Hello Sitter
12772 views
13 min
Dec 05, 2019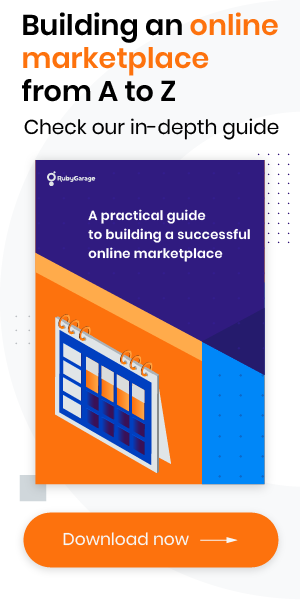 There are an estimated 92.9 million children aged 21 or younger, accounting for 29.9 percent of the entire US population. The potential market for businesses in the parental outsourcing industry is huge.
Modern moms use Uber to get to work, they check Tripadvisor to choose the best hotel for the next vacation, and pay for their Starbucks latte via the app. However, when they need a sitter, mothers have to open phone books and call everyone they trust, hoping to find someone to keep an eye on their kids. How about giving moms an alternative? An easy and fast way to find a reliable and trustworthy sitter at the last minute – a mobile app for babysitters. 
Best babysitting marketplaces
If you're thinking about building a babysitting marketplace, at first, you need to check the apps that already exist on the market and find out why they are popular, what their strengths and weaknesses are, and how they position themselves in the market.
Hello Sitter
Hello Sitter is a New York-based babysitting marketplace with a focus on the local community. This iOS mobile app promises parents to find them trustworthy care within one hour. And the main word here is "trustworthy". Lauren Mansell, the CEO at Hello Sitter and a mom, chose safety as a priority for the marketplace. The service checks and vets both sitters and parents before adding them to the base. Lauren Mansell claims that she personally interviews every sitter and asks them for three references that she also checks.
Hello Sitter has a fixed hourly rate for all babysitters to provide them with the same working conditions. Thus, a sitter gets $21 per hour for one child, $23 for two, and $26 for three or four.
To find a sitter via Hello Sitter, parents have to register, add some details about their kids (allergies, schedule, bathing details, etc.), set up a time when they need a sitter, include requirements to a sitter (skills, age, experience, language, etc.) and tap search. 
The system picks three best options for a parent based on their location, availability, and preferences to a candidate. A parent then chooses a person they prefer from the three.
As its unique value proposition (UVP), Hello Sitter offers parents to find a reliable sitter from their neighborhood very quickly. 
Bubble 
Bubble is an iOS mobile app that also has narrow geographics. The app works in London and focuses on social connections within the community. Bubble uses social media websites to connect parents with sitters that their friends trust and hire.
This babysitting app like Uber takes the security check very seriously and verifies sitters by their IDs, mobile phones and Facebook account, performs online background check, asks candidates to submit two references, and interviews candidates online or face to face. 
In addition to these measures, Bubble promises £1m public liability insurance for every sit to close all objections of parents concerning the security. 
The Bubble platform positions itself as a platform for community that cares not only about parents and kids but sitters too. Sitters can set up an hourly rate they want, and the platform doesn't charge them anything, whereas parents have to pay a £3.50 booking fee for each session. 
Both parents and sitters can rate each other and leave feedback on the platform. The platform also offers a convenient payment system that automatically transfers money from a parent's card to a sitter's when the sit is complete.
The UVP of the platform is a chance to find a sitter that users' friends and neighbors trust. 
Babysits
Babysits is a social network for sitters all around the world. The Uber-like platform doesn't perform screenings, checks or vettings, and allows any sitter to join free of charge. However, parents and agencies have to pay for using the system. 
Although Babysits doesn't check sitters, it offers them to get verified for a fee to improve the visibility of their accounts on the platform. 
Every sitter on the platform can negotiate their hourly rate and communicate with a parent directly via the built-in chat.
The UVP of the platform is simplicity. Parents and sitters face minimum hurdles while looking for babysitters or babysitting jobs.
MVP features of a babysitters marketplace
Every Uber for babysitters has its unique value proposition that helps them to stand out. All of them have some unique features, too. However, the core functionality of each platform is almost the same. Let's take a look at the feature list of a babysitting marketplace. 
A babysitting marketplace has two clients ‒ a parent and a sitter. Some features are similar for both of them.
Features for parents and sitters 
Registration. The easiest and fastest way to register is registration via social media. Users spend minimum time on this step, and all the required information is being pulled from the personal account of a person. 
Rating system. Rating and reviews give users more information to make a decision. Bubble, for instance, allows both parents and sitters to rate each other to provide them with equal rights. 
Built-in chat. Built-in chat speeds up communication between parties without exposing their personal information such as telephone number and email.
Push notifications. With notifications, sitters get informed about booking requests from parents, upcoming sits, or money transactions. Parents get notifications when sitters accept or decline their requests and reminders to rate and review a sitter.
Geopositioning. This feature helps parents to search for a sitter in the chosen district for the last minute bookings and allows sitters to work within the area they are comfortable with.
In-app payments. A built-in payment gateway helps parties get rid of inconveniences and insecurities connected with cash payments. Bubble, for instance, has a secure payment system that automatically charges parents when a sit is completed.
Features for a sitter
User accounts. While registration is a fast and a hassle-free procedure, user account creation can take a while. A sitter has to provide a lot of information about themselves to increase their chances of being chosen by parents. Usually, sitters include information about their experience, age, occupation, location, languages they can speak, availability, hourly rate, and bad habits. They can also add links to their social accounts, references from previous clients, and relevant certifications if they have any. Sitters also have to write a short story about themselves to help parents get to know them a bit better.
Dashboard. A lot of sitters use babysitting platforms as their main job, so they need some convenient tools to track their income, check the history of services (babysittings), payment history, and some analytics tools to see weekly/monthly/yearly dynamics.
Schedule set up. Sitters can choose what hours they can and want to work and when they are unavailable, accept or decline booking requests, and cancel sits in case of emergency.
Features for parent
User accounts. When creating an account, parents include information about their location, hourly rate preferences, number of kids, some details about the kids (allergies, special needs, etc.), requirements to a sitter. Some babysitter apps allow parents to add their social accounts or a video about them. 
Search feature. Parents need a handy tool to search for the right person for their children. The more filters you give them, the quicker parents can find a sitter they can trust. 
Book a sitter. Parents can set up a time when they need a sit, include preferences to a person they want to hire and send a request to a sitter. Parents also want to be able to cancel the booking or reschedule it if the conditions change.
How to build a thriving babysitter marketplace
Building an MVP is just the first step. To attract users and make them loyal, you need to dispel all their doubts and provide them with unique user experience. 
#1. Build trust in a babysitting marketplace
All moms agree that the main objection against using a babysitting app is a lack of trust. Here are some tips for building trust in your platform.
Offer Insurance
Bubble platform promises users £1m insurance for all incidents. The platform uses public liability insurance, which is popular in the United Kingdom and Australia. For startups in the US, you can use commercial general liability (CGL) insurance for the same purposes.
Check your sitters
To bridge the trust gap between sitters and parents, you need to perform a range of checks and verifications. The most important thing here is to be honest, and confirm only double-checked information about sitters. Here are some of the procedures you can run to make sure that the sitters you let to you platform are trustworthy:
Background check. If you are new to this topic, it's better to hire a third-party company that provides background check services compliant with the Fair Credit Reporting Act (FCRA) ‒ the document that regulates how the background check should be performed. Here's the list of the best companies that provide background check services, according to Betterteam.com.
ID verification. You can complete the ID verification with only a copy of Passport or ID documents that sitters will send to you. However, this check can't guarantee that the papers aren't fake. For a reliable ID verification, it's better to hire a third-party company that focuses on such services, like HireRight, AGoodEmployee, or ShuftiPro. 
Ask for references. References are a must for any sitter. Ask sitters to provide you with at least two references from previous clients and allow sitters to add them to their account. If you are going to check references, add a label "checked" to a sitter's account.
Verify social media account. For higher credibility, some babysitting platforms use social media verification instead or additionally to ID verification. These babysitting platforms also allow sitters to add their social media account to their profiles.
Add rating and review systems
Reviews, feedback, and rating are very important for parents when they are looking for a sitter. The survey conducted in the US in 2018 by BrightLocal revealed that 91% of millennials trust online reviews as much as friends and family. To help sitters, you can also allow them to rate parents and families and leave feedback. Thus, you'll elevate trust on both sides.
If you want to go further, you can show only those sitters to a parent, who worked and were recommended by their friends, as the Bambino babysitting app does.
Use escrow payments
Escrow payment is an extra guarantee for both parents and sitters. How does it work? A parent pays for a sit in advance. However, the money is transferred not to a sitter but a third-party account, usually, an account of a platform. The money is stored on the third-party account until the parent confirms that the deal is closed, and they are satisfied with the service provided. Only after the confirmation, the sitter gets the money. 
#2. Create a community 
It doesn't matter whether you're building a platform for one district or the whole world. Your startup needs a community of loyal users who will recommend your services to their friends. 
One of the main rules that help to build a community around your product is communication. UrbanSitter, for instance, has a blog with useful information both for parents and sitters.
Another form of communication and establishing links within the community is to have representatives in each district. These representatives look for new sitters trusted by parents, interview them, and confirm references and recommendations. This is the scheme that the Bambino app uses to create a community of loyal users around the platform.
#3. Set up the rules and provide guidelines
If you want to make it easy for customers to use your platform and minimize the risk of misbehavior of any party, you need to set up some rules and guidelines of what is okay and not okay to do on your platform. 
The guidelines should shortly explain how the platform works. For instance, Bambino has a page for parents and for sitters where they can read about the capabilities of the platform and its advantages for them.
Rules can be included in the Terms of Use section and have to be very clear. They have to define all aspects of cooperation and interaction between the platform, parents, and sitters. 
Every user who joins the platform has to accept the rules to be allowed to use it. 
How to monetize a babysitters marketplace 
There are a lot of options on how you can monetize your babysitting app. Here are some of the most common ones:
Fee from parents. For example, the Bambino babysitting platform charges parents a fee (ten percent) every time they book a sitter. 
Paid features. Sitters can use the Babysits app for free. However, the platforms offer a range of paid features that allow sitters to increase the visibility of their accounts, like advertisements or ID verification.
Fee from agencies. Recruiting agencies also often use babysitting marketplaces for their needs. The BabySitters platform charges these agencies and allows parents to use the app for free. 
Subscription. A babysitting platform Care.com offers a free and paid subscription plan for both parents and sitters. A paid plan allows sitters to have their profiles ranked higher in search results. Such a sitter will also get notified when families check their profile. Parents who pay for a subscription can contact any member of the platform, get free background checks, and see complete profiles and full job posts.
Freemium. Parents on UrbanSitter can choose a free plan or pay $14.95 per month for a premium account. A premium account allows parents to pay sitters with a single click, request multiple sitters to find help quickly, and cancel anytime. Sitters also can upgrade to a premium account for $9.95 per month. A premium account allows them to pass a background check, send messages to parents, and cancel anytime.
How to validate your babysitter marketplace idea
Once you've formed your business idea, you need to validate it. Business idea validation allows you to understand if your startup can be viable in today's market. 
Business model canvas is a great tool to validate your business idea, find out what markets can be interested in your product, form future revenue streams, and define the cost structure. 
To make your life easier, we've created a business model canvas of a babysitting marketplace.
Final thoughts
The global childcare market brought $339.1 billion of revenue in 2018. In 2022, the number is expected to reach $520.4 billion. Figures are growing, meaning this industry has no plans to gear down its motion! Don't miss your chance to find and get your niche. If you already have an idea for a babysitting app, contact us, and share it.