Types of Online Marketplaces: Complete Categorization with Examples
58627 views
11 min
May 10, 2019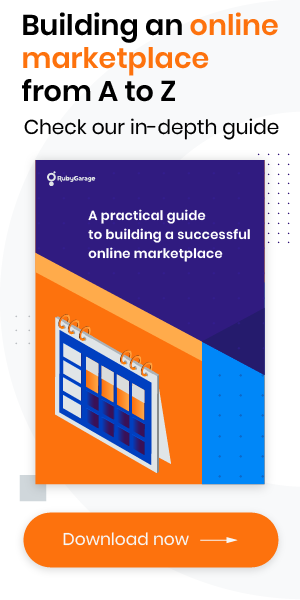 There are a lot of different marketplaces today. They can be categorized according to customer type, core focus, industry, and other criteria. In this blog post, we offer the most comprehensive categorization you've ever seen. Enjoy!
Marketplaces by target audience
Marketplaces fall into three main categories when grouped by their target audience: business-to-business (B2B), business-to-customer (B2C), and peer-to-peer (P2P), sometimes referred to as customer-to-customer (C2C). Let's look closely at each type to learn its concept, business models, and common challenges.
Business-to-business marketplaces
A B2B marketplace is a website where wholesale suppliers sell their products or services to buyers in bulk. This type of marketplace is usually operated by a third party, allowing businesses to use it on beneficial terms. Using a marketplace brings sellers the following benefits:
ability to distribute products and services to more customers
expanded sales channels
no need to create their own ecommerce platform
can start selling quickly
no huge upfront investment required
The idea of an online B2B marketplace lies in automating the selling and buying process, providing a great customer experience, and improving transparency of financial deals. Among the top B2B marketplaces are Alibaba, Made-in-China, Amazon, and eWorldTrade.
Let's learn how these marketplaces make money.
Business models of B2B marketplaces
A B2B marketplace acts as an intermediary between sellers and buyers, which leaves only a few methods for monetization. Let's look at the three business models for B2B marketplaces.
#1 Commission-based business model
This is probably the most popular model for all marketplaces, as it easily adapts to different industries. As the name suggests, it's based on charging commission for every transaction occurring on the marketplace. The biggest advantage for marketplace owners is that this method is the most lucrative. The marketplace gets a piece of all the value that passes through it. Well-known marketplaces like Alibaba and Fiverr use this business model as their main revenue stream. The commission-based model scales well and, most importantly, is suitable even for marketplaces with relatively low transaction volumes.
#2 Subscription business model
A membership or subscription model is based on charging monthly or yearly fees to sellers for using a certain set of marketplace features. This model is most suitable for marketplaces with high volume and on which users tend to make repeat purchases. Labelcorner, a fashion B2B marketplace, is a good example of the subscription revenue model. It provides sellers with several subscription types according to the number of products they offer, set of features they need, and visibility they want in search results.
#3 Listing fee business model
In addition to charging commission on each transaction, some B2C marketplaces like Etsy also charge a fee for listing products. Listing an item on Etsy costs $0.20. There are also premium listings, like on Craigslist, when sellers pay for better visibility and higher ranking in search.
Challenges of building a B2B marketplace
Lack of brand legacy
Being a newcomer to the market is hard. Most marketplaces lack brand legacy and identity. However, all existing marketplaces started some time ago and overcame this challenge. It's hard to find the right solution, but we believe people are key. Focusing all your attention on users can help you cope with the negative perception a new marketplace. Define your target audience, find their pain points, and create a solution for their problem. If you do this, people will love your product even though it's new.
Lack of trust
The size of orders on a B2B e-commerce marketplace tends to be in the thousands and millions of dollars. So the first question that comes to entrepreneurs' minds is whether this particular marketplace is a safe place to sell and buy. New B2B marketplaces should expend a lot of effort to prove their authority. Here are four steps business-to-business marketplaces can take to boost credibility:
Thoroughly verify users when they register
Require legal documents and licenses from vendors
Create a review and rating system to choose only the most reliable vendors
Provide customers with shipping and return policies and a money-back guarantee so they feel safe
Business-to-customer marketplaces
The B2C marketplace model involves two types of users: businesse and customers. In this model, businesses sell their products and services not to other businesses but directly to customers. Many B2C marketplaces are one-stop shops where customers can buy a variety of goods online. As this model is one of the most popular today, there are lots of famous B2C marketplaces. For example, AliExpress is a huge online B2C marketplace that includes thousands of vendors offering products from clothes to vehicles. Booking.com is an online travel marketplace connecting hoteliers with travelers and featuring an impressive list of properties. To learn more about B2C marketplaces, let's look at their business models.
Business models of B2C marketplaces
#1 Subscription business model
In B2C marketplaces, the subscription or membership model involves charging a fee to providers, while the marketplace is free for customers. This model can offer a great start for marketplaces that plan to charge commission in the future but can't deal with transactions yet. For example, Venu is an Airbnb-like marketplace for event spaces that started with the membership business model. Later, when they had validated their business idea and implemented an invoicing system, they switched to a commission model.
Another great example of a subscription model is eBay. They provide monthly packages that offer from 150 to 2,500 listings.
#2 Commission-based business model
Booking.com is a B2C travel marketplace that uses commission as their main revenue stream, accounting for about 74 percent of their total revenue. This marketplace partners with hotels and property owners and charges from 10 to 30 percent for each transaction. Booking.com charges from 10 to 30 percent for each transaction.
#3 Listing fee business model
In addition to charging commission on each transaction, some B2C marketplaces like Etsy also charge a fee for listing products. Listing an item on Etsy costs $0.20. There are also premium listings, like on Craigslist, when sellers pay for better visibility and higher ranking in search.
Challenges of building a B2C marketplace
High competition
The B2C marketplace segment is full of giant companies like eBay, AliExpress, and Booking.com that are hard to compete with. These companies have occupied their positions for many years, making it extremely hard for startups to gain a competitive advantage. But nothing is impossible. The solution could be targeting a niche. By targeting a particular niche, you increase your chances to succeed. A niche has a group of customers with similar needs, tastes, and pain points. Studying a target group for a B2C marketplace in detail can help entrepreneurs build the right marketing strategy and win a competitive advantage.
B2C pricing challenges
Many factors influence customers' purchasing decisions. But price is one of the most important. Thus, it's vital to create an appropriate pricing system. A lot of B2C marketplaces face a problem with establishing prices that are beneficial for both sellers and customers. We suggest the following steps to build an efficient pricing system for a B2C marketplace:
Learn the market, target group, and competitors
Identify the level of demand for products and services
Define market expectations (what your customers expect to pay for)
Offer price differentials (different prices for different levels of products and services)
Review prices regularly
Increase prices only when demand is high enough
Peer-to-peer marketplaces
A peer-to-peer (P2P) or customer-to-customer (C2C) marketplace connects individuals with similar needs, tastes, and incomes to share products and services with each other. The concept of this type of marketplace is the following: peers can share products (like on Etsy) or services (like on Uber or Airbnb) in exchange for money or other products and services. P2P marketplaces are part of the sharing economy, helping people make optimal use of resources through renting, not buying. The most important thing about this type of marketplace is that today one person can be a consumer but tomorrow they can become a service provider. The P2P model features a shorter sales cycle and average length of relationship compared to the B2B and B2C models.
Let's learn more about this marketplace type and how P2P marketplaces usually make money.
Business models of P2P marketplaces
#1 Paid promotions
Users can promote their goods or services by paying a fee to the marketplace. This method works perfectly with product-focused P2P marketplaces where the customer's attention is drawn to the product, not to the vendor. Paid promotions fall into three main categories:
Sponsored vendor profiles
Featured products and services
Promoted products in cart/at checkout
OLX and Etsy both offer paid promotions and use this method as part of their revenue model.
#2 Advertisements
With this model, third parties can post ads to promote their products and services on the marketplace. There are several advertising models P2P marketplaces can use:
Cost per impression (CPI)
Cost per click or pay per click (CPC/PPC)
Cost per period (daily, weekly, monthly)
Challenges of building a P2P marketplace
The marketplace doesn't solve a real problem
Many marketplaces fail because they don't solve real problems of their target users. If a marketplace doesn't solve a particular problem, why should people use it? Before launching your marketplace, conduct thorough market research, define your target audience and their needs, and validate your business idea with tools like the Lean Canvas or Business Model Canvas. These steps will help you choose the right strategy and avoid failing.
Too broad of a focus
One more common problem of P2P marketplaces is choosing too broad a range of products and services. When you're building a marketplace from scratch, it's better to start with targeting a vertical market in a specific geographic area. For example, Lyft focuses only on one service – rides – and has been pretty successful from the very beginning. TaskRabbit, on the contrary, started with a horizontal model and struggled with scaling later on. When marketplace owners choose a niche, they can test their idea before going global and avoid risks.
To sum up, here's a table comparing the three marketplace types we've talked about.
Comparison of major marketplaces types
| Factor | B2B | B2C | P2P |
| --- | --- | --- | --- |
| Marketing approach | Relationship-driven | Product-driven | Product-driven |
| Customer type | Businesses | Individuals and households | Individuals and households |
| Purchase motivation | Skewed toward rational | Skewed toward emotional | Skewed toward emotional |
| Average sales value | Thousands and millions of dollars | Tens and hundreds of dollars | Tens and hundreds of dollars |
| Sales cycle | Days to months | Days to weeks | Hours to days |
| Length of relationship | Long-term | Short-term | Short-term |
Marketplaces by focus
Vertical marketplaces
As the name suggests, vertical marketplaces focus on a particular area or niche. Instead of selling everything to everyone, they offer a narrow segment of services and goods. Having a website dedicated to a specific niche allows you to stand out among competitors, offer higher-quality products and services, and increase personalization. The most prominent example of a vertical marketplace is Etsy. This platform focuses on craft supplies and handmade and vintage goods. The StockX marketplace only sells authentic sneakers.
Horizontal marketplaces
A horizontal marketplace, on the contrary, offers products and services in various industries to different customers in different regions. This type of marketplace is considered a one-stop shop, fulfilling various customer needs in one place. It can be compared to walking in a mall with lots of stores, only online. Most famous marketplaces such as eBay, AliExpress, and Amazon are horizontal and offer a large variety of goods.
Marketplaces by management approach
Unmanaged
Unmanaged marketplaces are usually peer-to-peer, where customers look at ratings and reviews when considering a purchase. The marketplace owners don't invest in background checks, quality assurance, or feedback analysis. In general, the less a marketplace manages by itself, the lower the fees it charges. Fiverr, eBay, and Etsy are unmanaged marketplaces.
Lightly managed
Marketplaces like Uber, Airbnb, and Grubhub invest somewhat in quality control and background checks. For Airbnb, these investments are for customer service and user verification. For Uber, costs include verifying drivers and ratings.
Fully managed
Fully managed marketplaces cover the whole sales process for sellers. For example, Opendoor, a marketplace for real estate, buys properties from sellers and puts them on the market. The only thing sellers need to do is confirm the offer. The fee is usually much higher with fully managed marketplaces, but the service quality and customer experience is better too.
Unmanaged – Peer-to-peer transactions; trust comes from reviews and ratings; lowest transaction fees
Lightly managed – Protection and guarantees for users; accurate content; technology tools
Fully managed – Operator mediates transactions; marketplace handles the whole process; superior customer experience
The bottom line
The tendency in marketplace development is toward choosing a specific niche. New marketplaces face problems with high competition and lack of brand identity, which makes most of them fail. But there's high demand for new marketplaces that solve real problems for target groups.
If you're considering a marketplace startup and are looking for help implementing it, contact us now for a free consultation.