What Is a Product Marketing Manager and What Do They Do in a Startup?
15975 views
10 min
Aug 12, 2021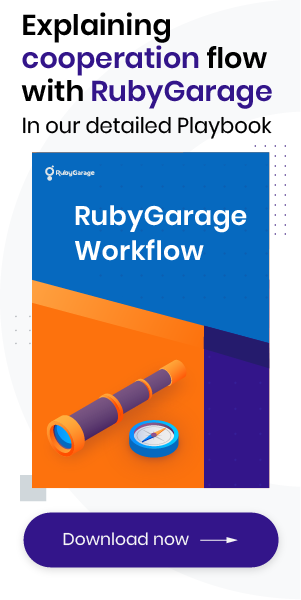 In an increasingly competitive environment and with growing customer demands, product management is becoming increasingly relevant. In the pursuit of customers, companies study their audiences as best as possible to offer products that 100% meet their audiences' needs. 
However, developing a quality product is only half the battle. To be successful, companies should present that product in the most favorable light. This task and many others are the responsibility of the product marketing manager. If you want to launch a sought-after product, you need a product marketing manager on your team. This article will look closer at who the product marketing manager is and what they do in a startup.
What is a product marketing manager?
In short, a product marketing manager (PMM) is a researcher, promoter, and salesperson all rolled into one. The PMM works closely with the product team, sales team, and other marketers. They are responsible for delivering a user-oriented product and achieving great business results.
Now, you might think this description of the PMM role is rather blurry, and you would be right. If you ask different companies what their PMMs do, you will see completely different sets of tasks. Moreover, PMMs may face diverse areas of responsibility within the same company. This is because the PMM role is very flexible. It depends on the business's nature, the company's size, and the product's maturity.
In large organizations with well-oiled processes, the PMM has a narrower scope of tasks because large volumes of work are distributed among different specialists, each responsible for a specific area of activity.
In startups, the PMM role is becoming multifunctional. It requires a proactive approach and includes unexpected responsibilities, such as product testing and quality assurance.
In the classical sense, product marketing manager responsibilities lie at the intersection of product, marketing, and sales.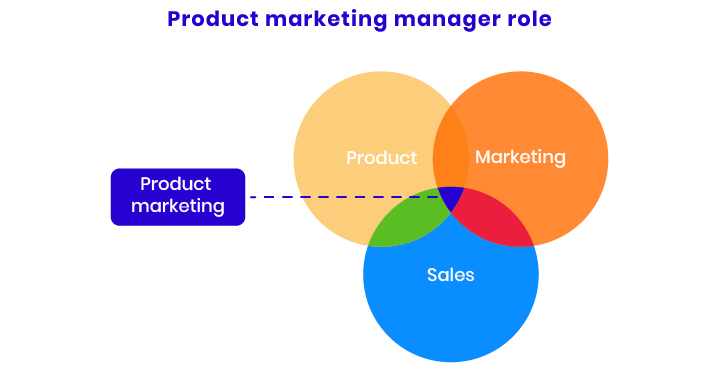 But why do companies need a position that is a little bit about everything? Isn't it an unnecessary complication?
Definitely not. If you dig deeper, you will see that the role of a PMM dramatically differs from the roles of other specialists. Being responsible for getting the product on the market, the PMM explains the product's value to the buyer by formulating a value proposition, answering questions, and resolving doubts that arise before the purchase.
Let's consider an example. Suppose you're developing a B2B solution that allows staff members to open the office doors from a smartphone. The buyer, who is the business owner, may have the following questions:
What is the value of this product for my business?
How much safer is this solution than using regular locks?
What if the phone battery runs out?
What if the app crashes?
How much will the product and its integration cost?
Do I need to buy additional equipment?
Do I need additional training for staff to use this solution?
Can I later abandon this solution in favor of another (is there a vendor lock)?
The PMM can anticipate these questions after communicating with the sales and customer success departments. Next, they can formulate answers with the help of the product development team. Finally, together with the marketing and sales departments, they can test and validate the solutions.
In such a manner, the PMM acts as a client for the marketing department from the product side. The PMM can train sales staff, create product marketing materials, and run marketing campaigns to attract customers.
What does a product marketing manager do?
The product marketing manager's primary activity is to communicate the product's value to end-users. To do this, they constantly interact with different departments and join forces for a common goal — to give the user what they want, when they want, and how they want it. 
The PMM synchronizes and supports all product development' team members. They arrange product launch processes into a single system in which everyone knows what they're responsible for.
Designers understand what market problem the product should solve. They can then give the product the necessary features and create an enjoyable user experience.
Marketers know whom to tell about the product, where, and how. They can then effectively position the product using methods and approaches suitable for the target audience.
Salespeople understand what to sell, to whom, and how. They have all the necessary materials and in-depth product knowledge to provide users with comprehensive product information.
Customer care specialists are ready to support users with any questions. They know the most common problems and pitfalls and can provide competent assistance fast.
Product marketing manager responsibilities
Although the product marketing manager is at the center of different marketing jobs, they have many tasks that lie outside the fields of other narrower specialists. These tasks usually include communicating the product strategy to the marketing department and ensuring they take the right steps to implement it.
However, the PMMs aren't just mentors. They're also coaches. They actively engage in product promotion and take on vague activities. The product marketing manager's responsibilities usually cover four basic activities:
Conducting research and analysis, which involves a detailed study of the environment in which a product will be released
Creating a marketing strategy that describes the product's positioning and promotion
Coming up with a launch plan, which defines the stages of launching the product to the market
Running the business, which means monitoring the product after its release
Each of these activities comes with its own set of responsibilities.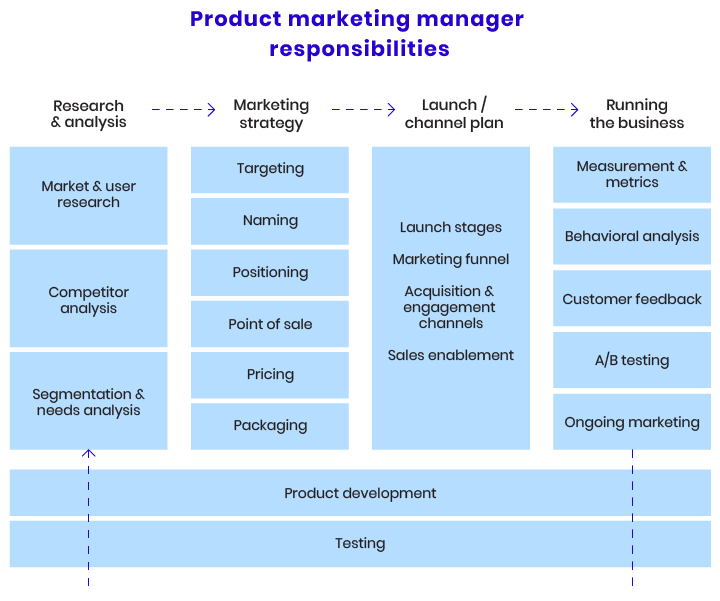 Let's see what a product marketing manager's job description may look like:
1. Research and analysis
The product marketing manager analyzes the market, customers, and competitors, collecting data through observations, surveys, and interviews.
As part of market analysis, the PMM discovers:
Market size and opportunities
Market needs
Offers currently on the market
As part of customer analysis, the PMM learns: 
Customers' needs
Customers' motivations
Customers' attitudes and mindsets
Barriers to purchase or use
Willingness to pay
Sources of influence (how customers hear about new products and brands)
As part of competitor analysis, the PMM gathers information about:
Competitors' customer bases
Competitors' revenues
Business model and pricing
Current product offerings
Messaging and positioning
Competitive category (competitors of competitors)
Distribution channels 
Next, the PMM conducts competitor analysis, where they compare their product with competitors' products and identify tangible attributes and competitive threats.
Note: Tangible attributes are basic features that are required for customers to even consider a product.
Here is an example of a competitor analysis of promotion automation products.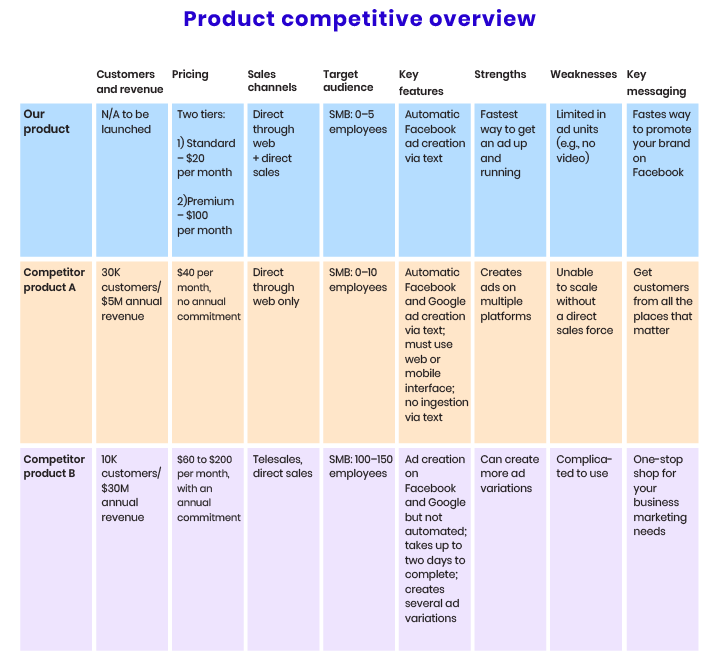 2. Marketing strategy
The product marketing manager develops a marketing strategy that includes the following:
Target customer. The target customer values what you offer and does not care about weaknesses. A good PMM is always looking for growth, so they look beyond the primary target audience and may have more than one target customer.
Naming. Knowing the market and customers, the PMM may suggest naming options for both the product and its separate features, agree on the best variants with the client, and test them on focus groups.
Product positioning. Product positioning describes the unique value your product will deliver to customers. Positioning a product starts with building a positioning statement that consists of four components:
A frame of reference (what's being developed)
Target customer (for whom it's being developed)
Key benefits 
Key proof points
Here is an example of the product positioning statement of a social media app:

Based on the positioning statement, the PMM describes product features and creates messaging to reach target customers.
Point of sale materials (POSM). These may include promotions, special offers, and gift cards.
Pricing. This includes determining the price position, price segment, pricing methods, and price reaction strategy.
Packaging. In software development, packaging means distributing product functionality into separate packages to satisfy all user segments.
3. Launch plan
The product marketing manager accompanies the product at all launch stages:
Developing the proof of concept
Alpha testing on internal employees
Beta testing on a selected user group
General availability (when the product is available to all customers)
They also develop a marketing funnel and acquisition and engagement channels.
The marketing funnel shows the stages of attracting customers who are not familiar with the brand and converting them into leads and buyers.
Acquisition and engagement channels show how customers will go through the stages of the marketing funnel.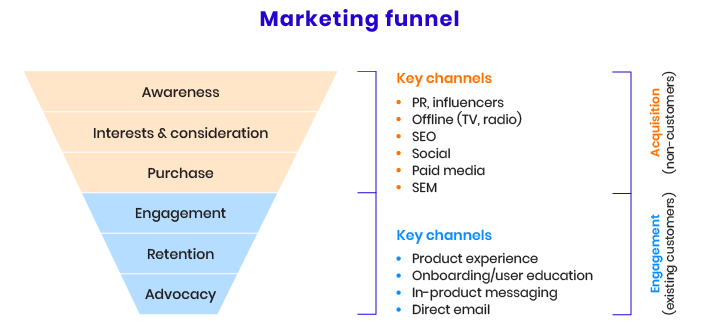 4. Running the business
After the product launch, the work of the product marketing manager does not end. The PMM observes how the product evolves, interacts with customers, and fits market expectations. At this stage, the PMM:
Collects product metrics (number of downloads and registered users, activation rate, return rate, NPS, etc.)
Runs behavioral analysis (cohort analysis, segment analysis, inactive user analysis)
Gathers and studies customer feedback (from customer support, social media, direct emails, individual call campaigns, etc.)
Conducts A/B testing
Conducts ongoing marketing
Product manager vs product marketing manager
Many non-marketing people have a rather vague idea of what a product marketing manager is and how they differ from a product manager. A well-known saying explains it in simple words: 
Product managers put products on the shelf, and product marketers get products off the shelf.
Although this is undeniably true in theory, it only works this way in an ideal world. In reality, the responsibilities of the two roles are not always clearly differentiated. Instead, they can overlap. Both PMs and PMMs deeply understand the target audience and the market, work together on a go-to-market strategy, work in cross-functional teams, and communicate with stakeholders. 
Despite this, the critical difference between a PM and PMM lies in their presence at various stages of product development. While the PM coordinates product creation, the PMM takes care of how the product enters the market and communicates its value to customers. You can see how the PM and PMM roles differ and relate in the image below: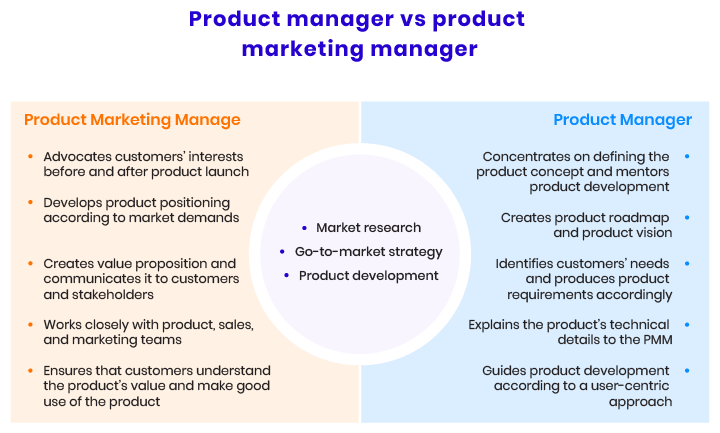 When you need a product marketing manager
A product marketing manager is essential when a company enters the market with a new product or makes significant changes to an existing one. A PMM positions the product advantageously and makes sure it quickly reaches its target audience.
The PMM learns customers' pains and advocates on behalf of customers to the product development team. Additionally, a PMM constantly communicates with customers, watches their behavior patterns, and ensures they get the most out of the product.
The PMM role is multifunctional and requires knowledge of marketing, sales, promotion, and pricing. The versatility of this role is even greater in a startup because internal processes are less established and structured than those in a large organization.
Conclusion
The product marketing manager is a specialist with deep expertise in marketing, business analysis, and management. But despite all this, the PMM is neither a marketer nor a business analyst nor a product manager. The PMM understands the available resources and knows how to communicate with different departments to work toward common goals. The main task of the PMM is to unite the product team for a successful product launch in the target market.
FAQ
In short, a product marketing manager (PMM) is a researcher, promoter, and salesperson all rolled into one. The PMM works closely with the product team, sales team, and other marketers. They are responsible for delivering a user-oriented product and achieving great business results.

The product marketing manager's primary activities are:

To communicate the product's value to end-users, giving them what they want, when they want, and how they want it
Synchronization and support of all product development team members

Definitely yes! The product marketing activities are rather complex for a newbie company to be arranged from scratch.

If you're looking for a company that provides quality product management and product promotion services, contact the RubyGarage team.