How to Hire a Rockstar Software Product Manager
6735 views
13 min
Aug 10, 2021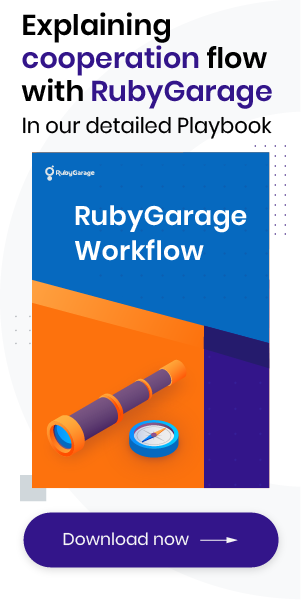 The majority of startup founders underestimate the importance of product managers.
In this article, we address your doubts about the role of a software product manager and their importance for the success of the business. You'll also get some valuable insights about hiring a product manager. Here we go!
Software product manager role and responsibilities
Product manager definition
Let's start with answering this question: What is a product manager's role? 
A product manager is responsible for identifying the customer's needs, analyzing these needs through the lens of the business's needs, and formulating a vision of the product that the development team then turns into reality. In other words, the product manager manages all aspects of a software product's lifecycle with the help of data and feedback from real users.
In product management, data is central. Founders often follow their instincts when adding new features or pivoting their products. Product managers, by contrast, base their decisions on data.
Product manager's responsibilities
Form the product vision, scope, and business model. The vision serves to align the understanding of the product among the stakeholders. The scope is a more detailed description of what the product will include. And the business model ensures that the overall idea can be turned into a sustainable business. These three artifacts are crucial for a product's success.
Delve into the market situation. Market needs, the market size, and the current market situation are also highly important for understanding how to tune up the business.
Research competitors. Knowing your enemy is necessary to beat them.
Analyze users' needs (part of customer research). Steve Blank has been calling businesses to "get out from the building" for years, and it makes sense. Users are the people who will interact with your product the most of all, so their opinion matters.
Develop a product roadmap. A product roadmap, among other things, details the product vision, unveils the strategy a startup has chosen to follow, puts stakeholders on the same page, and helps with planning and communication.
Ensure that stakeholders are on the same page and control the situation. When stakeholders lose focus, it means trouble will arrive quite soon. 
Prioritize features. The backlog is a warehouse of disordered features that haven't been implemented. Their importance must be assessed before starting the development.
Orchestrate teams of designers, developers, and marketers. The team working on a product consists of several functional groups. The product manager must control their interactions to provide the best possible overall performance and eliminate bottlenecks.
Own the backlog. Features in the backlog must be prioritized. As the backlog owner, the product manager must fill in the backlog with new features and control the successful completion of old ones.
Control communication within the project. Miscommunications among the product team must be discovered and eliminated as soon as possible. Otherwise, the price can be high.
Enforce the methodology. Adhering to common rules is at the top of mind when we speak about the success of Agile-driven development. The product manager is one of the roles that push the application of an Agile methodology. 
Analyze feedback. Don't think you or someone else from the product development team knows users' behaviors and reactions the best (or at least at an acceptable level). The only way to understand user behavior is to constantly receive and analyze users' feedback.
Define key product KPIs and metrics. KPIs are goals, while metrics are numbers. There are more than a dozen essential product KPIs that are the subject of a separate post. 
Set up data gathering and analytics. Data is crucial in the product development process. That's why data must be gathered and processed accurately.
Constantly validate hypotheses.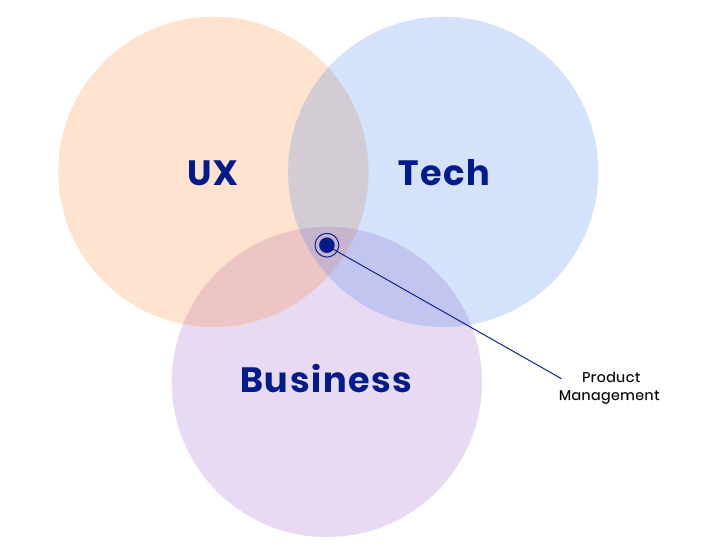 Product manager substitution
The role of a product manager is quite hard for anyone but a dedicated product manager to fill without introducing serious risks for the product. There are just a few zones of responsibility where other team members can help. All the rest require special knowledge and heavy investments of time.
Often, the product manager role is assigned to the product owner or business analyst. This isn't a good idea, though. The product manager role requires sharp focus and deep involvement in the product. That makes both a product owner and business analyst inefficient at carrying out a product manager's duties. Check out our comparison of different roles below.
Why a product manager is important
A lack of market need is the reason for failure for 42 percent of startups according to CB Insights research. The four next most common reasons are as follows:
Ran out of cash — 29 percent
The team wasn't right — 23 percent
Got outcompeted — 19 percent
Faced price issues — 18 percent
Now, compare these reasons for failure with the list of responsibilities above. As you can see, all of them are closely connected to each other. So it's fair to say that the success or failure of a software product is highly dependent on the role of a product manager.
Microsoft Zune case
This problem isn't limited to startups. Microsoft Zune is a striking example. Launched in 2006 and discontinued in 2011, the Zune media player was designed to pursue its main competitor, the Apple iPod. The iPod was already on the market when the Zune arrived, and even massive marketing investments had almost no effect. 
Lack of a market killed the Zune. Microsoft bet on people who didn't identify themselves with Apple products. But in fact, this group turned out to be too small. In cases like this, the product manager's direct responsibility is to determine such facts before entering the market.
What's quite interesting about this case is that the scale of the loss was crystal clear just a few months after the launch. Quarterly losses as high as $289 million illustrate the importance of product management.
Project manager vs product manager vs product owner vs business analyst: What's the difference?
Compared to the product manager, the project manager operates at a lower level. The product manager focuses on strategy, while the project manager's job is more about tactics. 
The product owner has a similar tactical role limited within the Scrum methodology. Yes, sometimes product owners can handle some of a product manager's strategic duties. However, in prototype-driven Agile development, the team must have a special member in both roles with different zones of responsibility.
We found it rather valuable to compare these close roles that are often confused. Take a look at the table below comparing the product manager, project manager, product owner, and business analyst roles.
| | Product Manager | Project Manager | Product Owner* | Business Analyst |
| --- | --- | --- | --- | --- |
| Ideas | Generating, validating, prioritizing | Turning into defined tasks | Generating, prioritizing (owning the backlog) | Eliciting, analyzing, prioritizing, turning into a requirements specification  |
| Product vision | Setting | Following | Setting | Designing based on business needs and ideas from stakeholders |
| Resources/ Entities | Ideas, teams | People, time, scope, quality | Backlog, roadmap | Business needs, requirements |
| Defined tasks | Generating (not necessary) | Controlling completion | Prioritizing, controlling completion | Developing |
| Stakeholders | Discussing strategy | Discussing progress | Acting on behalf of stakeholders | Discussing requirements for elicitation and validation |
| Roadmap | Forming | Following | Approving | Following |
*This role is specific to the Scrum methodology.
Product manager salaries
On Glassdoor.com, we found these salaries for product manager positions in different locations:
In the United States, the average yearly salary is about $112,000
In the UK, it's about $73,000**
In Canada, it's $70,000
In most Western European countries, salaries are the same as in the UK or a bit lower
**We've converted all salaries into US dollars for your convenience and easier comparison.
Hiring a product manager
1. Hiring in-house
Let's delve into the pros and cons of having an in-house product manager.
Pros:
Fully focused on your product. Your employee will invest all work hours entirely into your product. The employee does not need to switch between tasks, so both the quality and performance of work will be the highest possible. 
Easy communication. Being in-house, it's much easier and faster to communicate with colleagues.
Efficient supervising. A product manager located in the office can be controlled easier and more efficiently than a remote product manager.
Cons:
Can be hard to find. The product manager role requires deep knowledge and many expert skills. This makes it quite difficult to find the right person across your office.
Can be rather expensive. As you can see above, the range of salaries differs fairly broadly. And this is not the end: in San Francisco, for example, product managers start from $98,000 per year.
Small projects are less interesting for candidates. The more experienced the candidates, the more ambitious the projects they're usually looking for. 
In-house employment isn't cheap. The employment process itself is tied with spending. You should not only give your new employee a table and a chair but provide everything needed for comfort, buy medical insurance, etc. Moreover, the hiring process is often long and painful.
2. Hiring outstaffed employees
Hiring employees through outstaffing is pretty similar to hiring in-house. The difference is that communication can be a bit more difficult since people aren't at one place. At the same time, the remote hiring process opens a far wider range of candidates as well as the possibility to save some money.
3. Hiring a freelancer
As we said before, the product manager role requires deep involvement. Due to this, hiring a freelancer is a risky option: 
Freelancers often don't pay enough attention to the products they manage
Freelancers usually have no long-term plans
Freelancers can easily disappear when product development is full steam ahead
Freelancers can change their priorities without making you aware
Finally, freelancers hardly employ the processes of their clients
Of course, you can try your luck and hire a freelancer for the product manager role. But be ready for issues.
How to hire a product manager successfully
When to hire a product manager
A product manager is involved in product development from the very beginning, e.g. from the product discovery phase (see the image below). As the role is responsible for product alignment activities, it's important to have a dedicated product manager from the very start of the project.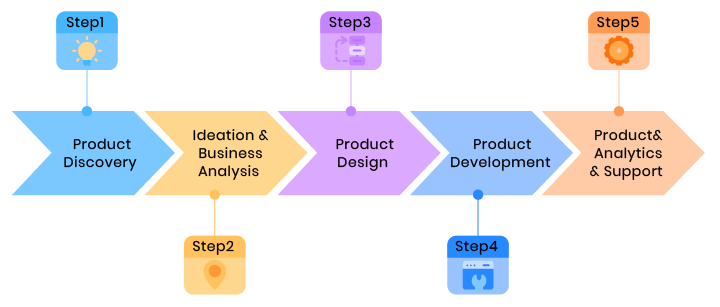 Some advice on successful hiring
We've prepared some advice that will help you hire a better product manager. Some of this advice may seem obvious, but it's worth repeating.
Write a detailed job description. The more details you cover, the better the result will be. Clearly structuring your description is also important.
Include in your description points about daily duties, not only essential but also preferred skills, etc.
Search for candidates where they're concentrated. Glassdoor.com is a good place to start. Other places to look include:

— Professional communities
— LinkedIn groups
— HR communities on social media or messengers
— Online staffing marketplaces (While you may not want a freelancer, a certain percentage of people on such marketplaces are always looking for regular or long-term positions.)
Check average salaries using Glassdoor.com.
If the number of candidates is high, use a scoring system to sort them.
Develop a detailed job offer including short-, medium-, and long-term personal goals.
Once you hire someone, arrange proper onboarding.
How to evaluate product manager candidates
Product manager skills
A bachelor's degree in a STEM field or a product management-related program
A master's degree is nice but not necessary
At least 5 years of experience as a developer, project manager, or product manager is a must
Certificates from well-known product management associations will be quite helpful
Well-informed about various aspects of product features as well as the software development process
Well-versed in Agile
Understanding of what an MVP is, why it's important, and how to design one
Takes ownership of daily meetings and sprint planning sessions
Delved into the product vision and product launch concepts
Excellent communication, problem-solving, research, and interpersonal skills
Able to manage all product development teams' communication processes
Strong reporting skills
What to ask during an interview
Understanding previous experience. Ask about previous projects and roles. The right candidate will answer enthusiastically.
Understanding motivators and career growth zones. Ask about future job-related plans, what is most exciting about work, etc.
Understanding management skills. Ask about delegation, planning, decision-making, communication, motivating others, and problem-solving, which are all management skills.
Assessing theoretical product management knowledge assessment. Here you can either ask some blitz questions related to theory or offer the candidate to do a test task. The second option works much better with people who are bumbling when asked to give instant answers.
Assessing practical product management knowledge. The best option to assess practical skills is a test task.
Technical background. If a candidate has enough proven experience in a technical role, that's enough for most cases. Just ask some technical questions related to their previous experience. 
Understanding of UI/UX basics. If the candidate doesn't know who Jakob Nielsen is and what his heuristics are, that's a red flag. Also, one of the easiest ways to test UI/UX knowledge is to ask about the difference between UI and UX.
Understanding of sales and marketing basics. Marketing and sales are closely related to product management. The proper candidate should clearly understand marketing terms, processes, goals, and results.
Soft skills. Communication, stress management, flexibility, and leadership are the most important soft skills for a product manager.
Product management outsourcing
One more option is hiring an agency or outsourcing. A reliable outsourcer with the right competencies and well-tuned processes can be your best option. Let's look closer at the benefits of outsourcing the product manager role.
Benefits of outsourcing
Share risks with the contractor 
Can significantly reduce costs
A proper partner can provide better efficiency
A contractor has a ready-made process, previous experience, and answers you don't have
What is also important is that the contractor experienced in product management clearly understands the importance of deep involvement. Your dedicated product manager must work on your project full time, so take that into consideration.
RubyGarage is at your service
As you can see, hiring a rockstar product manager isn't easy. The proper candidate must have many different skills and rather wide work experience. Moreover, it's hard to assess a candidate who is remote.
RubyGarage will help you with this. Our Product Management Competency Center is filled with highly skilled professionals who are able to handle products of any complexity. 
Conclusion
Let's recap.
The product manager is a separate role from the product owner, project manager, and business analyst.
Without a product manager, your product will likely fail. 
The list of a product manager's duties is fairly broad and complex.
The salaries of product managers are fairly high.
There is no room for freelancers here.
You can find a lot of helpful advice on how to hire a good product manager.
Outsourcing product management makes sense when a contractor is skilled and reputable.
Of course, it's up to you how to act when thinking about hiring a product manager. Just make your decision carefully!
FAQ
A product manager is a role who is responsible for identifying the customer's needs, analyzing these needs through the lens of the business's needs, and formulating a vision of the product that the development team then turns into reality. In other words, the product manager manages all aspects of a software product's lifecycle with the help of data and feedback from real users.

Product vision, scope, and business model forming
Market research and analysis
Competitors research
Users' needs analysis
Product roadmap development
Stakeholders management
Feature set prioritization
Teams orchestrating
Backlog ownership
Communication control
Feedback analysis
KPIs and metrics definition
Data gathering and analysis set-up
Hypotheses validation

Yes, if your contractor is experienced enough and employs proper processes. Here are the benefits of outsourcing:

You will share risks with the contractor

You can significantly reduce costs

A proper partner can provide better efficiency

A contractor has a ready-made process, previous experience, and answers you don't have

RubyGarage will help you with this. Our Product Management Competency Center is filled with highly skilled professionals who are able to handle products of any complexity.