Top 4 Marketplace Investors That Fund Startups
13593 views
9 min
Dec 03, 2019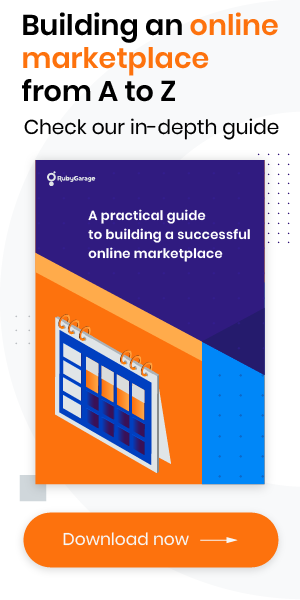 If you're a CEO or founder of a marketplace looking for investors to expand your business opportunities, we have good news for you. Since the global ecommerce market is one of the most vibrant business sectors in the world today, marketplaces became extremely attractive to all sorts of investors. For this article, we investigated dozens of venture capitals to share the list of top investors. We hope you'll find it useful!
Types of investments
Let's first define the types of investments that startup marketplaces can get. Seed funding is the very first funding stage. As the name suggests, seed funding is an investment made by venture capital firms, founders, family, or friends to "plant the seed" of a business. This type of financing helps entrepreneurs to make their first steps, namely to conduct all the necessary research and develop a product.
Once a business defined its goals and values, established the user base, and set a revenue model, it can opt for the next funding stage – Series A. Typically, this funding raises from $2 to $15 million. 
Series B funding rounds are about getting new business opportunities and expanding market reach. Estimated investments made at this stage are between $7 to $10 million. 
Series C round is all about scaling. When a business sees the need to scale, expand to new markets, or even acquire other companies, it need Series C investments. This round can raise $100 million and even more. 
Top marketplace investors every owner should know
Now, when you've learned a bit about investment rounds, let's get acquainted with the top venture funds that have expertise in investing in marketplace startups. In the list below, we'll cover the experience, investment strategies, and famous use cases of each venture capital company we chose. 
Accel VC
Accel is a widely-known venture capital (VC) firm in the US that deals with companies at all stages (startups, early and growth-stage businesses). Accel is famous for funding such technology companies as Facebook, Spotify, Slack, Atlassian, Dropbox, and many more. 
Investment strategy
Accel VC isn't a usual fund since its main offices are located across three continents: in the US, UK, and India. Thanks to this, Accel has a considerable network and contacts across the world. This fund doesn't only invest money in companies. They share their network opening new horizons for young but perspective businesses. Accel VC helps founders in several key ways:
They hire senior leaders for managing positions
Help business expand to new markets
Introduce business to new customers 
Following this investment strategy, Accel invested in Algolia, search-as-a-service France-based company. They not only invested money but also helped the business relocate to the US and hire a top talent management team. 
Famous partnerships
Speaking about marketplace investments made by Accel, the French carpooling giant BlablaCar is a great example. Apart from investing money in BlablaCar, Accel helped the company to expand into the Indian market in 2015 by sharing Accel partners' networks and portfolios in this country. 
One more example of investing in marketplaces is Jet. Accel made Series A investment in this company in 2014, and it was successful. In just three years, Jet was acquired by Walmart for $3.3 billion. 
Accel invested $1 million in Flipkart ecommerce company based in India when they were planning the initial framework. And now Flipkart features more than 30 000 employees and 50 million customers annually. 
The bottom line
Accel is a marketplace investor that funds businesses at all stages from the startups with the concept only to the growing companies. The firm has broad expertise in marketplace investing and successful stories of Flipkart, Blablacar, and more. 
Sequoia VC
Sequoia is one of the most famous and influential venture capital firms in the world founded more than 40 years ago. Its founder, Donald Valentine, started to invest money in small risky tech companies in 1975. His first significant investments were in Atari and Apple companies. The next early investments of Sequoia were Google, YouTube, Oracle Corporation, Cisco, Yahoo, PayPal, LinkedIn, Stripe, Airbnb, and many more. Thanks to the Sequoia investments in about 1500 companies worldwide, these businesses now control about $1.4 trillion of combined stock market value.
Investment strategy
We're never interested in creating markets – it's too expensive. We're interested in exploiting markets early.
When Sequoia considers whether to invest in an idea, they stick to the approach given above in the quote. Their main goal is to conquer the existing markets with revolutionary projects and solutions rather than invest resources to build markets from scratch. Sequoia marketplace investor finds this approach the most beneficial since exploiting existing markets is easier and has more chances to push the product. In addition to this, Sequoia usually looks for ideas that break the limitations and bring something innovative to current problems in the world. They're also interested in the long-standing relationship and investments rather than in the short-term ones. 
One more exciting thing is that Sequoia follows the Sequential Market Identification approach to make investing decisions. This approach means they predict future trends and needs based on the markets that already exist. For example, when Sequoia invested in Apple, they realized that if everyone is going to have their own computer at home, customers will also need to get mice for them. This led them to make further investments in the Xerox company. 
Famous partnerships
One of the most successful cases of investing in the marketplace for Sequoia was Airbnb. The venture fund paid their attention to three entrepreneurs who had the idea of creating a culture of excellent customer service delivered for travelers. The core values of the future Airbnb marketplace impressed Sequoia investors, and they saw the potential of the project to boom the market. Today, thanks to the investments made in the company, the projected revenue for Airbnb by the end of 2020 is predicted to be up to $8.5 billion.
The bottom line
Sequoia is a venture capital firm that looks for fresh ideas to exploit markets early with innovation and technology. The company focuses mostly on long-term investing relationships with startups and sticks to the Sequential Market Identification approach.
Union Square Ventures (USV)
Union Square Ventures is a New-York based venture capital firm. It features six main funds for early-stage investments (Series A and Primarily seed) and also three opportunity funds for growing and mature businesses. The company is famous for investing in such products as Etsy, Behance, Twitter, Foursquare, Tumblr, Duolingo, and others. USV venture capital has clear investment strategies that anyone can read about on their website. Whenever the company changes its approach or direction of investing, they publish the USV thesis amendment on the site to announce entrepreneurs about that. 
Investment strategy
In general, USV's investment strategy focuses mainly on businesses that build solutions to broaden access to education and learning, financial services and capital, and health and wealth. USV is looking for brands that not only serve a purpose but also build trust with their customers and integrate into their hearts and minds. 
The challenge for all of us to find ways to exploit technology to reduce the cost and increase the accessibility of education.
In November 2019, USV announced its Education Transformation that focuses on investing in projects that could drive up the way how we learn and reduce the educational costs for users across the world. So, this venture capital firm sees the need to leverage technology to the education industry and eager to find entrepreneurs who share the idea of restructuring education through technological advances. 
Famous partnerships
One of the recent investments backed to the marketplace by USV was the Outschool platform. Together with Reach capital, USV now leads Series A investments into this project, truly believing it will show what excellent education is. One more example of successful investment in marketplace development was Etsy. USV gave the financing to Etsy since they liked the marketplace model and extremely great online shopping experience they proposed for artists. Also, USV helped Etsy redesign a few services, grow in size, and hire new professionals. 
The bottom line
Union Square Ventures firm loves investing in marketplaces since this business sector is growing each year. They have expertise in both financing and helping to build a company from scratch as well as extend opportunities for growing businesses. Their new investment focus for this year is the education industry, so they look for new ideas in this field .
FJ Labs
FJ Labs are global marketplace investors featuring an impressive portfolio of successful cases in this field. They've built and operated more than 20 companies, backed more than 500 entrepreneurs worldwide, and invested in more than 300 businesses from 20 countries. 
Investment strategy
The main focus FJ Labs takes in financing is the marketplace sector. They love investing in B2B and B2C marketplace development and bring transparency to various markets through technological solutions. Apart from marketplaces, they invest in SaaS solutions, mobile apps, and products in particular industries (Fintech, Travel, Ecommerce). 
FJ Labs has some main criteria they follow when making decisions: 
your project should have a potential value of more than $1 billion;
a valid business model;
no disintermediation risk;
a team of professionals;
a growing market. 
In their marketplace portfolio, you can find such famous companies as Flexport, Uber, Lime, Jobandtalent, and many more. 
The bottom line
This venture capital firm is an expert in B2B and B2C marketplace investments for many years. Their impressive portfolio of 300 companies invested is proof of the deep expertise in that field. The company has a fast and straightforward decision-making process that is clear to every entrepreneur.
To sum up, have a look at the comparative table below:
| | Accel | Sequoia | USV | FJ Labs |
| --- | --- | --- | --- | --- |
| Focus | Companies at all stages | Tech companies at all stages | Education startups | Mainly startups, B2B and B2C marketplaces |
| Selection criteria | Companies with sound business plans and disruptive ideas | Sequential Market Identification | Businesses that serve a purpose and build trustful relationships with the users | Potential value of $1 billion, valid business idea |
| Famous partnerships | BlablaCar, Jet, Flipkart | Airbnb | Etsy | Uber |
Wrapping up
Today, marketplace owners have many opportunities to expand their businesses thanks to the outside investments of venture capital firms. To find investors for a startup, you should investigate the selection criteria of each VC firm and choose the one with which you share the same vision and focus. If you find this article useful, subscribe to our blog newsletter not to miss other posts on this topic.