How to Find and Hire Product Designers for Your Startup
6880 views
17 min
May 10, 2022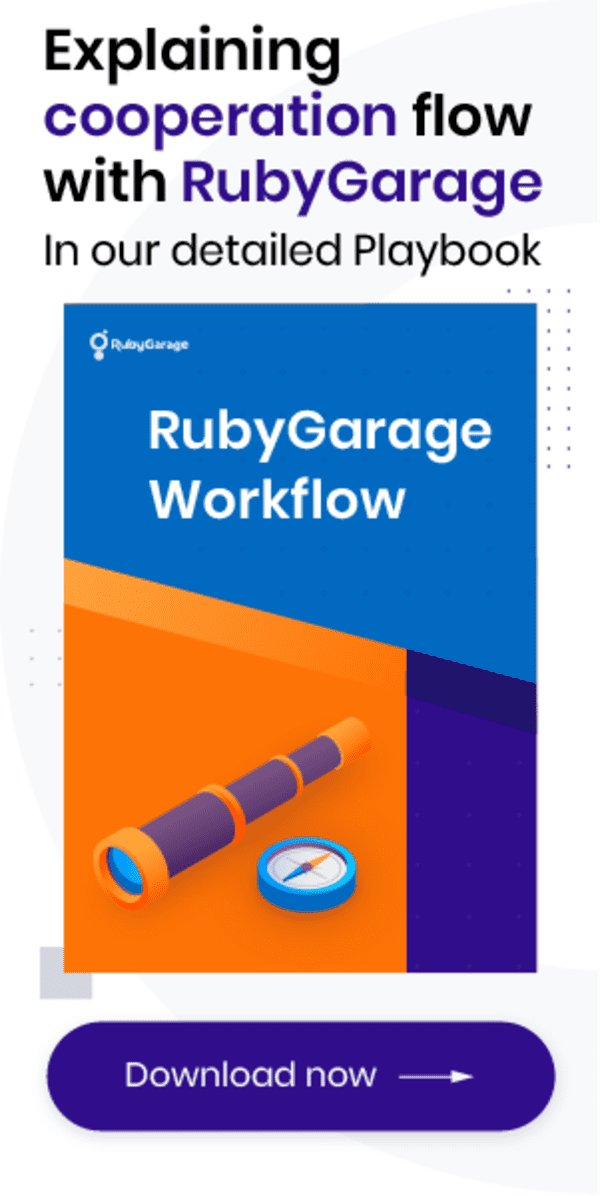 Product designers are the people who help turn an idea into a market-ready product. The product's success and its ability to stand out from competitors depends a lot on the product design. Thus, the presence of a product designer in a startup development team is not just recommended but required. 
The main steps to hiring a product designer are: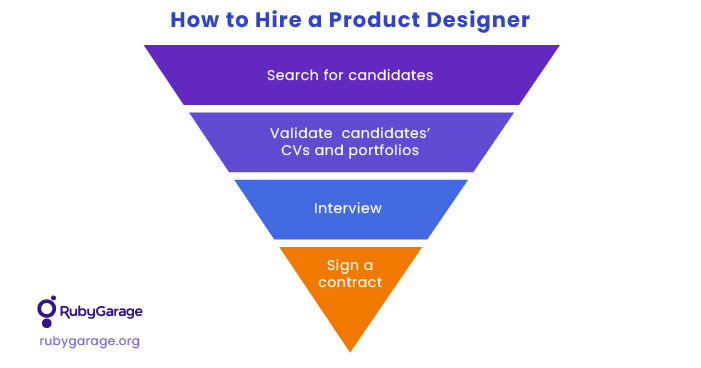 In this post, we are going to take a closer look at how to hire a designer and describe each step of the process. But first, let's find out what exactly a product designer is. 
Who is a product designer?
The aim of a product designer (PD) is to bring concepts from your head to life. To achieve the best results, PDs collaborate with project managers and tech leads. 
The PD is responsible for solving the user's problem through a product. They develop not only the design of the product but also the whole user experience, from marketing to collecting feedback. 
The business goals of a product designer may be establishing a brand, highlighting the customer value, or ensuring the most revenue. To achieve these goals, a product designer must complete the following tasks:
Requirements analysis — A product designer has to study all business requirements and convert them into technical requirements. 
Data structuring — The PD needs to thoroughly structure all the system's entities and attributes to create a high-quality product.
Research — It's the PD's task to study the market and the users to create a best-fitting product.
UX design — The PD turns the requirements and data into a working prototype and tests its viability. 
UI design — The product designer is responsible for creating the visual style of the product. 
Brand identity creation — The PD also creates a design system or brand style to ensure solid brand perception. 
In the image below, you can see a product designer's deliverables in incremental steps.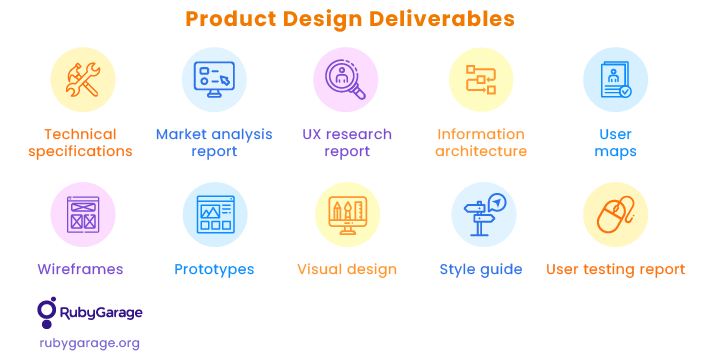 While tasks might differ due to the specifics of your product, we can outline the main responsibilities of a product designer:
analyzing business requirements 
creating technical specifications 
structuring data
performing user research 
performing market research 
creating research reports 
creating user journey maps
creating design concepts and wireframes 
turning the concepts and ideas into functional prototypes 
testing the prototypes and conducting user testing
creating a user testing report
adjusting the prototype according to testing results
creating the visual (UI) design
creating brand style guides or design systems
ensuring the product meets client expectations 
coordinating with developers and project management 
ensuring developers are following the design guidelines
A product designer is someone who carries your product from researching a problem to getting the last pixel ready, so they need to combine the abilities of a designer, researcher, and manager in one person.
Before we proceed to how to hire a designer, make sure your idea is feasible, your product is valid, and you have defined your business plan.
How you know you're ready to hire a product designer
Before you hire a product designer, ensure you're ready to start the design process. Otherwise, you risk hiring and paying for a professional before they can start their work. Before switching to product design, validate your idea by ensuring that all of the following are true:
Your idea is feasible 
You should be able to implement your idea technically, financially, and legally. If there are no technologies able to implement your ideas, you can rethink your idea but not invest in the product design yet. Also, when there are legal restrictions that limit your ideas, ensure you've addressed them all before moving to the next stage. Finally, you need to have enough budget to finance the product design and further development.
Your product is validated 
Ensure the market you've selected is interested in your product and can provide enough revenue. Also, check that you include all sectors of your target audience. Lastly, make sure you've defined the needs of your target audience correctly and your product is an appropriate fit. You can use our product validation guide to ensure you don't miss anything.
You have a defined business plan
Without a clear business plan, there is no objective to reach. Non-aligned product design and development can end up causing a mess if you develop unnecessary features or even a product with little demand. In either case, you risk wasting money and making the end product more expensive than it needs to be. Create a business canvas, or at least a lean canvas, to state your business model and ensure product creation direction. You can find out how to create a business model here. 
When you have everything ready for the product design stage, you can hire your product designer. 
How to hire a product designer
Once you've decided what product you need, what goals you want to achieve, and who would be best suited to designing your product, it's time to find and hire product designers. Here are steps and tips on how to hire a designer. 
Prepare a clear job description 
When you want to hire a product designer, you need to prepare a clear job description in order to narrow the circle of candidates to those best suited to the position. Your defined scope and budget will help you create more specific requirements.
When preparing a job description, make sure to include certain fields: 
Job title — Make the title as specific as possible to immediately tell candidates what you're looking for. Try to use well-known terms and descriptions. 
Job summary — Provide information about your company and position expectations in simple words.
Location — Include the job location so your candidates know where they're going to work. If they will work remotely, state this. A remote option will widen your pool of potential employees. 
Responsibilities — Indicate what the position's responsibilities are, and mention tasks specific to your company that might not usually be associated with the job. Include the day-to-day tasks and duties of the employee as well as the people they'll report to or work with on a daily basis. 
Requirements — State all the required knowledge, skills, and qualifications, including both hard and soft skills.
Benefits — Define all employee benefits, such as vacations and medical insurance.
Try to give as much detail about the product as possible. Each candidate needs to know about the project they're joining. The project and scope will define the workflow, and the product designer's willingness to join your project. 
There might be some details that you'd like to keep undisclosed to retain your competitive advantage, but you have to explain what you can tell as clearly as possible to the candidates. Below, you can see a job post example.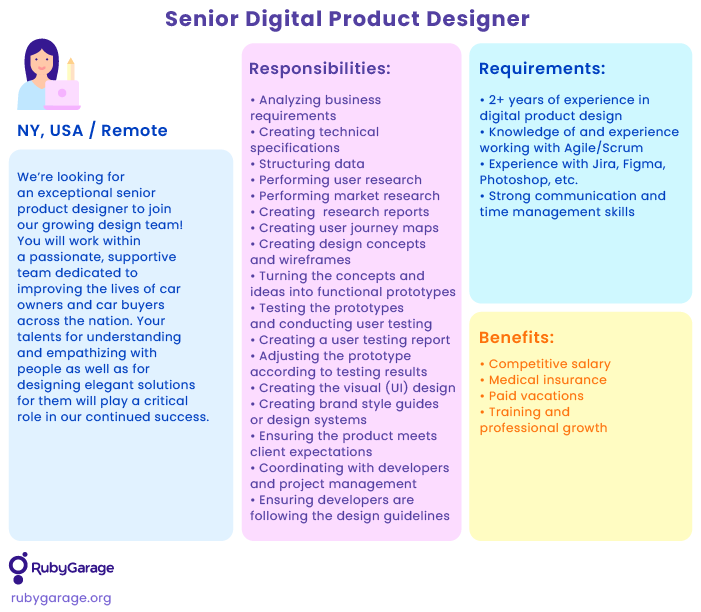 Search for candidates
The next step in hiring product designers is to decide where to look for them. Two options are: 
You can either message the candidates you've found or create a job post with your previously prepared description and wait for candidates to respond. 
Explore CVs and portfolios 
As soon as you've found some candidates, pay attention to their work experience and claimed expertise. Also, you can look for recommendations from their previous employers. 
Explore their completed projects, and look for similar projects in case studies. This will show you a potential candidate's expertise and give you an understanding of what you can achieve with them. 
Interview
Now that you have selected some trustworthy and qualified designers, it's time to meet with them. 
During the interview, pay attention to: 
Previous experience — Find out what problems your candidates solved and tasks they completed previously. If possible, let them explain how they did it, what they used, and what deliverables they produced. 
Tech stack — Every designer has to deal with some software and technologies, whether it's task tracking software like Jira or a design instrument like Figma. Find out what a designer knows, what they have experience working with, and if this tech stack is applicable to your project. 
Design evaluation methods — You should expect the candidate to mention some metrics and tools. No answers at this point is a red flag. It means that the candidate doesn't pay attention to whether their design works well.
Collaboration with other stakeholders — it's important to work with developers, managers, and other team members to create a smooth product design. Explore how a candidate communicates and collaborates while solving common problems. 
Attitude to their trade — Try asking not only positive questions like "What do you like the most about your job?" or "What's an example of good UX design you've recently seen?" but also ask for a bad UX design example. A passionate product designer pays attention to all design details, and it shouldn't be difficult to remember an example that annoyed them with its poor quality.
Your solution — Finally, find out how your potential employee would solve your problem. A number of ideas is a good sign, even if not all of them seem valuable to you at first sight. Let them explain every solution and their reasoning so that you know how the person thinks and what they consider while making decisions.
This interview will provide you with enough detail to understand the processes followed by your potential product designers, their approaches and expertise, and what your workflow might look like. 
Choose a designer and sign a contract 
After you've talked to all your candidates and you have all their profiles and offers — who can perform what task for what price — it's time to hire your product designers. Find a candidate that suits both your budget and your needs and sign a contract with them. 
Before signing a contract, ensure you've included: 
Goals to achieve, tasks to complete, and responsibilities to carry out — This will ensure you have all necessary jobs completed, or will give you the opportunity to prove noncompliance if the contractor underperforms. 
Payment — Ensure you have stated the amount and any possible changes as well as the payment procedure so no questions arise later. 
Trial periods — When hiring an employee, you might want to add a trial period to check if they suit your needs. This also should be stated in the contract. 
Terms of contract termination — State under what circumstances both sides can terminate the contract and what the obligations are in such cases. 
When you've chosen a candidate and are ready to sign a contract with them, don't cancel all the other interviews immediately. In case the first candidate doesn't accept the offer, it's better if you have several options. 
However, hiring an in-house product designer is not the only option for designing your product. Let's look at other options and compare them to find the one that best suits you. 
Who can make your product design?
There are three options for who can make your product design: a freelancer, an in-house designer, or a design company. In this article, you can find the pros and cons of working with each option. Choose according to your needs and preferences. 
Executor
Pros
Cons

Freelancer

Affordable
Many candidates

No quality guarantees
Need to find the whole team
Need to coordinate the team

In-house specialist

Responsible for quality 
Knows the product and the team 
Affordable

Need to hire the whole team 
Limited employee knowledge and experience 
Need to control the work yourself 

Design Agency

Vast experience and expertise 
High quality
All specialists are from one place
Get a market-ready product design
Fast results

More expensive
Possible time gap between you and the agency
Freelancer 
Hiring a freelancer assumes that you sign a contract with an independent person who commits to fulfilling the tasks from the contract according to their schedule. You pay them either a defined amount or per hour at an agreed rate. 
Pros:
Pricing — Freelancers are the cheapest product design option, with an average salary of about $81,000/year ($40/hour). The rates are almost the same as hiring an in-house PD, but because the time of your collaboration is limited to the product design stage and you pay per hour, your cost will likely be less for the freelancer. 
Many candidates —There are quite a lot of freelancers, so it shouldn't be difficult to find a specialist to fulfill your business needs. 
Cons:
No quality guarantees — Freelance designers focus mostly on deliverables, not achieving business goals. You might get a mockup of a product that seems sufficient, but after the release, you find out there are some critical issues in the user experience that harm the product's reputation.
Need to find the whole team. — Product design is not an isolated task. It requires close collaboration between different specialists, first of all product designers, product managers, and developers. Thus, if you choose to hire freelancers, you'll have to find all the specialists individually. 
Need to coordinate the team. — When you have lots of independent specialists working on one product, you have to organize and oversee the communication and collaboration between them. Otherwise, miscommunication can lead to poor product quality. 
In-house specialist 
An in-house product designer is your employee, already part of your product team. You have to pay your employee a certain amount per year or per month, not with an hourly rate. 
Pros: 
Responsible for quality — In-house specialists are part of your company, so they may produce higher quality work because they are also interested in the success of your product. Moreover, you can have more control over their work in order to ensure the highest quality. 
Knows the product and the team — When your PD is your employee, they already know almost everything about your company and product. They also have constant access to useful sources of information ( they can always ask you and other colleagues familiar with the product). Collaboration with your startup team also is convenient, especially when the whole team is in-office. 
Pricing — The average salary for a product designer in the US is $81,000/year, varying from $46,000 to $149,000 depending on skills and experience. You also have to consider taxes, which increase your expenses. 
Cons: 
Need to hire the whole team — When you don't want to outsource your product development, you have to find and hire product designers, product managers, developers, testers, and the whole rest of the team, unless you are willing and able to complete these tasks on your own." 
Limited employee knowledge and experience — Professional development of your employees is your concern, thus the knowledge and skills they show during an interview can become your limitation. To overcome it, you'll have to take care of your employees' development. Otherwise, you'll have to change specialists for ones who are more qualified or broaden your team. 
Need to control the work yourself — Your employees' performance and results are also your responsibility. 
Design agency
The third option is to outsource your task to a product design agency. This option means you'll have a whole team of experts working on your product. The pricing is mostly dependent on the project and based on an hourly rate. 
Pros: 
Vast experience and expertise — Design agencies usually have vast experience, and their employees have extensive expertise and a range of skills. Thus, with a design agency, you'll get the best ideas and solutions for your product. 
High quality — These companies build their reputation on their clients' projects, so they're always interested in your success. Also, their expertise and ability to follow the latest trends help to improve your product. 
All the necessary specialists involved — You don't have to worry about gathering a team yourself. Moreover, if specialists lack expertise or are unable to work, the design company will replace them and ensure a painless workflow.
Get a market-ready product design — All you have to do is provide the requirements, supply entry data, and revise it from time to time. At the end of the agreed time frame, you'll have the job done. 
Faster results — Design companies can lower your expenses and shorten the time to market with the help of design systems, best practices, and solution kits. 
Cons: 
More expensive — Hiring a product design company is more expensive than hiring a freelancer or an in-house employee. The rates for a design specialist start from $35/hour and can reach up to $450/hour depending on a company's location, the seniority of the company's employees, and the tasks they have to perform. 
Time gap — Agencies usually have their own offices in particular locations, which can cause inconveniences when conducting meetings. However, with tools like Skype and Google Meet, this disadvantage doesn't carry much weight.
What to choose
As you can see, all three options have advantages and limitations, so your choice should depend on your needs and abilities. Here are some points to pay attention to when making your decision: 
Project size 
The best fit for your project might vary depending on the size of the project:
For easy, ongoing projects hiring in-house product designers is a good idea.
If you have one or several simple standalone products that may take several months to develop, you should hire a freelancer. 
For difficult medium to long-term projects, outsourcing to a design agency is a great option. 
Level of your involvement
The level of your involvement is another crucial criteria. Decide whether you are more comfortable with a hands-on or hands-off approach. 
Freelancers will require frequent research and design oversight, and in-house specialists will need your deep involvement as well. A design agency can make everything on its own and will require only approval for deliverables. However, they might let you dive into the process as a part of the team if you want to be more involved.
Included services 
When hiring a product designer, clearly define the scope of your project and ensure that the candidate chosen can cover it. 
For example, if you hire product designers but they can cover only the UI and UX part without research, you'll need to perform the research yourself or hire somebody else to do it.
Identify what services and tasks are a must and what it would be nice to include. Keep this in mind moving forward.
Summing up 
The short answer to how to hire a designer is to follow these five steps: 
Prepare a clear job description
Search for candidates or wait for them to respond 
Explore candidates' CVs and portfolios
Conduct interviews 
Prepare and sign a contract
Working through these steps requires a deep understanding of your needs and goals. It also requires an understanding of what the product designer's work will be in order to identify the right candidate. You might also consider other options, such as hiring a freelancer or contracting a product design agency. 
FAQ
If you want to hire an in-house product designer, be ready to pay about $81,000 per year. The salary may range from $46,000 to $149,000 depending on the experience and expertise of the designer and the tasks of the project.

When you want to hire a product designer, you have to ensure your product idea is ready for the design stage. Prepare clear requirements and a comprehensive job post, and place it on hiring platforms to get candidates or screen design platforms to find them yourself. Then, explore candidates' experience and portfolios and invite candidates to an interview. Identify the candidate you want to hire and sign a contract with them.