Options to Hire an App designer: In-house Employee, Freelancer, or Design Agency
2132 views
10 min
Apr 14, 2022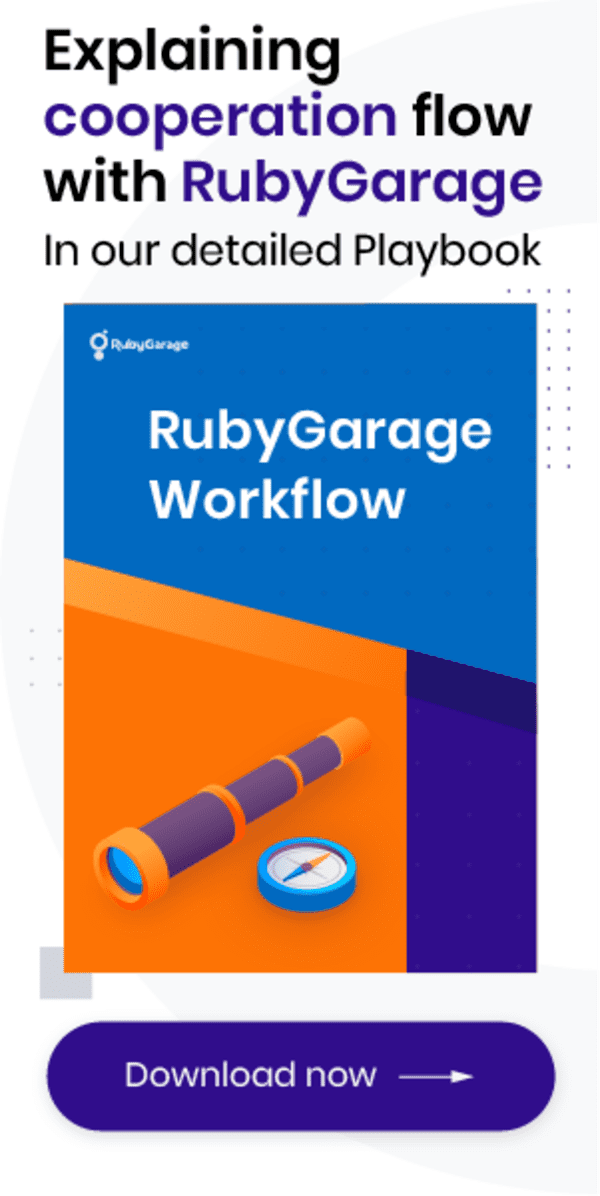 A smooth user experience (UX) and an attractive user interface (UI) help you increase your revenue, retain customers, decrease the bounce rate, and gain a competitive advantage. But low-quality design can do quite the opposite. That's why it's crucial to choose the best vendor to design your app. You have three options to choose from: 
In this article, we'll cover all three options, including where to find the specialists or company you need and how to validate candidates. In the end, we'll take a look at criteria which can help you decide what option fits you the best. 
But first, ensure your idea is validated and your business plan is reliable. To do this, you can use our guide on evaluating a business idea. If you're confident in the concept you want to create, proceed and hire an app designer. 
Three options to hire an app designer 
When you want to hire app designers, you have three possible options: hire an in-house employee, find a freelance designer, or work with a design agency. These options differ in terms of the quality of work, timing, pricing, and approach to work. Let's look at these differences and other factors associated with each option.
In-house app designer 
The first option to hire an app designer is to find an in-house employee. This type of approach involves hiring someone to work for your company full-time, paying them an appropriate salary, and thus internalizing the app design process.
What to expect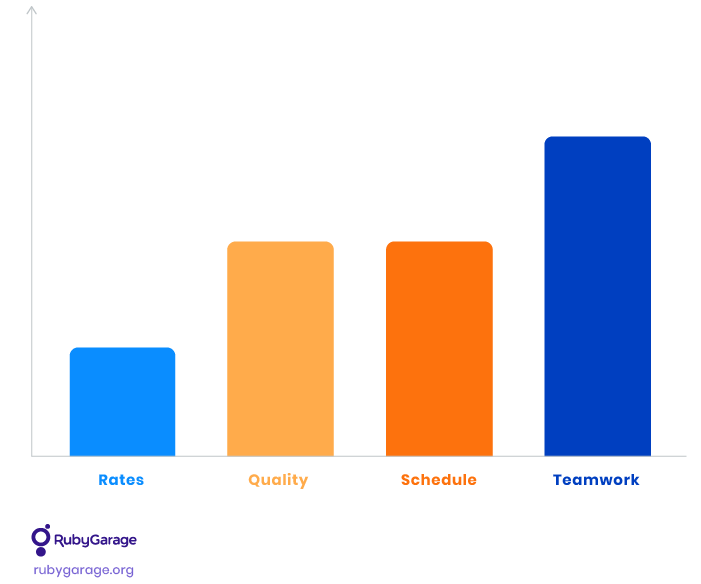 Rates: low to average
The rates for in-house app designers are a bit lower than for freelancers. The annual salary depends on the employee's seniority level and falls between $57,000 and $105,000, with an average of $78,000 in the US market. Still, you have to consider that you also pay taxes for your employees and have to provide some benefits like paid vacations and medical insurance. 
Quality: varies
The quality of in-house designers' work depends on their qualifications as well as their experience and motivation. It's also crucial to review the in-house designer's work to ensure it meets your quality expectations. 
Schedule: varies
The scheduling and ability to follow the deadlines is another consideration, as employees' performance and time management often correspond to the level of your involvement and control. Of course, you can fire a designer that doesn't deliver the desired results in the agreed time, but this will force you to cycle through employees until you find a diligent one. In most cases, in-house employees try their best to stick to the schedule. 
Teamwork: upright
Teamwork is a strength of in-house employees. Assuming the whole team is in-house, specialists can easily communicate with each other, have access to all required data, and are in the same time zone. But if your team is not entirely composed of in-house members, you'll have to spend more effort establishing and facilitating communication. 
Where to look for an in-house designer
The best place to recruit your in-house app designer is through hiring or social media platforms like Workable, Recruitee, and LinkedIn. On these platforms, you can review candidates or create a job post and receive applications, making the hiring process convenient. While there are not as many options for finding in-house designers as there are for finding freelancers, you can still easily find an app designer. 
How to choose 
When choosing an in-house app designer, first review candidates' CVs. This allows you to find out if candidates have enough experience, whether this experience is relevant, and whether they possess the skills and knowledge you need. 
Then explore their portfolios and look if there are any similar or related projects that can prove the relevant experience. A candidate's portfolio can demonstrate a person's experience and expertise better than words in the CV. 
The next step is to interview your candidates. It's time to address any questions you might have. We recommend paying attention to the following topics: 
Previous relevant experience
Experience working as part of the team and collaborating with other internal stakeholders 
Technology stack 
How they evaluate the design 
Possible solutions they would use to solve your problem 
You also can give a test task to evaluate a candidate's work attitude, scheduling, and professional skills. 
Freelance designer 
The second option is hiring a freelance app designer, in which you outsource your design tasks to an independent contractor. The contractor completes tasks and charges you accordingly. The rate can be either hourly or a fixed amount agreed for a fixed scope of work. 
What to expect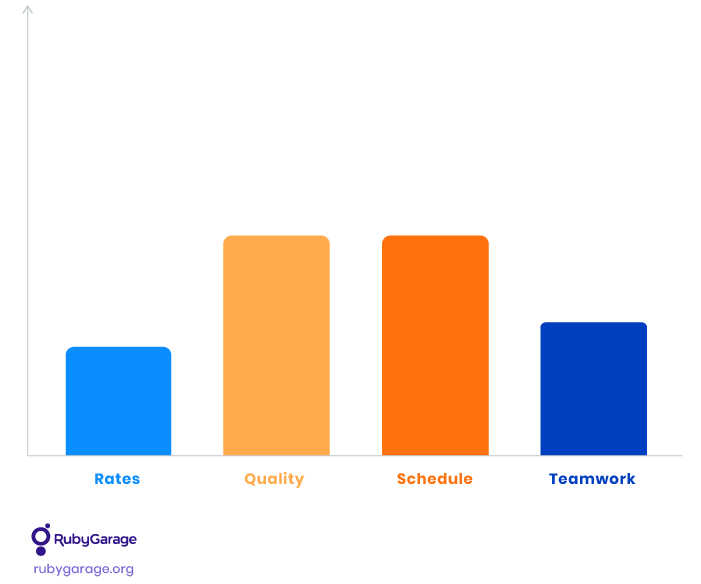 Rates: low to average
The rates for freelance designers range from $25 to $75 an hour depending on experience, skills, and the scale and requirements of the project. The average is about $50 per hour in the US, or $100,000 per year. This is higher than the average salary for an in-house employee, but if you consider taxes for an employee, the difference is not too big. 
Quality: varies
The quality of work will differ greatly depending on the skills and experience of a freelancer. Their attitude toward work matters a lot as well. Thus, you never know what you'll get in the end when hiring a freelance designer. 
Schedule: varies
Scheduling is also dependent on the time management skills of the designer. You can find a perfect freelancer who does everything on time or even in advance, or you can find someone who underestimates the time they need or just can't schedule their work properly, meaning you'll have to ping them constantly to get what you're paying for. You never know what you'll get. A good freelancer can speed up your app design, but a poor one can become a bottleneck. 
Teamwork: difficult
Teamwork might become an issue as you'll have to coordinate the freelance designer's work with that of the rest of the team yourself. By the way, if you don't already have the rest of the team, you'll have to find and hire all the other team members. When working with freelancers, facilitating work across the whole team is your primary task. 
Where to look for freelance designers
Luckily, if you decide to hire a freelance app designer, you'll find many candidates. You can look for them on freelance platforms like Upwork, Designhire, and Toptal. You can either look for people who are open to work, post your task and wait for a response, or explore design platforms like Dribbble. 
How to choose 
First of all, explore candidates' profiles. There you can find information about candidates' skills and qualifications, experience, and specializations. Some platforms also offer reviews for freelancers where you can see ratings and feedback from previous clients. 
After choosing some candidates according to their profiles, take a look at their portfolios. Explore the projects they've completed, paying attention to projects in your industry or similar projects from different industries. 
Then interview candidates or ask them to provide you with written responses about their tech stack, teamwork experience, methods of evaluating design, and relevant experience. You might also ask how a candidate would solve your problems. 
Lastly, give a test task and see the candidate's approach to work and their skills in the field. 
Design agency 
The last option is not to hire an app designer but instead to contract with a design agency. In this case, you outsource all the design tasks to a team of qualified specialists. The agency can charge a flat project rate or can bill you hourly. Clarify all the conditions of collaboration before signing a contract. 
What to expect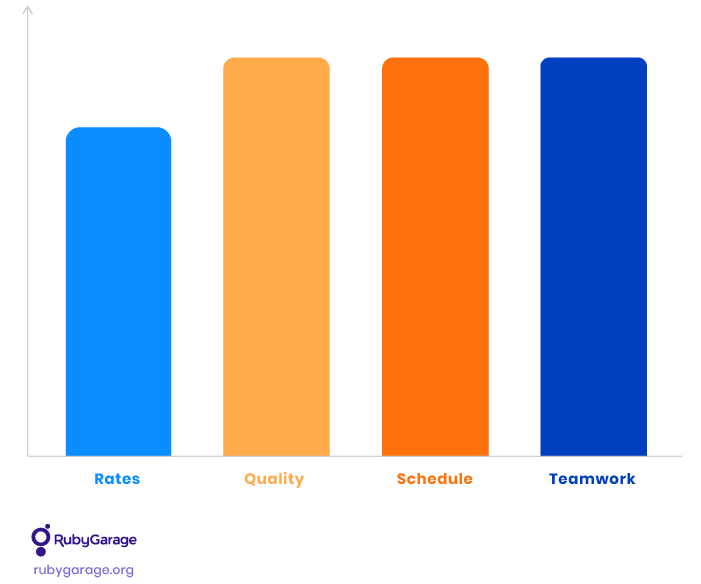 Rates: average to high
The rates of design agencies range from $35 to $200 per hour, depending on the location of the company, their experience, and their expertise. The total project cost will also depend on the project's size and complexity.
Quality: high
The quality of services provided by design agencies is usually high, as agencies have to gain huge experience before outperforming competition on the market. The expertise of this type of vendor is also high, as agencies are experienced with industry-specific requirements as well as app design best practices. 
Schedule: upright
The schedule of app design agencies is also a point of interest. If an agency is experienced enough, they might have a design system with a UI kit, for example, which makes designing your app faster and cheaper. All agencies are interested in delivering quality products on time because that's how they build their reputation. 
Teamwork: high-quality
Teamwork is also at the highest level, as design agencies usually have all the necessary specialists present. So if your app design requires additional research and/or technical evaluation, an agency can rely on its own analysts, UX researchers, and developers to gain the necessary information. 
Where to look for design agencies
You can explore ratings and reviews on websites like Clutch, GoodFirms, Behance, and Dribbble, or you can check out a list of top app design companies that compares the best offers on the market. 
How to choose 
When choosing an app design agency, first explore ratings. Pay attention to how people evaluate collaboration with the company, the quality they get, and the price they pay. Reading reviews can provide you with valuable insight on the processes within an agency and its appropriateness for you. 
Review an agency's portfolio and determine whether you like the agency's work. Look for similar projects or projects from your industry, as this will help you evaluate relevant experience and expertise. 
Also, you can request a consultation and ask an agency's representative for more information, including: 
If the agency has a design system that can simplify and speed up the design process while still ensuring the highest quality 
If the agency has a defined workflow 
What solutions the agency can offer to your business 
Also pay attention to an agency's social involvement, which shows whether an agency has expertise and insights to share with the community.
What option to choose 
If you need to hire an app designer, you have to consider several conditions: 
Project difficulty: breadth of the functionality you plan to design and the level of expertise required
Project duration: how long you plan to work on your project 
Your involvement: how much time and effort you can spend reviewing and facilitating the app designer's work
Team scaling: how you can scale the team if you need more designers or other specialists like a project or product manager, developers, analysts, and quality assurance engineers 
Project perspectives: whether you are planning to look for a team to develop and test the app
Based on the answers to these questions, you can find the right fit for your company in the table below. 
| Condition | Employee | Freelancer | Agency |
| --- | --- | --- | --- |
| Project difficulty | Low to medium  | Low to medium  | Low to high |
| Project duration | Continuous | Short-term | Short- to long-term |
| Your involvement | High | High | Low or as desired |
| Team scaling | Need to hire yourself | Need to hire yourself | Can get immediately on demand |
| Project perspectives | Only design  | Only design | Design + other tasks |
Final word 
When you want to hire an app designer, you first need to determine whether an in-house employee, freelancer, or design agency will be the best fit for your project. This depends on the project's difficulty, duration, and prospects, as well as on your level of involvement and your team. 
Once you've identified whom you'll need, explore the platforms relevant for this type of provider. These can be hiring or review platforms. 
Finally, examine the experience and qualifications of each candidate and choose the best one for your needs. 
FAQ
Hiring an app designer as well as outsourcing the design have both pros and cons, so the choice depends on your needs. When deciding, consider:

How difficult is your project?
How long will it take to complete? (Or is it ongoing without any finish line)
How much time and effort can you spend on design tasks?
Do you have the entire team? Will you have to scale it during the project?
What other stages of the app lifecycle do you need to complete?

When you need to hire an app designer for your in-house team, you first need to define your needs, goals, and tasks for the designer.

Then find candidates on hiring or rating platforms, study their CVs and portfolios, select the candidates that fit your needs, and invite them to an interview.

During the interview, pay attention to candidates' experience, tech stack expertise, ability to work as a team, and approach to looking for solutions to your problems.

After the interview, you will have several relevant candidates. Choose one or as many as you need and sign contracts with them.