How to Get Funding for Your Online Marketplace Startup
7345 views
12 min
Dec 24, 2019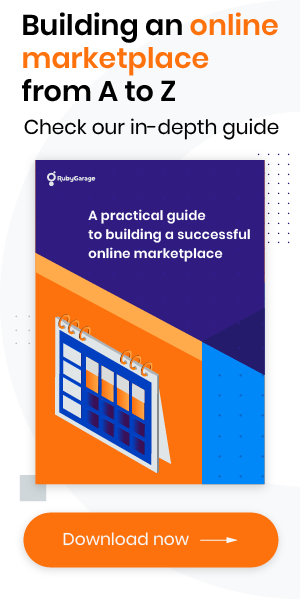 Your marketplace startup has gotten off the ground and is gathering momentum. Now you want to expand. All you need is investment. If you raised a seed round of funding with the help of external funds, you understand how hard raising money can be. In this article, we consider the most reliable approaches on how to get funding for the A-series round of your startup, consider their advantages and disadvantages, and analyze what option is best for your marketplace startup.
#1. Bootstrapping 
Bootstrapping, or self-funding, is an approach when you invest your own money and the operating revenues of your startup. Mailchimp, Basecamp, Braintree, BigCommerce, GitHub, Mashable, and TechCrunch are some of the most well-known companies that were funded by bootstrapping.
Before choosing this approach, make sure you know all its benefits and drawbacks.
Advantages of bootstrapping
Save time. With bootstrapping, you don't need to prepare a sophisticated pitch deck, practice an elevator pitch in front of the mirror, and persuade demanding investors to give you money. 
No debt associated with your company. Knowing that your startup has failed is hard. Knowing that your startup has failed and there's a huge debt you need to repay is even more frustrating. In the case of bootstrapping, you can lose your own money and keep your company's name in the clear.
Keep full ownership of your company. Investors, as well as startup accelerators and incubators, work for equity. That means you'll have to share ownership of your company with others.
No need to provide investors with the right to make decisions. Along with equity, you have to give investors power to influence your company's management. In the case of bootstrapping, you keep all control over your company.
Disadvantages of bootstrapping
Requires a lot of money. If the initial fundraising stage requires about $100,000 to $500,000, an A-round needs at least a million. 
Lack of support. Investors and accelerators can offer you not only money but support and a broad knowledge base. They can also introduce you to people that can help your business, like other investors and suppliers. 
#2. Crowdfunding
Crowdfunding is an approach to raising capital through the collective effort of individual investors. Startups that want to raise money this way can create a campaign on one of numerous crowdfunding platforms. 
Advantages of crowdfunding
Get funding fast. Crowdfunding platforms usually have a limited time frame for campaigns (about 60 days).
Don't lose your own money if the startup fails. Startups can set up fundraising campaigns on crowdfunding platforms for free. These platforms usually take a certain percentage from every transaction (up to 10 percent if the campaign is successful). 
Keep your company closed. Crowdfunding platforms don't demand equity in your company, so you can retain full ownership. 
Disadvantages of crowdfunding
Donors expect perks. Most crowdfunding platforms want startups to promise donors something in exchange for their money. This can be a perk like your future product or a sample product to generate enthusiasm. 
Little chance of raising all the money you need. On average, a startup raises about $7,000 on a crowdfunding platform. But this isn't enough for an A-series funding round.
Little chance of succeeding. Between 69 and 89 percent of projects fail to reach their goals on crowdfunding platforms. 
All crowdfunding platforms have different rules and conditions of cooperation. Some of these platforms have a narrow focus on projects in particular spheres. Let's take a look at the most popular crowdfunding platforms to see how you can use them to get funds for a marketplace startup.
Kickstarter
Kickstarter is a funding platform for creative projects. This platform supports projects from different spheres: comics, crafts, art, design, dance, journalism, music, food, games, film and video, fashion, photography, technology, theater, and publishing. 
Kickstarter works according to the all-or-nothing principle. A startup sets a goal, which is the amount they want to raise during their campaign. The startup gets this money only if the campaign reaches the goal. If the campaign raises less money, backers aren't charged and the startup doesn't get anything.
Kickstarter allows project creators to keep 100 percent ownership of their work ‒ the platform charges an 8 to 10 percent fee from the funds collected if a project is successful. 
Kickstarter is an excellent option not only because this crowdfunding platform works with teсhnology startups but because it has the highest success rate among all crowdfunding platforms. 
However, Kickstarter accepts campaigns from only 18 countries. This means that companies from Asia, Central or South America, and Africa can't apply to Kickstarter.
Indiegogo
Indiegogo supports projects in 24 categories from 224 countries. The platform uses a rewards-based system where projects promise rewards and perks to donors to attract their attention. 
Just like Kickstarter, Indiegogo charges fees (8 to 10 percent for all transactions). Since 2016, the platform has allowed non-accredited investors to participate with equity stakes. 
Starting a campaign on Indiegogo is easier than on Kickstarter. Startups can easily customize their campaign, set a goal, and choose the timeframe they want. Projects on Indiegogo don't need any approval from the platform. Also, startups can continue raising money even when the campaign is over and get everything they raise even if they don't meet the goal. 
Indiegogo offers much better conditions and allows startups from all over the world to take their chances. However, it's worth mentioning that Indiegogo campaigns have only a 9 percent success rate. 
GoFundMe
The GoFundMe platform mostly supports charity and social projects, as well as individuals who raise money for their dreams. This for-profit company charges a 2.9 percent fee plus 30 cents for each donation.
GoFundMe allows anyone to set a campaign and customize it according to their participants' needs. There are no goal penalties or strict time limitations on GoFundMe. 
GoFundMe supports campaigns from 19 countries and fundraises for the medical, emergency, memorial, education, and nonprofit spheres. You can apply to GoFundMe if your marketplace operates within these niches. 
Recap
The platforms we've named are the best for a marketplace startup. All other platforms have a very narrow focus that doesn't allow technology companies to participate. For instance, the Patreon platform supports only artists and creators, whereas the CircleUp crowdfunding platform helps only customer brands. 
#3. Venture capital funding
Venture capital funding is when startups get private equity from a venture capital firm ‒ a limited partnership or limited liability company that invests in startup businesses with the potential for a high return on investment. In return for their investment, venture capitalists get equity and an ability to influence the direction of your company's development.
Venture capital companies can easily invest millions of dollars in a company if it's significantly differentiated from its competitors. However, getting venture capital funding is a long road that takes a lot of hard work.
Advantages of venture capital funding
No fees. Startups don't pay anything to investors or pay for the opportunity to meet and talk to them.
Can cover large capital requests. Venture capital firms aren't very limited in their budgets. They can easily invest ten million dollars if they're convinced that the benefits outweigh the cost. 
Disadvantages of venture capital funding
Have to give up equity in your company. When dealing with venture capital companies, be ready to provide a share of your company to your investors.
Less financial freedom. Investors get not only shares but also the power to participate in all important decisions concerning the development of your company.
Have to compete with all other startups. The competition for VC funding is intense. It's not easy to get investors to pay attention to your company and believe in it.
Need to prepare a perfect pitch deck. Presenting your startup and yourself is difficult for many reasons. One reason is because you need to persuade investors that your company is worth the risk. A pitch deck is an essential part of your presentation. It has to contain graphics, tables, and real figures that speak for themselves.
#4. Angel investor funding
Angel investors are well-off individuals who like to invest in startup ventures, often in exchange for a share in the new business. 
Typically, an angel investor is a successful businessperson who's looking for new opportunities within their industry. That's why it makes sense for you to search for such a person in your business niche. Or you can check out a list by Forbes of the most active angel investors.
Advantages of funding from angel investors
Lots of support. Angel investors give their own money and want your startup to succeed. As far as these people work in the same industry as you, they know how this business works in detail and will share this information with you. 
You'll be introduced to big players in your industry. Angel investors can share not only advice but also their important contacts with you to get your business off the ground.
Disadvantages of fundraising with angel investors
Difficult to meet and persuade angel investors. Bernhard Schroeder, an entrepreneur, brand, and marketing expert, and the author of the book Fail Fast or Win Big, claims that, on average, angel investors close from one to three deals per year. 
You can't get a lot of money. Angel investors usually give $25,000 to $100,000 to a startup, whereas a series A round requires a much bigger investment. 
#5. Participating in incubators or accelerators
Business incubators and accelerators are companies that support startups and growing businesses. They collaborate with venture capital firms, government agencies, and universities to help new companies through their earliest stages by providing marketing, networking, infrastructure, and financial assistance.
Accelerators and incubators choose several dozen of the most promising startups and invite them to join a program that takes from three to four months. During this period, participants learn how to manage, scale, grow, and develop their businesses. At the end of the program, participants meet with investors and give a presentation (pitch deck) to persuade investors to invest in them. 
Cooperation with incubators and accelerators is a great chance to get the capital you need and learn a lot of important things that you'll need in the future. In the US, one-third of all startups go through an accelerator to raise money for a series A round. 
Advantages of raising funds with incubators and accelerators
Get comprehensive practical and financial help. Incubators and accelerators create conditions to teach you how to manage, grow, scale, and develop your company. These platforms provide you with mentors, introduce you to investors, and invest their own money to help your business bloom. 
Meet important individuals who will share success stories. Business incubators and startup accelerators invite world-famous businesspeople who tell how they managed to succeed, share some insights, and inspire startups to move forward. 
Be introduced to investors. If you get to an incubator or an accelerator, you don't need to worry about how to reach venture capital firms and other investors that could potentially provide funds for your startup. Accelerators and incubators will introduce you to them and will help you to prepare a perfect pitch deck.
Disadvantages of raising funds with incubators and accelerators
Difficult to get in. Startups get real help when participating in incubators and accelerators. No wonder the competition is so high. For instance, Techstars accepts only 1% of all applicants.
Need to wait half a year for when the next program starts. Accelerators run several funding cycles a year. If you missed your chance, you'll need to wait six months to try once more. 
Have to give up a share of your company. Incubators invest their own money in exchange for 5 to 10 percent of your company. 
Need to relocate for the program. Most incubators require your physical presence during the program, which lasts about three months. 
If you aren't scared of the drawbacks of participating in accelerators and incubators and want to try this funding option, you can take a glance at the most famous below. 
Y Combinator
Y Combinator is one of the leading incubators. It has helped companies such as Airbnb, Coinbase, Cruise, DoorDash, Dropbox, Gusto Instacart, Machine Zone, Stripe, and Zenefits. Y Combinator has invested in over 1,500 startups worth a total of $80 billion. 
The headquarters of the platform is located in Palo Alto, Silicon Valley. During the program, all participants have to go there and stay for three months. Every year, Y Combinator picks out between 200 and 240 projects to take part in its program. 
The main terms of cooperation with Y Combinator are similar for all. The platform invests $150,000 in a company in exchange for a 7% share. 
Techstars
As the name suggests, Techstars is mainly focused on technology startups. This platform has helped Uber, Sendgrid, Sphero, Digital Ocean, Next Big Sound, Grove Labs, and many other startups. 
The headquarters of Techstars is in the USA. However, the platform supports startups from all over the world. Techstars has several hubs and offers programs in Austin, Boulder, Boston, Chicago, London, New York City, and Seattle. It also has a cloud infrastructure-specific program in San Antonio.
Every year, Techstars chooses over 300 companies and invites them for a three-month mentorship-driven program. The platform invests $120,000 in exchange for a 5 to 6 percent share in the company. 
500 Startups
500 Startups is a global organization that works with startups from the US, Germany, Israel, Turkey, and many other countries. The platform has helped companies such as 9GAG, Conta Azul, Havenly, Le Tote, Neighborly, Punchd, RapidAPI, RealtyShares, Setter, Shippo, and Talkdesk. 
500 Startups offers companies an investment of $150,000 for around a 6% stake. However, every company needs to pay $37,500 to participate. 
Parting thoughts
The process of raising money is long, complex, and tiring. However, there are plenty of options you can choose from. The most important factor to bear in mind is the conditions you're ready to accept and the effort you're willing to make. 
By the way, you can subscribe to our newsletter to get notifications by email when we post similar articles!
FAQ
To get funds for your online marketplace startup, you can use one of the following options:

Bootstrapping
Crowdfunding
Venture capital funding
Angel investor funding
Participating in incubators or accelerators

Venture capital funding is when startups get private equity from a venture capital firm ‒ a limited partnership or limited liability company that invests in startup businesses with the potential for a high return on investment. In return for their investment, venture capitalists get equity and an ability to influence the direction of your company's development.

Angel investors are well-off individuals who like to invest in startup ventures, often in exchange for a share in the new business. Typically, an angel investor is a successful businessperson who's looking for new opportunities within their industry.

If you want to create a minimum viable product that will attract investors, contact RubyGarage to get your business idea off the ground together!