How to Create an Online Store For Your Business
18182 views
12 min
May 02, 2022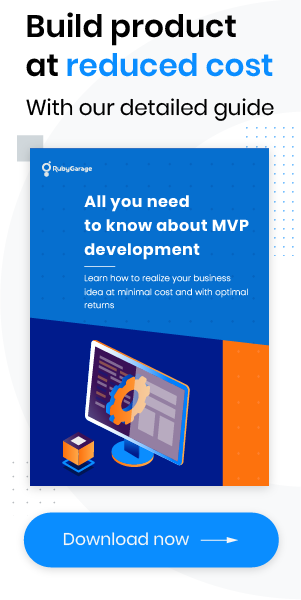 Starting an ecommerce business can be rather daunting, especially if you're new to this sphere. One of the biggest decisions you have to make is how to make an online store: start from scratch or use a ready-made ecommerce platform. We're here to help you consider three most popular ways to start selling online:
So let's take a closer look at each of them and figure out their main features.
#1 SaaS ecommerce platform
SaaS ecommerce platforms provide hosted applications, allowing you to avoid the need to install software and freeing you of performance and security concerns. The biggest and most well-grounded SaaS platform on the market today is Shopify. This platform is great for those who appreciate the balance of managing their own store while not investing too much time learning how to make an online store. Shopify also provides lots of excellent tools along with plugins and add-ons to improve your website's performance.
SaaS platforms for ecommerce aren't the right fit for all organizations, however. For example, large enterprises require extremely complex customization that's infeasible with SaaS platforms in most cases. But for most small and midsize businesses (SMBs) with fewer requirements, a SaaS ecommerce platform is an advantageous solution for the following reasons.
Advantages of SaaS
Less time-consuming to start an online store
SaaS projects don't take weeks or months to complete, as most platforms provide you with full shopping cart functionality. Small businesses can take advantage of prebuilt options such as customizable themes and marketing capabilities. So a newcomer to ecommerce can set up an online store rather quickly.
Hosting and maintenance are provided by the platform
It's not necessary to have your own IT team if you use a SaaS platform, as hosting and maintenance are the provider's responsibilities. SaaS ecommerce platform provider is responsible for updates, bug fixes, performance, uptime, and so on. Moreover, you can get comprehensive help from a support team anytime you need.
Secure
Security is extremely important to customers, and SaaS ecommerce platforms such as BigCommerce, Shopify, and Magento meet all Payment Card Industry (PCI) standards to protect personal and business data. These standards help reduce credit card fraud due to increased control of cardholder data. Most platforms maintain a secure network and a vulnerability management program. For example, the Shopify ecommerce platform implements strong access control measures and an information security policy.
Affordable
As you don't have to invest in custom ecommerce platform development from scratch, your expenses will be relatively low. In addition, you won't need to spend much on add-ons, as SaaS platforms have enough functionality built in.
Disadvantages of SaaS
Limited customization
While prebuilt functionality and templates help you get started quickly, they can limit you as well. Some SaaS platforms lack the ability for extreme customization.
Vendor lock-in
Vendor lock-in describes a situation when you accept specific standards, tools, and protocols of one venor and are locked into using them. As a result, possible changes to the software's business logic are limited. Further, migrating from one vendor to another or simply to your own website may be challenging. You may even require professional help to migrate all user data and product information correctly.
Scalability issues
Growth is the number one priority for any business, but some SaaS platforms can't provide you with enough resources to withstand a rush of customers and orders. That means when your business starts to develop rapidly, it's better to use your own custom-built website in most cases.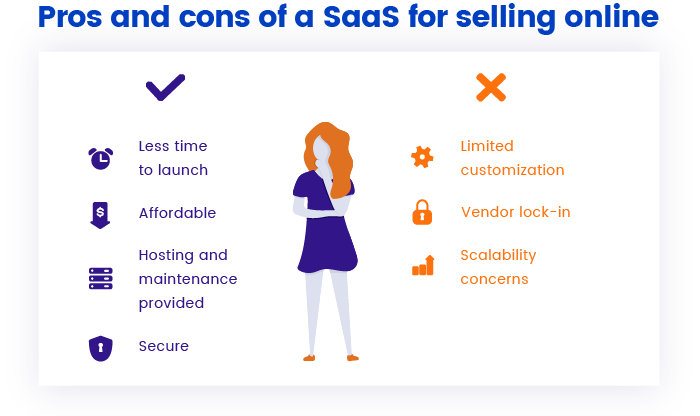 #2 Marketplace
Simply stated, a marketplace is a type of ecommerce website that acts as a digital intermediary between a seller and a buyer. We use marketplaces like Amazon, eBay, and Etsy regularly and know how popular they are.
Marketplaces can be divided into vertical and horizontal depending on their target audience and strategy.
A horizontal marketplace sells everything to everyone and covers many industries. It's like walking into a mall with lots of stores and departments. This type of platform is interesting for sellers who sell in various product categories and for buyers who want to purchase products from different categories. Amazon and eBay are good examples of horizontal marketplaces offering various product categories for all needs.
Meanwhile, a vertical marketplace offers a specific segment of goods within one industry, focusing on a specific customer group. For example, the Etsy marketplace is focused only on handmade or vintage items, so it will be interesting for customers with a specific interest in such goods.
To consider whether a marketplace ecommerce platform will benefit your business, consider the advantages and disadvantages of marketplaces.
Advantages of marketplaces
An established audience
When you're starting on your way to a successful online business, you may face a problem of attracting attention and interest in your products or services. As established marketplaces are trusted platforms, customers are more likely to make purchases on them without looking for a new website. In cooperation with a marketplace, you won't have a lot of concerns about creating demand for your products or services, as marketplaces usually have huge target audiences.
Global reach
Using marketplace ecommerce platforms is the perfect way to sell your products across borders. You can reach new customers all over the world and facilitate international expansion.
Lighter initial investments
Even though marketplaces charge fees for showcasing your products or services, those fees are impressively cheaper than creating your own platform or website from scratch. Reduced marketing costs allows you to invest more money in your product's quality, quantity of inventory, or in any other business need.
Fewer financial risks
Both sellers and buyers can be confident in the security of transactions, as marketplaces hold payments in escrow. This means that a third party holds payments for products until they reach the customer. One more advantage for sellers here is that they don't need a lot of capital to invest, so the chances of failing and losing a lot of money are low.
Quick to launch
Marketplaces are a great way on how to create an online store and generate revenue immediately. You're able to start selling right after the first product is uploaded. From that moment, you can already gain customers' trust and start your ecommerce business.
Inventory management
Some marketplaces such as Amazon are ready to handle a retailer's inventory so that you don't need to think about warehousing and shipping.
Disadvantages of marketplaces
More competition
As you're not the only seller in a marketplace, you'll have to compete with others.
No customer loyalty
In most cases, marketplace customers aren't loyal. They purchase products occasionally and there's no guarantee they'll come back to buy from you. In addition, they aren't your direct customers, and you share them with other sellers.
Many products are prohibited on marketplaces
Every marketplace has its own list of forbidden products. For example, Amazon's restricted products include alcohol, animals and animal products, fine art, dietary supplements, organic products, medical devices, plants, and even stamps! Sometimes, you need a list of documents to get permission for selling a product.
Delayed payouts
An escrow system has two sides. It helps you gain customers' trust, on the one hand, but on the other hand payments are held by the marketplace for a certain time. You get your money only after the customer receives the item, which can lead to some obstacles. For example, while you as a seller are waiting for payment, you might have to delay the purchase of new inventory.
Costs and fees
A marketplace works as an intermediary between you and your end customers. Almost all marketing intermediaries, also known as middlemen, take a slice of the pie with each transaction, or charge monthly fees, or charge for each product you list for sale, or combine all of the above. For example, eBay charges sellers from $20 to almost $300 per month depending on the package they choose, 10% of each sale, and $0.05 to $0.30 per listing depending on the number of products listed.
#3 Custom ecommerce website development
Finally, if you want to start on your way to success without any help or intermediary between you and your end customer, you should consider building a custom ecommerce platform from scratch. This online selling model can be a rational decision both for large enterprises and SMBs. Enterprises are scalable and grow all the time, and with a custom site you aren't limited in any way and have full control over your business and brand. Small and midsize businesses can grow in the future too, so starting to sell online with a custom-built website will open more opportunities from the very beginning and will let you avoid problems that ecommerce platforms have.
Advantages of custom ecommerce website development
Maintain full control over your website and brand
The most valuable feature when building your own website is that you're able to establish and maintain full control over your website and brand. You're free to implement any unique features you wish to satisfy even the most demanding customer. Sellers can optimize their websites to provide the best customer experience possible:
Customer journey optimization. Building useful functions for your business processes is as important as creating a convenient customer journey, namely a path for visitors to become customers. When you manage your own website, you can create and control every customer touchpoint (every moment that a customer comes into contact with your website). That means you can provide a comfortable customer experience before, during, and after the purchase with the help of any functions that make your clients happy.
Business process automation. In order to eliminate human errors and inefficiencies and simplify complex functions in multi-channel ecommerce operations, you can automate some activities. For example, you can automate your listing management with the help of listing software to maintain clear and comprehensive product listings with updated descriptions.
SEO is better with custom builds. Developers who work on your website should have the technical prowess to properly optimize your site for search engines to promote your brand to your target audience.
Direct access to customers
Choosing a custom-built website for your online store opens up direct access to your customers, providing the following advantages:
Better targeting. You get direct access to your customers without any intermediary. This opens up more possibilities for customer service and the ability to target your customers and stay connected. Gaining the respect of repeat buyers will make you great profit and help your business grow.
No commissions. One more benefit of direct access to customers is that you're able to sell directly without any of the fees or commissions that you have with marketplaces and ecommerce platforms.
Marketing tools. You're also free to use any promotional tools to deliver information about your brand and products to your target customers.
Unique UI/UX design
People appreciate a feeling of comfort and pleasure while browsing an online store and placing an order. So creating a unique, well-designed user interface and user experience is the number one requirement.
When it comes to the user experience (UX), you're free to implement any efficient UX design solutions that will result in positive customer experiences and commercial success of your online business, including simplified navigation and fast checkout.
In fact, that's how we ensured success for one of our ecommerce projects: we implemented custom one-page checkouts and convenient product navigation and reduced the effort of finding the shopping bag by placing it as a side drawer on every page.
Scalability
The speed of your website during holiday seasons or on Black Friday can be a crucial matter for your ecommerce website. A rush of customers and orders can be difficult to withstand for some ecommerce platforms, but not for your own website. Improved website performance results in more pages and products viewed which obviously leads to higher revenue.
Disadvantages of custom ecommerce website development
Time-consuming and technically difficult
Building a new website from scratch is not a piece of cake. This process can be rather complicated and time-consuming, as you'll face technical challenges such as setting up hosting and payment gateways and creating website content.
Cost
Starting an online business on your own is obviously more expensive than using an ecommerce platform. You'll need to hire a software development team and cover all hosting expenses, make improvements, fix any problems, and promote your website.
Challenging to market a website
In most cases when you start selling online, you have no direct customers. That means you'll need to attract your target audience yourself by investing money in website promotion. Find out how to grow a marketplace with a limited promotional budget.
Conclusion
Now you're aware of the pitfalls you may face on your way to building your personal ecommerce store. RubyGarage will be glad to consult you and provide detailed information on how to create an online store that fits your business goals, technical requirements, and budget.