CRM Quality Assurance Deep Dive: Success Criteria, Tips, and Testing Checklist
10530 views
12 min
Apr 30, 2020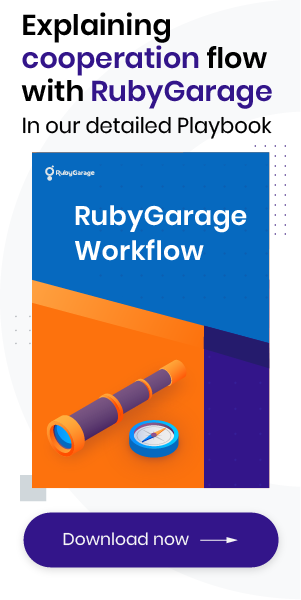 A well-tuned customer relationship management (CRM) system shortens the sales cycle and increases sales by up to 29%. However, if a CRM is prone to bugs or has functional or performance issues, it may actually slow down progress and repel customers. To help you eliminate CRM issues and improve your company's workflow, we'll show you whom to hire to check the quality of your CRM system, guide you through the main criteria for successful CRM testing, and provide you with a CRM testing checklist. 
Main criteria for successful CRM testing 
A CRM system is complex and has numerous hidden pitfalls. No matter who you hire to check the quality of your CRM, it's essential to know what to include in the CRM quality assurance process to make sure your system works properly. We review the elements that must be present in your CRM quality assurance check to make it efficient.
At least four types of testing conducted
To check all constituent parts of your CRM system and detect the majority of issues, your quality assurance specialists need to conduct the following types of testing. 
Functional testing 
Functional testing makes sure that your CRM corresponds to functional requirements. During functional testing, QA engineers simulate use of the CRM system to check if all its features are working the way they should. 
Usability testing 
One of the main requirements for CRM systems is user-friendliness. With the help of usability testing, QA engineers mimic the actions of real users to identify obstacles users may face. 
Security testing 
This type of testing allows engineers to identify security bottlenecks and vulnerabilities in your CRM. Security is critical for protecting your customers' information, and your task is to keep that information safe by preventing data breaches and cyber attacks.
Performance testing
The performance of a CRM is vital. Performance testing helps you determine the speed of your CRM and check its responsiveness and stability.
Both manual and automation testing used
Applying both manual and automation testing allows testing engineers to view the CRM from different perspectives and assess the quality of various components. 
Manual testing is performed to check the user interface (the UI, or the way the app looks) and to thoroughly investigate parts of the system that cannot be checked with the help of automated testing. Automated testing, in turn, is used to handle time-consuming and repetitive tasks and to perform advanced UI testing, load testing, and performance testing. 
A combination of these approaches allows quality assurance engineers to achieve better results, detect most issues, and make sure your CRM works seamlessly. 
High level of test coverage provided
Test coverage is one of the metrics that measure the quality of testing. It estimates how much of a system's functionality is covered with tests. The higher the test coverage, the more tests will be used. Make sure your CRM quality assurance team provides between 80% and 100% test coverage. This degree of coverage will reveal gaps in your CRM system's functionality, prevent data leaks, and facilitate regression testing and test case prioritization. 
Clear expectations and requirements set
To be on the same page with your QA engineers, it's crucial to clarify your main requirements for and expectations of testing before the quality assurance checks start. This is essential, as you and your team may have a different idea of the way the CRM should work, especially if you're hiring a freelance QA engineer or an external QA team. Below, we list the most vital things you need to discuss and agree on with your QA team. 
General testing expectations
At the beginning of your communication with a QA team, you need to specify the issues with your CRM that you want to resolve. The QA team will analyze these issues and see how testing may help to resolve them. 
The results of testing often do not meet the expectations of product owners. That's why it's vital to share your vision with your QA team. As experienced quality assurance experts, your team should evaluate if your goal is attainable in the given time and define the steps to reach it. 
In addition, you need to set precise time frames for testing and outline the resources you're providing your QA team. This will help QA engineers plan their time accordingly.
Testing priorities
It's essential to define the full list of CRM functionalities to be tested and prioritize those that are the most important and have to be checked first. 
Expected results
For a successful bug fixing process, QA engineers should provide bug reports in a format that's comprehensible and suitable for your developers. Specify the way you want bugs and test results to be reported. For instance, specify the format for reports and the information they should contain. 
Communication process
If you're working with a remote team or a freelancer, it's essential that you establish communication channels. Discuss the means of communication you'll be using, days and time you're available for calls, and the frequency of reporting and communication. 
Recap
CRM quality assurance requires specific skills and experience not every QA engineer has. That's why choosing a testing specialist for your CRM system may be challenging. The criteria we've provided can help you establish an efficient and fast quality assurance process, establish your priorities for CRM testing, and avoid miscommunication with your team of QA engineers.
CRM testing checklist 
When testing your CRM system, it's important to know what bottlenecks are common for this type of software. Here's a list of typical issues you need to pay attention to.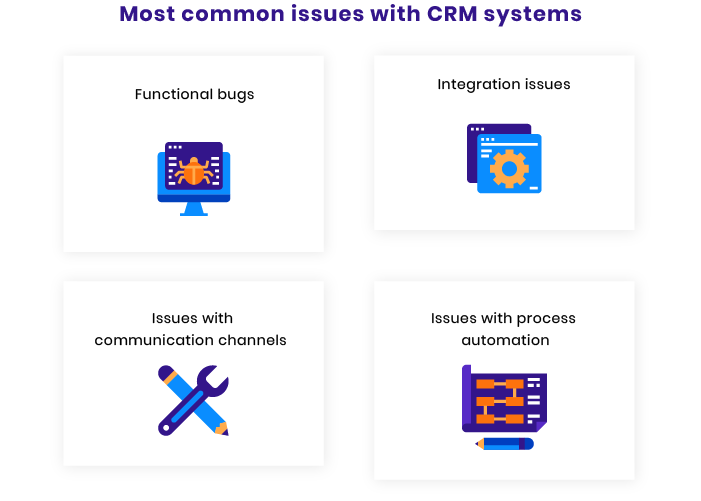 Functional bugs
During a CRM quality assurance check, all of a system's functionality should be tested. However, we will list only the most critical functional bugs that can make your CRM an obstacle for your employees rather than an efficient tool to increase sales. 
Issues with role-based access control
Having different user roles in your CRM allows you to determine the set of actions an individual may perform in your system and the information users can access. Make sure that user permissions work as they're supposed to. Users with specific access levels should have access only to the information and actions that correspond to their user roles. 
Search issues
To ensure that your salespeople can find all the information they need, your CRM quality assurance team should check if the search feature works correctly. For example, they should see if it's possible to search for a lead by various criteria such as country, phone number, or type of request. Also, they need to make sure that the CRM supports partial search, when the system manages to find information even if only part of a query is entered. 
Issues with data records
Losing contact information of leads may result in losing leads themselves along with potential revenue. Your CRM must correctly record and save all customer-related information. In addition, issues with recording data may lead to faulty CRM reports with incorrect information. 
A series of test cases should be used to identify if your CRM is prone to data mismatch or duplication. Also, ensure that your customers' data is well protected. 
Integration issues
Quality assurance engineers need to check if your CRM is appropriately integrated with other services you're using in your workflow such as email, help desk, calendar, and enterprise resource planning (ERP) software. It's critical that your QA team conducts a set of tests to check if all third-party integrations are working correctly. Even small bugs can result in email delivery faults, email address mismatches, delays in receiving clients' messages sent via the help desk, data corruption or data loss during transfer between services, and so on. 
Issues with communication channels
CRM issues connected to your company's communication with customers are the most harmful, as they may lead to loss of leads and deterioration of your company's image. That's why the testing team needs to ensure that communication with customers is flawless. The most severe issues that may appear are unseen or delayed IP telephony calls and social media messages not being shown in the CRM. 
Issues with process automation
A CRM helps to automate a lot of your company's processes, allowing more time for essential tasks. However, in the event of system faults or bugs, your employees will be obliged to perform these tasks manually, losing time. The goal of your quality assurance team is to examine the automated processes in your CRM to check for any defects that could hobble or slow down your team's workflow. 
Test everything
Accurate testing ensures that your CRM can improve your company's processes instead of harming them before your employees actually start working in the system. To avoid any setbacks in your workflow, don't neglect CRM testing. 
Whom to hire to test your CRM
To successfully test your CRM, you need to choose the right people to perform a quality assurance check. Let's look through your options.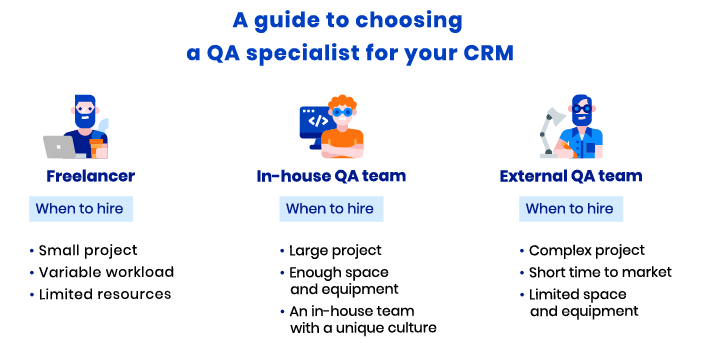 Freelancer
A freelancer works flexibly for different companies instead of being employed by a single company. If you work with freelancers, you can search for individual specialists you need for your projects on platforms such as Upwork, PeoplePerHour, and Fiverr. You can find freelance QA engineers from all over the world, check out their portfolios, and read client reviews. There's also flexibility in the way you pay a freelancer: you may find a freelancer with a suitable hourly rate or agree on a fixed price for your project. 
Freelancing is getting more popular, and many people prefer a flexible schedule and remote work. The freelance labor market provides a wide variety of highly skilled testing engineers to choose from. 
When hiring a freelancer is a good idea
Hiring a freelancer is a great option if you're seeking a contractor with a flexible schedule for a relatively small project that requires only one testing engineer or if the workload is not steady enough to hire a full-time QA engineer. 
Choosing the freelance route may help a startup stay within a limited budget by providing a wide range of specialists from countries with affordable hourly rates. Besides, hiring a freelancer allows you to cut down on training-related costs and save time by avoiding the onboarding period that's usually needed when hiring an in-house testing specialist.
It may seem risky to hire someone you've never met. To avoid this, the best option is to hire someone you or your colleagues are familiar with or to hire a freelancer with proven experience in CRM testing. 
In-house QA engineers
Having QA engineers on your team makes communication between departments more efficient. An in-house QA team should be familiar with your project from the start and know its specifics. This helps them start working on the project right away, skipping the exploratory testing stage that's often necessary for freelancers and outsourcing teams to get acquainted with the product. The fact that the development and QA teams are familiar with each other facilitates communication. 
When should you have an in-house QA team?
Creating an in-house QA team is a good option if you already have an in-house development team at your company and you have enough resources to hire and maintain a team of quality assurance engineers. Such a team will be helpful if you have one large project or a set of projects, allowing you to provide all team members with a steady flow of tasks. Your ability to provide new members with enough office space, equipment, and good working conditions is also essential. 
Creating an in-house team of testing engineers is vital if your company has a unique corporate culture with a set of principles and beliefs every team member respects and follows. If you strive to work with specialists that fit your company's main criteria and have the same outlook as your existing employees, it's best to create a QA team from scratch. 
External QA team 
Outsourcing is a type of cooperation when work is done by another company under the terms of a contract. An outsourced team is composed of specialists who have typically worked together on past projects and therefore have established workflows. Each member of this team has their own tasks and responsibilities. Outsourced QA teams put much effort into improving their testing skills and learning the newest testing techniques and tools to provide customers with high-quality testing services. This makes the workflow of an outsourced QA team clear and straightforward.
When is it best to hire an external QA team?
Hiring an external QA team is the best solution if you don't want to spend resources to maintain a constant QA team in your company but your project is too large and complex to be tested by one freelance QA specialist. An external team of quality assurance engineers allows you to work with highly skilled professionals and avoid the expenses of forming your own team.
Another benefit of hiring an external QA team is that such a team can help you shorten the time to market by providing you with multiple QA engineers.
It's all up to you
The decision on whom to hire for your CRM quality assurance check depends on how big your project is, the resources you possess, and the number of tasks to be completed during the testing process. 
Wrapping up
Creating your own CRM system without a proper quality assurance check may bring your company more problems and monetary losses than benefits and profit. To make sure your CRM is an efficient tool for improving relationships with customers, it needs to be thoroughly tested by skilled professionals. 
FAQ
Use at least four types of testing: functional, usability, security, and performance
Apply both manual and automated testing approaches
Make sure your QA team provides 80–100% test coverage
Set clear expectations and requirements for testing

Functional bugs: issues with role-based access control, search, data records, etc.
Issues connected with integrating third-party services
Problems with communication channels
Process automation issues

Choosing the right specialists to test your CRM is crucial for successful testing. You have three options:

Hire a freelancer
Create your own QA team
Hire an outsourced team of QA specialists

If you want to hire a team of highly skilled QA engineers, check out the testing services the RubyGarage QA team can provide.