Top Vue.js Development Companies: How to Choose One for Your Startup
1453 views
10 min
Sep 01, 2021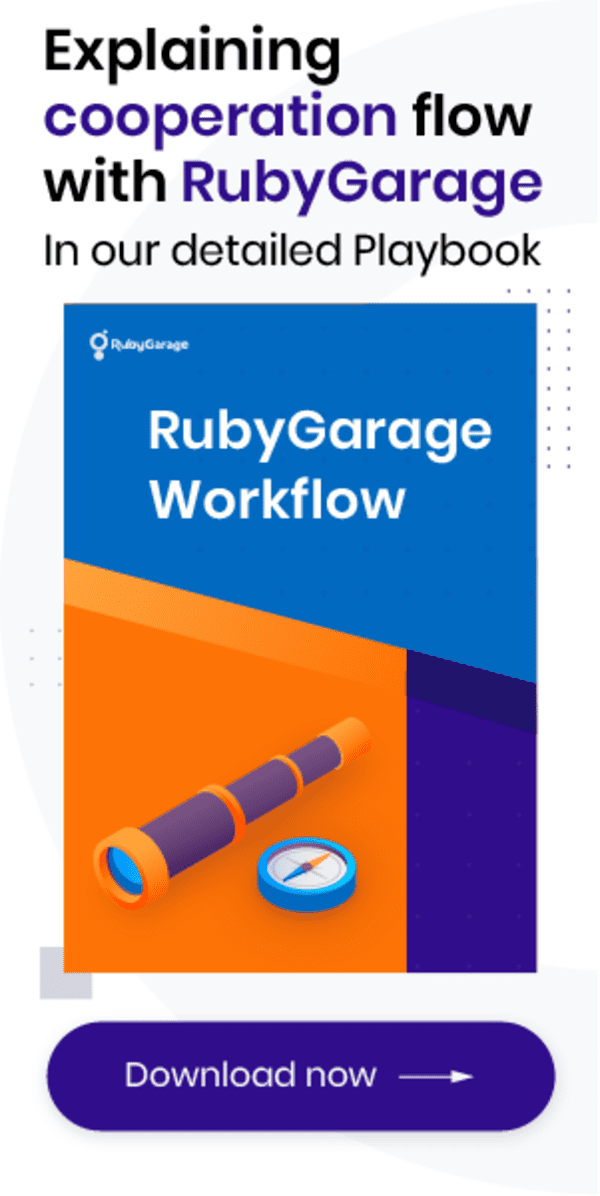 Many CTOs and startup owners get stuck when it comes to choosing the right company for Vue.js development tasks. Web app development companies often use Vue.js because it is one of the best frameworks for crafting the front end. However, it's challenging to find Vue.js development companies that deliver top-tier products on time and at an affordable price.
In this post, you will find a comprehensive guide to finding a reliable partner for building a web app and not falling behind. We will help you discover Vue.js development firms and choose the best one for you. In the table below we've gathered a selection of top-tier firms that offer Vue.js application development services.
| Company | Avg. quality | Avg. scheduling | Avg. cost | Workflow accessible | Design system | Portfolio available | Social involvement | Open source development | Total |
| --- | --- | --- | --- | --- | --- | --- | --- | --- | --- |
| Geniusee | 4.9 | 4.9 | 4.9 | Yes | N/A | Yes | Yes | Yes | 4.8 |
| RubyGarage | 4.8 | 4.7 | 4.7 | Yes | Yes | Yes | Yes | Yes | 4.8 |
| The Software House | 4.8 | 4.7 | 4.6 | Yes | Yes | Yes | Yes | Yes | 4.7 |
| BairesDev | 4.7 | 4.8 | 4.5 | Yes | Yes | Yes | Yes | Yes | 4.7 |
| Halo Lab | 4.8 | 4.7 | 4.8 | Yes | N/A | Yes | Yes | Yes | 4.7 |
| AnyforSoft | 4.7 | 4.8 | 4.6 | Yes | Yes | Yes | Yes | N/A | 4.7 |
| DCSL GuideSmiths | 4.7 | 4.7 | 4.7 | Yes | N/A | Yes | Yes | Yes | 4.7 |
| Netguru | 4.8 | 4.5 | 4.4 | Yes | Yes | Yes | Yes | Yes | 4.6 |
| Altoros | 4.7 | 4.5 | 4.4 | Yes | N/A | Yes | Yes | Yes | 4.5 |
| Merixstudio | 4.7 | 4.6 | 4.6 | N/A | N/A | Yes | N/A | Yes | 4.5 |
How to find Vue.js companies
While there are many ways to find agencies that develop web apps, the three most effective are the following: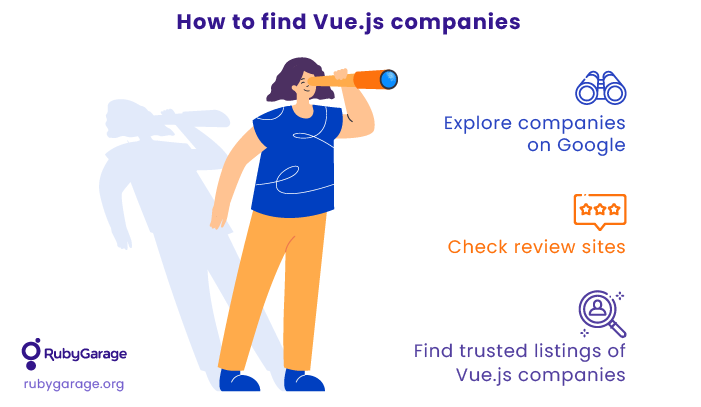 Explore Vue.js development companies on Google
Search on Google and skip the ads to find the most popular firms. You can try the following search requests:
vue.js development company
vue.js web development firm
vue.js application development agency
You're also free to modify your search requests to get more precise results. If you're looking for the most popular firms, you need to avoid sponsored search results. There are lots of companies that try to overcome their competitors by publishing paid search ads. 
Check review sites
There are a lot of review sites on the internet that allow verified users to submit star ratings and reviews. Clutch is the most popular. Explore this platform to find a reliable partner to develop a web app.
It's important to note that you can't search specifically for a Vue.js development company on Clutch. Therefore, we recommended search by top web development firms. You will need to double-check if selected companies offer Vue.js development services, however.
Skip sponsored web development companies to find niche-leading firms. Clutch offers a ton of sponsored companies first. Therefore, if you want to find the most popular, you need to apply the Clutch Rank sorting option in the top right corner. 
You can also explore other popular review sites, including:
GoodFirms
CrowdReviews
Wadline
TopDevelopers
Find trusted listings of Vue.js development service providers
Listings of top Vue.js firms are one of the best ways to find an excellent company to hire. Many websites gather the best Vue.js firms and create listings to help their readers conduct research. For example, below you can find a selection of top Vue.js firms. We've analyzed them according to various criteria and formed a list of the leading development firms for startups.
How to choose a Vue.js development agency
After shortlisting Vue.js development firms, you need to vet them. The criteria listed below will help you find the best company to hire.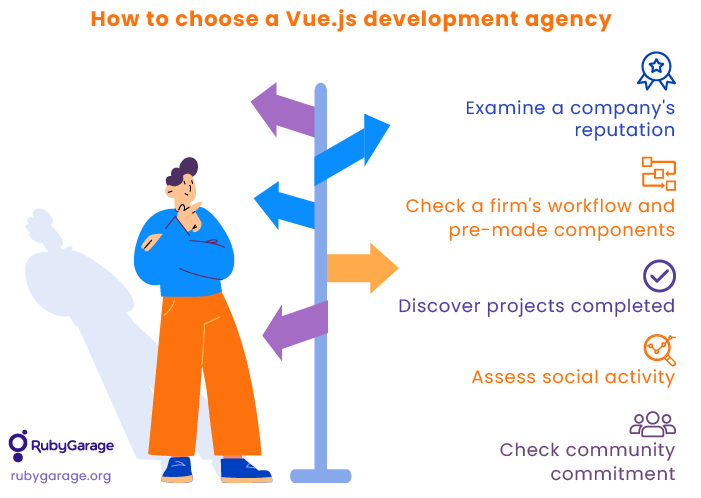 Examine a company's reputation
First, you have to check the reputation of a web app development firm. Read reviews and ratings submitted by real people on different platforms. 
It's vital to pay close attention when examining Vue.js development companies on Clutch, as the website has a confusing star rating system. You must read every review thoroughly and focus only on the most essential details.
Pay particular attention to the quality, schedule, and cost star ratings if you want to find the best company for a startup. These criteria will help you assess the key components of a top Vue.js agency for a tech startup. Let's take a closer look at the three main star rating components. 
Quality — describes the ability of a company to deliver products of outstanding quality
Scheduling — defines adherence to deadlines
Cost — highlights the affordability of solutions offered
Check a firm's workflow and pre-made components
A clearly defined workflow is key to success when building digital products. Before considering a particular firm to hire, you need to check how they make web applications. Reach out to a company's manager and ask about their team's milestones when creating a product. For example, RubyGarage uses Scrum, an Agile methodology, to manage teams of software engineers and develop products efficiently. 
Don't hesitate to check if a reviewed agency has pre-made components to increase their productivity. With a large number of pre-made components, firms don't need to build every new product from scratch. This helps reduce expenses on crafting the front end. 
Review completed projects
Start exploring case studies and look for similar projects completed by the company while paying close attention to challenges tackled in the past. This can help you understand if a company will be able to overcome possible obstacles that might arise when building the front end for your web application. 
Assess social activity
The way companies interact with their clients online can help demonstrate their approach to building new products. Explore social media profiles to ensure that a firm has established two-way communication with its clients. Also, assess an agency's expertise by checking publications on their site and on social media platforms.
Check community commitment
In case you're looking for niche-leading firms, we recommend checking the commitment to the Vue.js community that supports the framework. Top firms always share open-source software products and help other community members. GitHub is the most popular site for hosting open-source projects online.
Top Vue.js development companies
We've analyzed a lot of popular agencies that build products using the Vue.js framework and have created a list of the top ones. These firms can deliver high-end Vue.js web applications while offering affordable rates.

1. Geniusee
Country: Ukraine
Founded: 2017
Rating: 4.8
Geniusee is a top-rated company that helps clients turn their ideas into reality. The Geniusee team has expertise in using various technologies to build digital products. Vue.js is one of the frameworks they use to create web applications. The company also makes its knowledge readily available online.

2. RubyGarage
Country: Estonia
Founded: 2011
Rating: 4.8
RubyGarage is the best choice for startup owners and has extensive experience in developing web applications using Vue.js. This agency offers niche-leading Vue.js development services to help startups build the web application front ends fast and at an affordable price. The company is based in Estonia, a European tech hub that leads the market in adopting the newest technologies.

3. The Software House
Country: Poland
Founded: 2012
Rating: 4.7
The Software House helps businesses and individuals create top-tier web applications from scratch. They also provide assistance in scaling up the functionality of existing products. The company has a large team of developers, designers, and project managers.

4. BairesDev
Country: USA
Founded: 2009
Rating: 4.7
BarisDev is a large company that delivers technology solutions. Their team consists of experts from 36 countries, and as a result, they can easily communicate with clients from different time zones. The company has a clear workflow and design system to effectively manage all processes and deliver products on time.

5. Halo Lab
Country: Ukraine
Founded: 2013
Rating: 4.7
Halo Lab is a successful web development company that delivers digital products of top quality. They strive to help businesses stand out from the crowd by offering unique solutions. Halo Lab has vast experience building UIs and responsive websites using the Vue.js framework in combination with other technologies.

6. AnyforSoft
Country: USA
Founded: 2011
Rating: 4.7
AnyforSoft is an international agency that offers assistance in building mobile and web applications. The company's headquarters is in Latvia, while their R&D offices are located in Ukraine, Armenia, and Moldova.

7. DCSL GuideSmiths
Country: United Kingdom
Founded: 1994
Rating: 4.7
DCSL GuideSmiths is a popular company that originated in the United Kingdom. These days, they have offices all across Europe to satisfy their clients' needs. DCSL focuses on building websites using the most advanced technologies.

8. Netguru
Country: Poland
Founded: 2008
Rating: 4.6
Netguru aims to build tailored web applications by following the latest web development trends. However, the company is known to be very particular in what projects they undertake. They prefer completing challenging tasks for midsize and enterprise clients. The average project price is more than $100,000.

9. Altoros
Country: USA
Founded: 2001
Rating: 4.5
Altoros is a custom software development company that excels in building web applications using the latest technologies. Their team consists of more than 400 experts. The majority are senior specialists, allowing the company to deliver premium products.

10. Merixstudio
Country: Poland
Founded: 1999
Rating: 4.5
Merixstudio is a team of skilled developers who focus on creating complex mobile applications. The company has outstanding experience developing web applications and have been polishing their skills for more than 20 years.
Bonus: what to gather before researching Vue.js development companies
It's important to do some preparation before reaching out to a Vue.js development company. It will help you seamlessly outsource web app development. Many inexperienced startup owners waste their time because they don't have a clearly defined product roadmap. With the help of a product roadmap, developers can understand what you expect. 
Prepare the following items for Vue.js development company representative to aid in your project's estimation:
A clearly defined feature set
An API specification for fetching data from the back end
A ready-to-use user interface mockup
These items will help companies quickly estimate your project. Consequently, a web development agency will be able to quickly evaluate your project's budget and deadline.
Closing words
As a startup owner, you need to find an agency that will help you avoid wasting your time and money. We recommend choosing the best Vue.js development agency from the list above. We've selected the top Vue.js development companies that offer a perfect blend of top-quality product development and affordability. Additionally, you can use the instructions shared in this post to find other Vue.js development agencies and examine them thoroughly to make the right decision.
FAQ
Vue.js is one of the most popular frameworks. It's used by many famous companies all over the world, including the following:

GitLab
Euronews
Trustpilot
BMW
Xiaomi
WizzAir
Grammarly

Startup owners frequently choose Vue.js because it has a simple learning curve. Moreover, it's a feature-rich framework that enables building alluring web interfaces. Therefore, Vue.js is one of the best options for startups.

Vue.js is an open-source frontend JavaScript framework that isn't supported by one particular company. Instead, it is a community-driven framework. Vue.js is maintained by its creator Evan You, along with core community members.