Services

Industries

Company
Most popular websites on Ruby on Rails. Part one
Most popular websites on Ruby on Rails. Part one
Lately, the specialized IT-resources and forums became a place for discussions of the Startup Success Stories. When a group of people or a company decides to be engaged in a particular programming language, they seek for examples of successful implementation of the technology. Value of Ruby and Ruby on Rails to implement startups quickly is a burning issue in such disputes and interchange of views. Fast and relatively simple design allows to set up project production, get first profit within a short period of time, which is critical for a trial project, and move on up and coming. One more advantage that we see as Ruby on Rails developers is that Ruby is younger than other programming languages. Programming on Ruby means getting rid of stereotypes and focusing on current trends in the market. Let's follow the examples of successful projects created on Ruby and Ruby on Rails framework.
Twitter
Issue of Ruby and Ruby on Rails use or non-use in Twitter will be surely discussed as long as RoR and Twitter exist. A well-known instant messaging service has been written on this programming language, and few would argue that the startup has completely justified investments and expectations. Simplicity and elegance of code allowed to bring previous ideas of ​​posting to an entirely new level. Critics constantly present Twitter as an example of the fact that after a while it was revised in the Scala programming language. For some reason skeptics forget to note that Twitter programming team does not intend to abandon Ruby on Rails as the back-end to generate the output content to the users. In order to increase productivity and implement the complete control over execution of the code, another programming language was used for some server daemons, which provide internal communication between components of the project features. Since the multi-million user load on the service at particular time has exceeded the expectations of the developers.
GitHub
It is notable that GitHub, one of today's most popular services for the programmers, is also implemented on Ruby programming language and Ruby on Rails framework. GitHub is used by developers to share their projects and develop in cooperation, as well as keep track of version history. Any user can create a repository to store a particular project and share it with others if needed. Collaborators can browse project files and source code with syntax highlighting, download or change archetype. GitHub membership allows to participate in a huge variety of open source projects. Today millions of people successfully use the service. GitHub even received an award as "Best Startup Debut".
Basecamp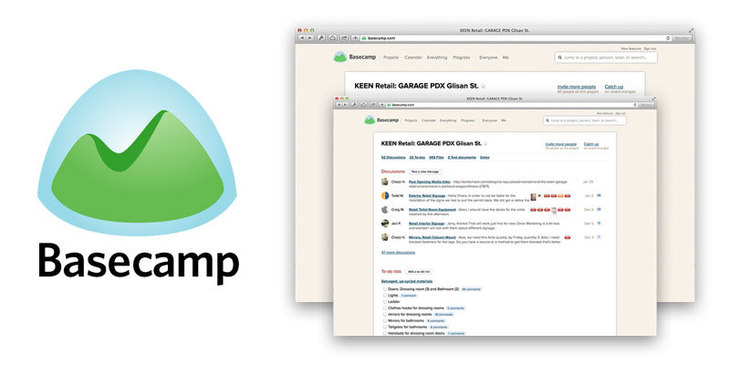 Basecamp, a popular project management service was also based on Ruby and Ruby on Rails framework. In fact, the particular RoR framework itself was initiated and established within the development of this project, which now unites more than 4 million users. Since the release in 2004, it has been constantly improving: the developers provide access to API, support mobile clients, constantly present widgets and plug-ins for integration with third-party products. Among the main advantages of the service - ease of use and intuitive interface, integration with popular software development services, ability to create custom add-ons. Each project implies features to set up discussion, add text or other documents, manage task list and calendar. The administrator can control the degree of project readiness and supervise the activity of each participant. Latter years showed us plenty of alternatives, but a very small number of customers refused to use Basecamp – vice versa, the number and quality of projects is constantly increasing.
Kickstarter
There are few people who know nothing of Kickstarter, the system of independent project microfinancing. The title has become nominal. It's known as a crowdfunding platform, which, according to the creators, enables small businesses to create grandiose projects. Kickstarter implies a sophisticated system of microfinancing, interfaced with a mean of social network, but instead likes the users have the opportunity to support promising projects with a reasonable amount of money. Today, the service designed on Ruby on Rails in 2009, annually accumulates tens of millions of dollars for other projects around the world, including various kinds of web development. The Kickstarter interface is simple and accessible, and the exploitation associated with primary features within its adequate implementation. Great value, as is obvious to guess, is given to the integration with payment systems.
Yammer
Yammer, The first ever corporate microblogging service since its launch in 2008, has achieved incredible results. The project has become an inherent part of more than 80 thousands companies. Today, Yammer is already positioned not just as a microblogging service, but as a full-fledged social network for corporate communication within the company. The latest version of the service, written on the Ruby programming language and Ruby on Rails framework technologies, includes a number of features, such as setting goals, data collection and evaluation of ideas, poll system, a tool to organize events, activity feeds. Also, the developers have implemented the ability to create and install clients' own customized applications to extend the functionality of the system.
Slideshare
Slideshare platform was launched as an application for the LinkedIn network in 2008 and has been developing rapidly since that, and business industry has successfully used the creative potential of a new service to solve problems. Slideshare allows users to store and post their ready computer presentations (eg, PowerPoint), text documents and videos. Slideshare service also includes ability to mark favorite presentations and share them by means of social networks, and send invitations by e-mail. In general, Slideshare is now a kind of social network where users fill their profiles and adds their projects. The service provides additional features that do not exist in traditional text material systems. It's obvious to emphasize the visual channel of information transfer. Slides include visual content and text. Images, graphs and charts provide quick transfer and consumption of information.
Zendesk
Zendesk is a leading provider of cloud software for technical customer support units. The platform allows companies work with incoming requests of end users easier. Zendesk was founded in Denmark in 2007 and has gained popularity worldwide since. Now the number of its clients reached 20 thousands. Project includes support forums, databases and member areas. It also provides access from mobile devices (both for clients and for the employees of tech support), and integration with social networks (Facebook and Twitter). The main feature of the new tool is a design editor that allows integrate a self-service portal using the design of one's site. All these cool features became possible using the Ruby programming language as the basis of the technical service.
Bloomberg
Ruby and Ruby on Rails have become the basis for a site that does not require representation - Bloomberg - is one of the largest world financial and economic news agencies, established in 1981. Today the primary site provides economic and financial summaries that are essential as for separate businesses and international corporations. The website provides various content regarding the world economy. The intuitive interface lets clients easily operate sorts of charts, tables, summaries, videos and multimedia applications. Thousands of specialists all over the world generally start a day with this site.
Subscribe via email and know it all first!