Services

Industries

Company
Most popular websites on Ruby on Rails. Part two
Most popular websites on Ruby on Rails. Part two
In the previous article we have already covered such great websites built with Ruby on Rails as Twitter, Basecamp, Kickstarter, Yammer, Slideshare, Zendesk and Bloomberg. Now is the time to uncover some more awesome projects using Ruby on Rails.
Scribd
Scribd is the service for storing digital documents. Founded in 2006, the service positions itself as a library of scientific articles and a tool for viral spread of presentations. It is based on the following model: the clients do not buy a book (movie, music), but pay a small monthly fee for the use of the entire library. The project is aimed at the most conservative part of the network users. For those to position the Internet not as a "new universe", but only a mean of modernized analogue of a bookcase. SCRIBD now is a fully operational social network. Its active users not only have a sufficient number of communication tools, but also a unique culture of communication integrated in the interface. Anyone can subscribe to a particular author and read other people's documents in the news feeds or using search. The service functionality includes avatars, contacts, profiles, rankings, statistics and recommendations.
Codecademy
Сodeacademy is one of the most popular services providing programming courses. The service helps to learn programming to all those who want to establish own companies or wish to become programmers, but do not have necessary technical skills. Today's Codecademy user base has more than 20 million profiles worldwide. Fresh users operating with the set of lessons, learn to write simple functions and create more complicated applications. The project attracts with its simplicity, interactivity and a learning system provided in the form of the game. Recently, the service released its app for iOS, which will help potential users to take the first steps in programming.
Gumroad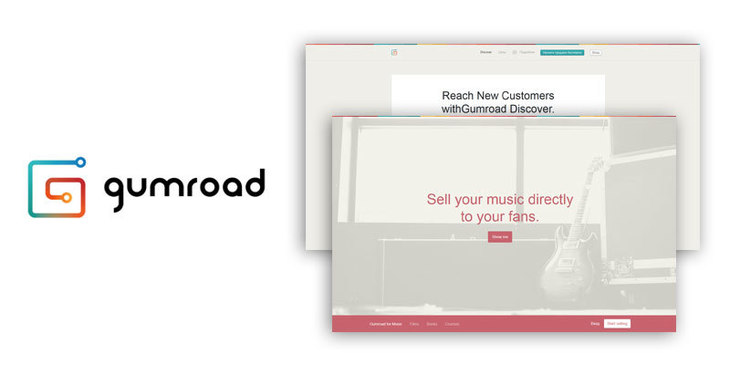 Gumroad is the sales platform for any self-made digital content: music, photos, self-written books, etc. The service is very simple to use for the potential buyers. Users can simply log in via Facebook or Twitter, enter a reference to any type of content (or download it), set the price, and then a link that can be used at any site in the network is to be provided. Although the Gumroad startup is just a bit older than a year and its team includes only three programmers, the service is becoming quite popular and has recently received a multi-million dollar project financing for further development of the concept.
Indiegogo
Indiegogo is a Crowdfunding platform based on the principles of openness, transparency, freedom of choice and action. The project was launched in 2008 and is the ancestor of Kickstarter. Initially, the platform specialized in fundraising for establishing individual movies, and then the project has expanded its activities in all industries and has become the first international crowdfunding platform. It is intended to finance any works partitive or completely without restrictions on the type of projects. It may be technological (without prototype), entertainment, educational, and charitable.
500PX
Since its foundation in 2003, 500px gained significant popularity among the people involved in photography. Compared to other similar sites 500PX is highlighted by the fact that it is a photo hosting, focused primarily on cooperating with professionals. The main objective of the service is to provide photographers from around the world with a place to share experience, obtain adequate criticism, publish portfolio and learn about new genres and techniques. 500PX is now a kind of a social network. Service positions itself as a photo community, which unites creative people around the world", which allows to find, share, buy and sell inspiring photos conveniently.
Uservoice
The developers of the Uservoice helpdesk-service decided to use game mechanics to make support staff and customers more than just satisfied, but happy. Support teams compete against each other within the project concept and earn points. If the client is satisfied with the response, one may give operator a virtual prize - a star that is worth a lot of points. It's noticeable that UserVoice also deserves much praise for convenience and functionality. In particular, it makes it easy to install a form to accept requests and new ideas on one's site. Customer requests can be taken by means of email, and an operator can answer the same way (in this case it will all be logged as tickets in helpdesk).
Find more beautiful sites developed in Ruby on Rails in our next article
Subscribe via email and know it all first!