How to Test Your MVP without Significant Investments
5851 views
13 min
Jul 21, 2020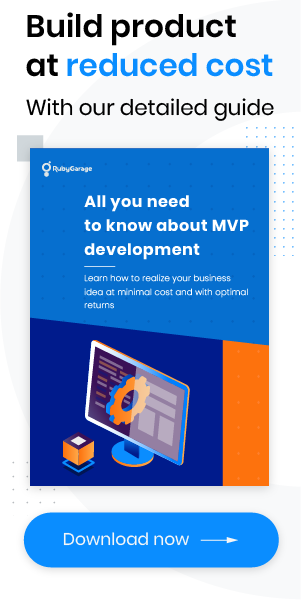 If you don't want to join the 90 percent of startups that fail in the first year after launching, an MVP is a great tool to keep yourself out of these statistics. When starting with an MVP, you can get feedback fast before launching a fully fledged product or service. This approach allows you to accurately determine your target audience and save significant money. But how can you test your business idea with a minimal feature set? After studying the materials below, you'll know the answer to this question. 
Reasons to start your product with an MVP
An MVP is an early version of your fully fledged software solution. It's the foundation upon which you assemble your software house. Starting with an MVP is a suitable approach both for first-time startups and mature businesses that want to launch new products and validate their business ideas fast. 
Netflix is a great example of how an MVP helps validate a business idea. The company started as a DVD rental website that was designed to validate two hypotheses:
People don't like late fees for video rentals.
People will love selecting films to watch through a website while sitting at home and then getting a DVD.
Netflix started as an MVP in 1997, operating only in a few blocks. The MVP was a success, and the business expanded to deliver films to almost 300,000 customers by 2000.
Here are more benefits you can get when starting your product development with an MVP: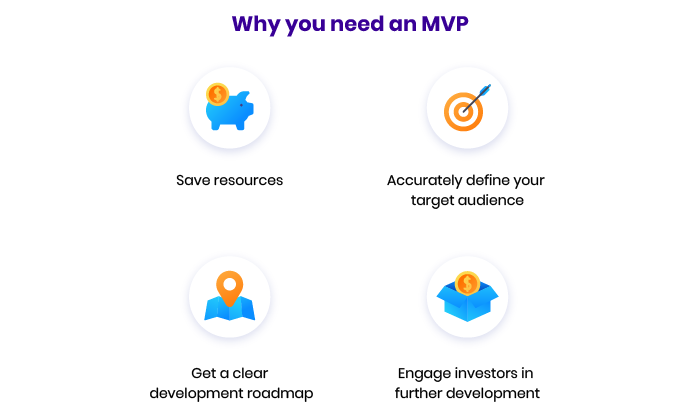 Save resources
It may take a lot of time and money to develop a product with all the features you want. These investments aren't always justified, and there's a high risk of failure.
Initially, users will buy your digital product to solve their main pain points. Advanced features and a sophisticated design are secondary elements for them. An MVP allows users to achieve their goals using a minimal feature set. This means developing such a product requires less time and money than developing a full-featured product. Here are some other ways an MVP can help you save resources:
Less chance of bugs. Due to the minimum amount of functionality, an MVP is less error-prone than a complete product. Accordingly, you'll spend fewer resources on retesting and redevelopment. 
Fast customer feedback. When starting your product with an MVP, you can test your business idea on real users, gather feedback, and improve your software faster than you could using a fully fledged product. This approach helps you speed up development and invest time in features that potential users expect. 
Reduced investments. Early feedback is valuable because it helps you understand which features you need to add or remove from your MVP. This practice allows you to avoid additional costs for functionality that doesn't bring value.
Optimized expenses. With an MVP, you don't need to invest all your money at once as a fully functional product requires. Expenses for an MVP are distributed throughout the development period and are often repurposed from finances received in the early stages.
Accurately define your target audience 
According to CB Insights, 42 percent of startups fail because there's no market need. An MVP is a great way to test your business idea on many markets and find the one that needs your product the most. This approach allows you to:
clearly define your target audience and its problems
craft a superior solution that satisfies the pain points of your target audience
think through your marketing campaign that's catered to end user needs.
Targeting a well-defined audience can give your product impetus and attract solvent customers at the early stages of your startup.
Get a clear development roadmap 
After determining your target audience and market niche, it's much easier to set your product's development path. An MVP helps you find out whether an idea is valuable for end users, if it's able to solve their pain points, and how you should develop it further. How does it help you do that? With feedback. Your early users will provide you with feedback on the changes or additions they want to see in the final version of the product. Thus, you can focus only on necessary functionality and minimize your risk of failure. 
Many startups didn't begin as the products we see now. Consider Instagram, for instance.

Instagram is known to everyone. But few people know how the application changed to meet users' demand. 
The first version of Instagram appeared in 2010 and was available only on the App Store. The launch of the MVP coincided with the release of the new iPhone 4, which had a revolutionary camera. The Instagram application targeted a beneficial sales market and audience, as it was intended for square photos of the size captured by the iPhone 4 camera. The first edition of the app had limited functionality. Basically, users could only add filters to photos and publish them in their profiles. 
As technology developed, Instagram adapted the application and made changes based on user feedback. In 2012, the app was already available not only for iOS users but for Android users to expand the target audience.
After Facebook acquired Instagram, the application underwent several changes: it gained the ability to record 15-second videos and a feature for exchanging personal messages. Later, the app provided users with the ability to post photos in vertical and horizontal formats in the original quality.
Instagram gradually transformed from an MVP into a full-fledged application. Thanks to user feedback, the company charted their development path and modified the app.
Engage investors in further development 
Investing is a risky business. Investors are cautious in choosing startups to allocate their funds to. An MVP with constantly increasing traction looks convincing and can persuade people to cut a check. 
Use your MVP to get the first feedback and pique customers' interest. Explain how you're going to transform your MVP into a full-fledged product to demonstrate the viability of your idea to potential investors. 
Now that you understand the importance of starting your business with an MVP, let's take a look at the most useful ideas for MVP testing.
How to test your MVP 
Below, we list several beneficial ways to test your MVP to ensure that your business idea is viable.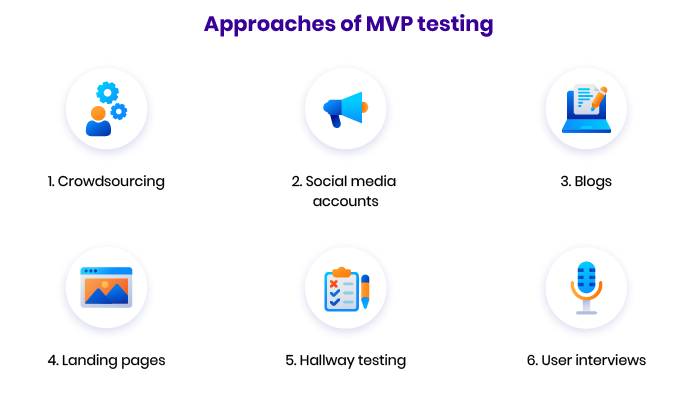 #1 Crowdsourcing
Using a crowdsourcing approach, you have a chance not only to get investments for your startup but to check how appealing your business idea and MVP are. 
When choosing this route, you first need to choose a platform like Kickstarter, IndieGoGo, or Patreon through which to present your idea. After launching a crowdfunding campaign, you should analyze it. If you observe backers' interest and receive investment, it means your idea is appealing to the market. 
For example, the startup Petcube, founded in 2012, aimed at creating an entertainment box and mobile app to allow pet owners to keep an eye on their pets while they're out. This startup idea aroused such interest that over the course of two Kickstarter campaigns it raised $500,000, which was two times more than anticipated.
However, the result of a crowdfunding campaign can be opposite. If you see weak activity and don't get at least minimal investment, it's worth revising your idea. Not all first-time founders have enough experience to make crowdfunding work. If your campaign isn't going anywhere, make adjustments to the idea and try again.
If you choose this approach to test the viability of your MVP, you should track how active your backers are and what they say about your product. Backers can also give you some great ideas to improve your MVP and make it even more appealing. 
Although you can't reach out to your target audience directly to find out if they're interested in your product, demonstrating ideas on crowdfunding platforms allows you to attract a wider group of people and discover potential new markets.
#2 Blogs
When it comes to MVP promotion, a blog is an effective option.
To take advantage of blogging, choose a platform where you'll share posts about your MVP with the world. There are several options. The first is to create a blog from scratch using tools like WordPress or Ghost. This method is convenient because you can create a simple blog without any technical background. 
The second option is to publish information about your MVP on public websites like Medium. When you choose this option, you don't need to build a blog; you can just share stories using a personal account. 
The advantage of a blog is that you can get closer to your audience. To attract readers, post stories that happen behind the scenes of product creation, tell about developers, and share the story of your MVP idea. Use storytelling to win over users and gain their attention before releasing a full-fledged product. Although a blog doesn't require a lot of investment, you'll still need to provide quality content. To do this, you can hire an experienced copywriter to write appealing articles.
To conduct MVP tests, ask readers to subscribe via email. This will help you understand how many people are interested in your product. Analyze the data collected through email subscriptions and draw conclusions on how many potential customers want to try out your product and who those customers are.
#3 Landing pages
A landing page is a one-page site that provides detailed information about a product and includes various calls to action (CTAs) ‒ buttons that nudge visitors to take a desired action. A landing page is a great tool to attract organic traffic to your MVP.
When creating a landing page for your MVP, include a short description of what your product is and what it does as well as the benefits it can give to your users. To test your MVP idea, provide your software product in return for users' emails. This will provide you with emails of your potential customers and a communication channel through which you can directly provide product information. 
Buffer is an outstanding illustration of how to use a landing page to validate your MVP. Joel Gascoigne, the founder of Buffer, decided to test the idea that people wanted a product to schedule their tweets.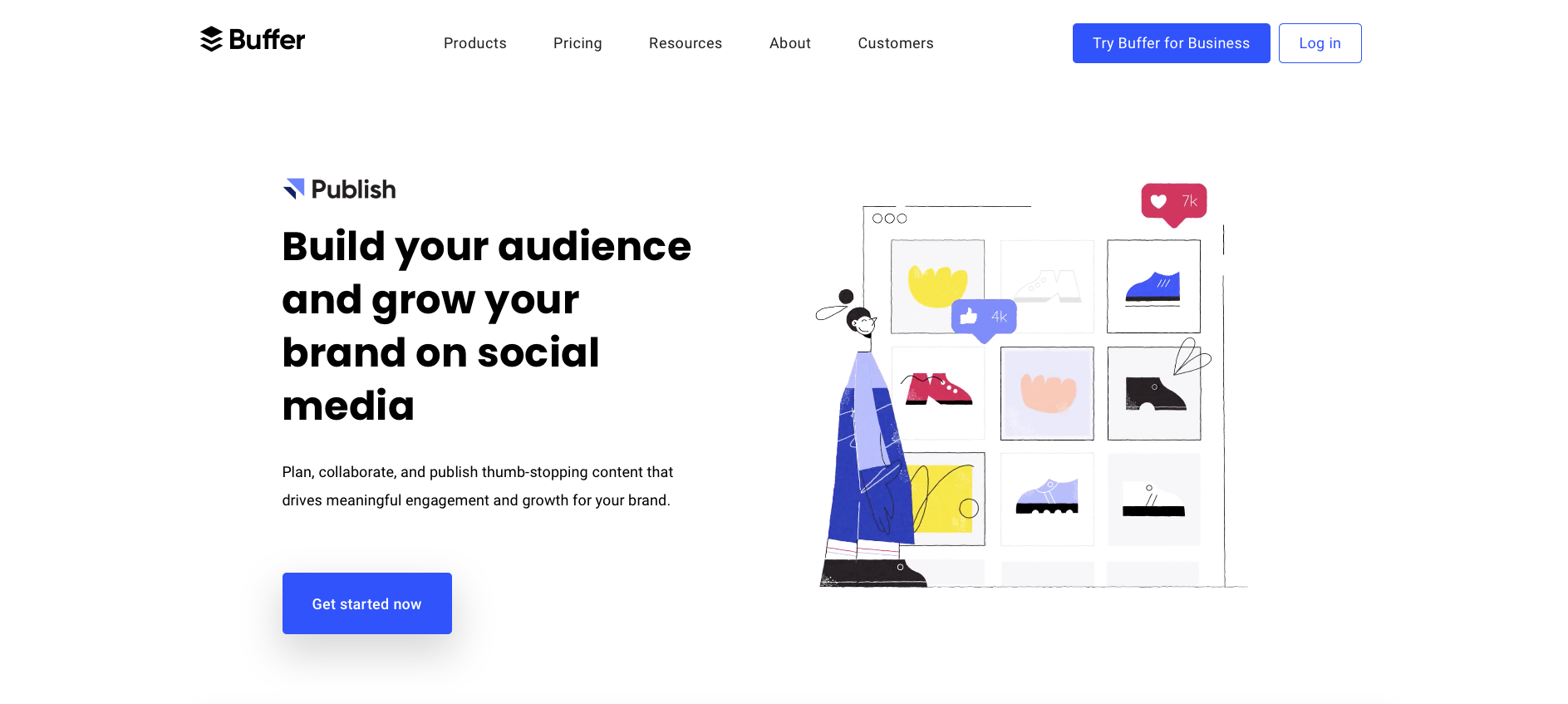 Joel created a short landing page where he described the functionality of Buffer and added a price list and CTA. This approach helped to validate the idea and attract Buffer's first users.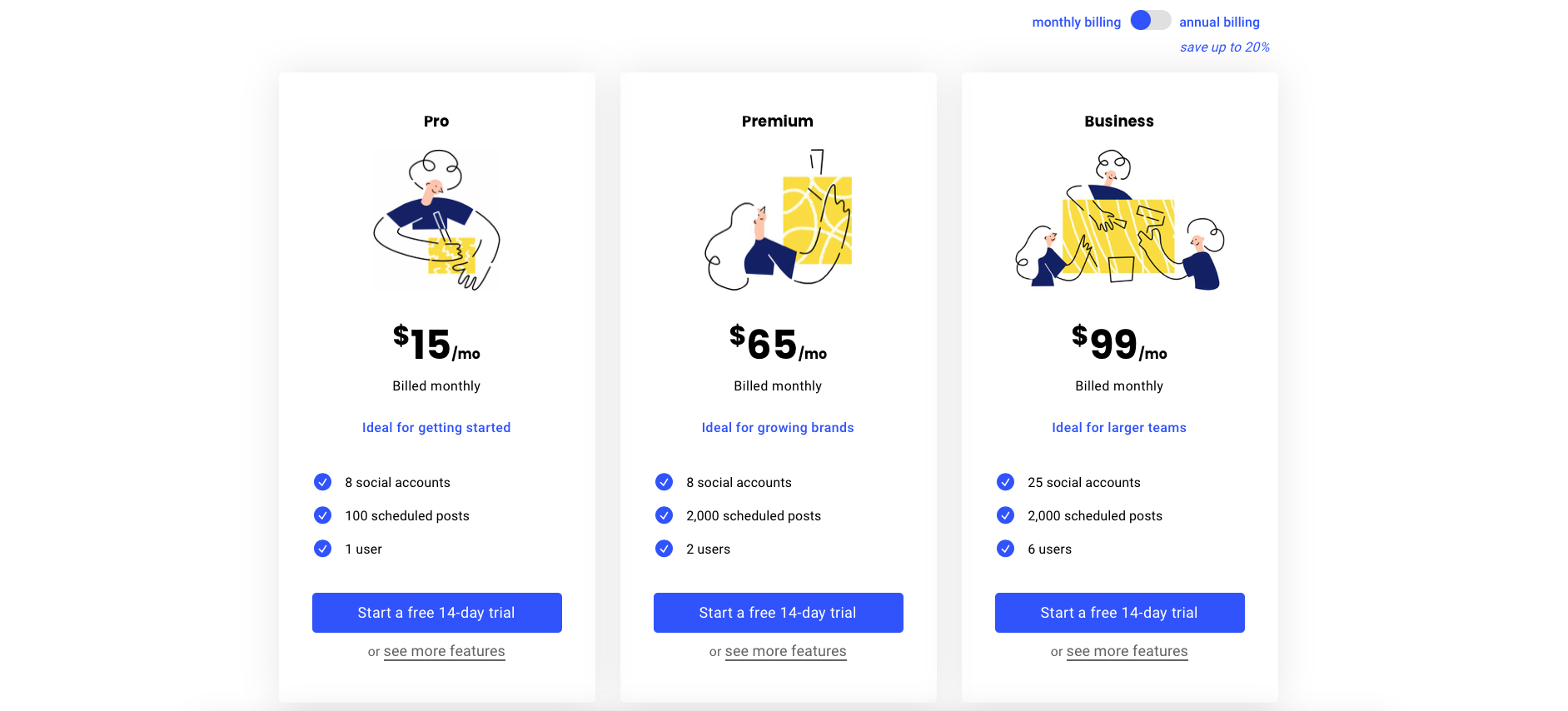 A landing page is a versatile tool that will help you understand how many people are interested in your product and provide you with valuable insights about visitors to your site. Besides, this method of idea validation requires minimum time and money. There are a lot of platforms you can use to create a landing page in a matter of hours. 
You can choose a tool to create a landing page depending on the financial capabilities of your startup. You can use Wix to start. Wix provides a free version; however, you'll need a paid subscription to access more templates and tools. Choose one of four plans from $4 to $12 per month to get wider functionality. Another suitable platform for a startup landing page is Launchrock. The premium version of this service costs only $5 a month; however, the free version is fine for promoting an MVP. 
#4 Social media accounts 
Social networks are another way to carry out MVP tests. Your choice of platform on which to promote your MVP will depend on your target audience's preferences. Using this approach, you become the PR manager of your minimum viable product to check the reaction of your potential customers and get their honest comments.
Showcase your MVP on a social network and add a link where users can test it. Post photos and short videos of your MVP. Describe its features and tell what benefits users will receive when opting for your software solution. Thanks to the tools built into social networks, you can:
analyze the number of likes and shares to find out if your potential users are interested in your product
communicate with your target audience using comments or private messages to discover what features they want to add or what problems they encounter when using your MVP
see the whole picture of the target audience based on collected data.
Users are typically more active on social networks compared to blogs and landing pages. By promoting your MPV on social networks, it will be easier for you to reach your potential audience and analyze their reaction to your MVP. 
#5 Hallway testing
To test the usability of your MVP, you can use hallway testing. The idea of this approach is that you ask random people walking down the hallway to test the usability and intuitiveness of your MVP. It's important to choose people who don't know anything about the product and are coming across it for the first time. Ask these people to complete several tasks to see how they cope. If they face problems accomplishing these tasks, it's worth considering changing some features or UI elements of your MVP.
Hallway testing allows you to understand whether your product is intuitive and how easily users can interact with it. Besides, this approach doesn't require hiring trained specialists and helps you save money.
#6 User interviews
One of the most effective ways to find out if your MVP deals with users' pain points is to ask your users. 
As an option, you can demonstrate your MVP at conferences and gather visitors' feedback about it in person. However, this approach is time-consuming and less informative. Here are several ways to collect high-quality data at minimal cost:
Gather a database of potential users on social networks and offer them to test your MVP. Then ask a few questions regarding your product and analyze their answers.
You can also use built-in pop-up banners or notifications in your mobile or web MVP to ask users if they like your product. To conduct such a survey in a fast and nonintrusive way, use a star rating system or thumb ups and thumbs down symbols.
If your MVP is a mobile application released on the App Store or Play Store, analyze the number of downloads, your app ratings, and comments. This approach allows you to find out if your audience likes your application, what features they don't like, what features are lacking but expected, and what features are worth changing.
The main goal of this testing method is to collect a large amount of data from real users. The more information you collect, the more chances you'll have to find your niche, develop a product that will have market demand, and avoid additional expenses.
In conclusion 
An MVP isn't the final product but rather part of the process of its creation. Only thanks to a large number of tests can you understand what your MVP is missing and what's worth changing. In this article, we shared MVP testing methods that don't require significant investments. Use them and find out if your idea will work.
FAQ
To save resources
To define your target audience
To map your development path
To attract investors for further development

If you're looking for experienced specialists to build your software product, we offer a wide range of MVP services.

You can use the practices listed below to validate your MVP:

Crowdsourcing
Social media account promotion
Blogs
Hallway testing
Landing pages
User interviews

There are several ways to interview users and get feedback:

Invite users to test your MVP and then ask their opinions about the product.
Ask your users to evaluate your mobile or web MVP using built-in pop-ups or notifications.
Check the Apple App Store or Google Play Store and analyze feedback from your users.