Go-to Strategies For Six Types of Grocery Apps
21014 views
9 min
May 08, 2018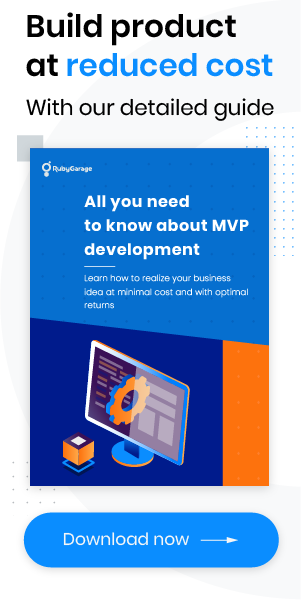 Online grocery stores have a lot of growth potential as consumers are looking for innovative ways to make their lives easier. According to Statista, the US online grocery market will reach $29.7 billion by 2021. Different kinds of grocery apps cater to the diverse requirements of grocery shoppers. Let's have a look at what kinds of mobile apps you can create to grow your grocery business.
Shopping list apps
When it comes to shopping lists, pen and paper are so past tense. A grocery shopping list app allows users to:
quickly add items to their lists;
save lists for future use (no need to rewrite the same list);
share lists with other users;
update lists online (people can edit the same shopping list from different accounts);
get notifications when someone edits a list;
get reminders to buy a standard list of groceries.
Who can benefit from a shopping list app?
Shopping list apps are mainly in demand among families who want to closely track their budgets. Grocery suppliers and entrepreneurs may be interested in building this type of grocery app. As an MVP, a grocery list app can just provide a shopping list and nothing more, and such apps have proven quite successful. For example, all that Buy Me a Pie and ShopIt do is help users create shopping lists and keep them in sync with family and friends. To attract more people and keep them using the app, a shopping list app should contain some unique features. For example, an app can be integrated with recipe apps like How to Cook Everything to automatically add ingredients to shopping lists.
Monetizing shopping list apps
There are different approaches to monetizing shopping list apps. Let's consider some of them.
In-app adds. Grocery iQ has taken this approach. Your shopping list app can contain ads for foods and drinks, grocery stores, and even other apps (for example, food delivery apps).
Ad-free version. OurGroceries contains in-app ads, but users can upgrade to get rid of the ads.
Premium version. Users can upgrade their accounts to premium in order to access premium features such as looking up items by taking photos of them or scanning barcodes.
Grocery delivery apps
With grocery delivery apps, it's now possible to buy groceries without leaving home. Generally, these apps can be divided into two categories: apps for hiring someone to go to the store for you, like Instacart and Shipt, and apps that operate more like virtual grocery stores, like Peapod.
A grocery delivery app allows users to:
search for products quickly and easily;
schedule deliveries in advance or order on-demand;
hire local shoppers to handpick items, ensuring that orders include fresh produce, for example;
shop by recipe;
see past purchases (and easily shop from a list of things they've bought before).
Who can benefit from grocery delivery apps?
According to a survey by the National Grocers Association, one-third of customers in the US have downloaded an app to order groceries. This means that teams of local shoppers, supermarket chains, and online grocery stores have a great opportunity to grow and scale their grocery businesses with grocery ordering apps. Busy working people and millennials who don't want to spend time waiting in line at the supermarket are the perfect audiences for grocery delivery services.
Monetizing grocery delivery apps
Now let's have a look at some of the most effective ways to monetize grocery ordering apps.
Delivery fees. For faster delivery, users can pay an extra fee. Or delivery fees may be higher during busy shopping times.
Higher prices for groceries. An ordering app can offer slightly higher prices for groceries than at a brick-and-mortar store.
Subscriptions. A Shipt membership costs $100 a year, or $14 per month, and with that subscription members get free delivery on orders that exceed $35.
Grocery rebate apps
Using rebate apps, people can save money on their groceries without needing to cut or print out coupons. All users have to do is download an app, buy the items listed in the app at the grocery store, take a photo of their receipt and upload it, and wait to get paid.
One of the best examples of a grocery shopping rebate app is Ibotta. Using Ibotta, people can earn cash back on travel, dining out, or making purchases in the app. Then users can cash out and get gift cards and travel coupons so they can continue shopping and continue earning.
Another example of a rebate app is BerryCart. It's unique in that it pays users for eating healthy. Whether they're eating gluten-free, organic, or non-GMO, BerryCart gives them access to unique cashback offers just by buying healthy products.
Grocery rebate apps allow users to:
earn cash back on orders;
unlock savings with cash back rebates before they start shopping;
get paid via check or PayPal;
earn cash for scanning receipts;
filter rebates to see only those that are valid at a given store;
get notifications on the latest deals and coupons.
Who can benefit from grocery rebate apps?
Mall owners, national retailers, and independent retailers may be interested in making a rebate app to increase customer loyalty and encourage customers to buy from them. Everybody wants to save money, so the target audience is wide: families, frequent grocery shoppers, and people on tight budgets, like students.
Monetizing grocery rebate apps
Let's look at some of the most efficient approaches for monetizing a rebate app.
Commission. Ibotta receives commissions from retailers on purchases.
In-app ads. You can make additional revenue by making users watch sponsored videos or ads.
Ad-free upgrade. If users don't want to see ads, they can turn off ads for a fee.
Coupon apps for grocery shopping
A grocery coupon app can attract customers to shop at a certain store. Offering coupons through a mobile app can encourage more downloads and increase sales.
For example, Yowza offers pretty good opportunities to save. While most couponing apps are user-driven, Yowza allows retailers to upload coupons and offers, which usually results in better savings. People can also search for their favorite stores even if they're outside their area. With a library of more than 70,000 retailers, Yowza offers a huge selection of coupons that users can save to their accounts for future use.
A grocery store coupon app lets users:
upload, clip, and scan coupons directly on their smartphones;
get notifications to keep up with ever-changing sales and discounts;
get in-store reminders about saved coupons;
get coupon expiration alerts;
follow friends from their address book, Facebook, or Twitter accounts;
share couponing activity to Facebook.
Who can benefit from grocery coupon apps?
A grocery shopping coupon app can help independent retailers and national retailers improve their businesses by reaching their target audiences, namely couponers who want to support local businesses.
Monetizing grocery coupon apps
Grocery coupon apps can be monetized effectively in several ways:
Working in collaboration with brands and retailers. Customers can buy products using an app and get coupons for products from different brands and stores.
Working in collaboration with supermarkets and showing in-app local ads. Every time users are near a certain supermarket, the app can show potential savings.
Grocery price comparison apps
Thanks to grocery store price comparison apps like ShopSavvy, users can easily save on groceries by comparing prices when buying and finding the lowest price. Grocery price comparison apps allow users to:
search and compare prices;
receive daily promotional price updates;
compare prices directly from their shopping lists;
compare prices with different units of measure (volume, weight, length, and area);
access promotional leaflets;
get notified when the app finds a good deal.
Who can benefit from grocery price comparison apps?
Comparison shopping is a trend right now, especially among online shoppers. According to PPC Hero, consumers use apps to find the cheapest grocery prices online and see what's available in stores. This means that grocery suppliers, entrepreneurs, and retailers can take advantage of the demand for price matching apps. These apps are mainly in demand among people who want to closely track their budgets.
Monetizing grocery price comparison apps
Let's take a look at some efficacious ways to monetize a price comparison app:
Collaborating with supermarkets. Users can see ads with current promotions and discounts on groceries or see ads for new/seasonal items.
Premium version. Users can upgrade to premium accounts that give access to premium features such as seeing what's in stock nearby and where to find the best price.
In-app purchases. User cans get additional features for a fee. For example, they might be able to scan any barcode to compare pricing and get additional product recommendations to help them find the right product at the right price.
Supermarket-specific apps
Many supermarkets, including Whole Foods, Trader Joe's, and Sam's Club have their own apps for shoppers to provide access to coupons, deals, and weekly circulars. Some even allow users to create their own shopping lists, store gift cards electronically, and order deliveries ahead of time.
Supermarket-specific apps allow users to:
create and save lists that are organized by aisle;
share lists with other family members;
scan products to quickly and automatically add on-hand items to their shopping lists;
clip and scan digital coupons directly on their smartphones;
get store information including hours, phone numbers, and driving directions.
For example, Walmart built their own mobile app to let people shop smarter and faster. The app makes in-store shopping easier by helping customers find items quickly, check prices, make lists, and get store information. The Walmart mobile app also contains a feature that enables users to quickly and securely pay from their smartphones in Walmart stores.
Wegmans has their own app too, that includes shopping lists, digital coupons, and recipes. Users can save their favorite recipes from the Wegmans menu magazine right to their own recipe box. The app also contains a product scanning feature that allows users to quickly and automatically add on-hand items to their shopping lists.
Monetizing supermarket-specific apps
There are several effective ways to monetize supermarket-specific apps:
Shipping fees. Shipping fees may vary depending on the destination and size of the order.
In-app purchases. Users can buy extra features, for example, built-in recipe books.
It's time to build an on-demand service
If you're looking to develop a grocery app, get in touch with us and our experts will help you develop an app according to your business needs.