All vacancies
UI/UX Designer
As a UI/UX Designer, you will work on creating effective, user-oriented design solutions for our clients based in the USA, Europe and Asia. We assure interesting and socially useful projects, the latest technology stack, ability to learn new design practices and use them in your work.
Apply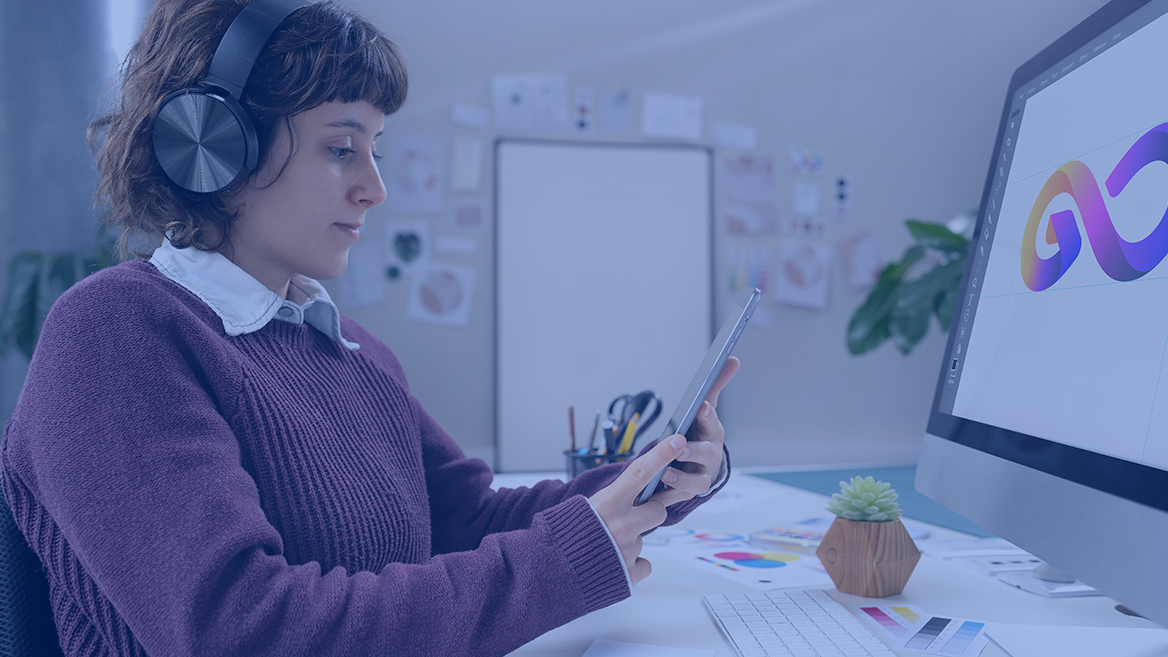 Responsibilities
Collaboration with stakeholders and team members to develop digital product design solutions;
Conducting competitor research to determine best practices and design patterns in the market;
Development of UI/UX Design concepts for digital products;
Creation of the main design workflow artifacts: Sitemap, Key user flows, Wireframes, Moodboard & Concept, Responsive UI Mockups, UI Kit & Style guide;
Development of wireframes and creation of UX and UI prototypes for web and mobile applications (iOS, Android);
Ensuring the quality of interfaces implemented by developers through the acceptance of HTML/CSS and Frontend developers' work;
Conducting a UX audit of digital products;
Development of concepts for the company's Dribbble and Behance;
Carrying out a review of the work of other designers;
Finding and using new approaches and design practices in work.
Requirements
Experience as a UI/UX Designer or a similar position for at least 3 years;
Extensive professional portfolio of UI/UX design work for web and mobile platforms that demonstrates user focus and problem solving skills;
Experience in designing Web and Mobile interfaces, creating prototypes;
Experience with Responsive Design;
Advanced Figma knowledge. Wireframing and Prototyping in Figma; Knowledge and usage of all Figma functionality: components, styles, options, auto-placement, etc.;
Experience in creating the main design workflow artifacts: Sitemap, Key user flows, Wireframes, Moodboard & Concept, Responsive UI Mockups, UI Kit & Style guide;
Ability to work with guidelines of various platforms (Apple, Google);
Experience in conducting competitor research and Usability tests;
Understanding the functionality of Web-versioning tools (HTML, CSS, JavaScript);
Good knowledge of typography, excellent sense of color, understanding of composition;
Deep understanding of UX (research, user flow, prototyping, analytics);
Ability to maintain a holistic approach to visual style throughout the digital project lifecycle;
Ability to justify the adopted design decisions;
Knowledge of the English language at the Intermediate level and above.
Would be a benefit
Product design skills:
conducting user experience research, validation of UX solutions;
conducting design workshops, interviews to identify business requirements for product design solutions or validation of UX product solutions.
Experience working with Principle.
Professional certification.
We propose
Product approach of creating UI/UX Design;
A clearly defined workflow - you don't need to figure out how to work, we give you all the tools and tell you how to use them;
Work on long-term and large projects that include all stages of new product development (research phase, definition of key user flow, wireframing, responsive UI mockups, clickable prototypes, style guide);
The possibility of choosing and applying modern methods, and tools in the work, using the atomic design methodology;
Motivation and support from the company in improving the qualification level (drafting of a Professional Development Plan, partial compensation of training costs, attending conferences, obtaining certification);
Compensation review every 6 months upon achievement of business goals;
Support from the company's own projects and initiatives, help in forming a Personal Brand (support for participation in conferences, speaking engagements, educational projects);
Compensation for the cost of visiting health and sports centers;
English lessons with a native speaker;
Opportunity to work remotely around the world.
Apply
Why you?
You have strong experience as a UI/UX Designer in the IT field and deep knowledge of UI/UX design technologies and tools. You keep focus on creating user-oriented design solutions. You are open to work in a team, discuss ideas and share knowledge with your colleagues to achieve the best results. You are results-oriented and have developed self-management skills. If all these points are about you, then you are exactly who we are looking for. With RubyGarage, you will be able to fully reveal your creative potential and grow as a professional. Sounds tempting? Do not hesitate and send us your resume!
1
Make an impact on
your income
We are focused on the result.
You will have a salary review based on your achievements every six months.
2
Follow convenient
processes
We follow convenient processes with a clear split of roles. You will always know your scope of responsibilities and won't engage in multitasking.
3
Improve your
skills
We offer mentoring, the personal development plan, and various learning opportunities for our employees.
4
Work with
pleasure
We take care of our team. Gifts for the holidays, an extended vacation, and a friendly atmosphere you want to return are waiting for you.
5
Work with
professionals
We support cross-functionality and constantly share experiences between different teams.
6
Discover
yourself
You can grow both in your specialty and change the direction of activity. We always support you!
We are happy to discover new talents. Want to join a dedicated and friendly team?
What's

next?
We will carefully review your professional experience to determine the best career opportunity within RubyGarage.
The Talent Acquisition Specialist will arrange a meeting to present your personal career opportunity. They will introduce RubyGarage as a company and tell you about our cooperation benefits, qualifications, and financial development.
We will support you from the first touch till the final job offer - we value every applicant, regardless of position.