All vacancies
Sales Representative
As a Sales Representative, you will be responsible for presenting RubyGarage services and helping our leads to define, state, and solve their problems with the help of our expertise in creating software solutions.
Apply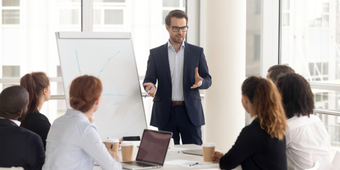 Responsibilities
Campaign planning and creating a communication strategy for sales according to ICPs, marketing data and research
Working with a Lead Generation Specialist
Leading the client after the lead generation process until the deal is closed
Making presentations of the company's services, the benefits of cooperation, and explaining the software development cycle to potential customers
Identifying the needs of potential customers
Helping the client describe their business model, communicating with clients in their words
Preparing and submitting requirements in the User Story Map format
Evaluating the User Story Map with design and development teams
Cooperation with development departments, identification of terms and conditions for fulfilling client requirements, their coordination
Preparing and presenting commercial proposals and estimates to potential clients
Closing deals
Requirements
2+ years of experience in sales
Experience in sales of outsourcing services
Understanding the software development lifecycle
Ability to write sales copy
Ability to identify problems and needs of potential customers
Ability to form proposals to customers
Presenting skills
Experience in creating Business Model Canvas or Lean Canvas
Ability to elicit functional requirements and create User Story Maps
Experience with CRM systems and automatic communication systems
Ability to analyze, change and improve processes
Ability to troubleshoot and resolve problems and conflicts independently
Willingness and ability to work in a team
English level Upper-Intermediate or higher
Would be a benefit
Higher education in marketing
Experience in cold sales (calls and emails)
We propose
Opportunity to sell promising products and work with foreign market
Working with a team of pros
Influencing the development of the sales process
Opportunity to work with clear and automated workflow
Sales bonuses
Opportunity for professional and personal growth based on Personal Development Plan.
Compensation review every 6 months upon achievement of business goals.
Wide opportunities for education and professional development, participation in external and internal training programs, seminars and conferences
Opportunity to work remotely around the world
Compensation for the cost of visiting health and sports centers
Mentorship from more experienced colleagues
Paid vacation and sick leave
English lessons with a native speaker
Apply
Why you?
Is it easy for you to determine the needs of a potential client? You're pro at making offers that are impossible to refuse? You love communicating with foreign clients? If yes, we would love to have you in our team! We strive to work with people who are ready to take on challenges in order to develop professionally. If you strive to grow and share knowledge and experience, we are glad to see you in our team.
1
Make an impact on
your income
We are focused on the result.
You will have a salary review based on your achievements every six months.
2
Follow convenient
processes
We follow convenient processes with a clear split of roles. You will always know your scope of responsibilities and won't engage in multitasking.
3
Improve your
skills
We offer mentoring, the personal development plan, and various learning opportunities for our employees.
4
Work with
pleasure
We take care of our team. Gifts for the holidays, an extended vacation, and a friendly atmosphere you want to return are waiting for you.
5
Work with
professionals
We support cross-functionality and constantly share experiences between different teams.
6
Discover
yourself
You can grow both in your specialty and change the direction of activity. We always support you!
We are happy to discover new talents. Want to join a dedicated and friendly team?
What's

next?
We will carefully review your professional experience to determine the best career opportunity within RubyGarage.
The Talent Acquisition Specialist will arrange a meeting to present your personal career opportunity. They will introduce RubyGarage as a company and tell you about our cooperation benefits, qualifications, and financial development.
We will support you from the first touch till the final job offer - we value every applicant, regardless of position.