How to Manage an Offshore QA Team to Overcome the Challenges of Outsourcing
10031 views
14 min
May 21, 2020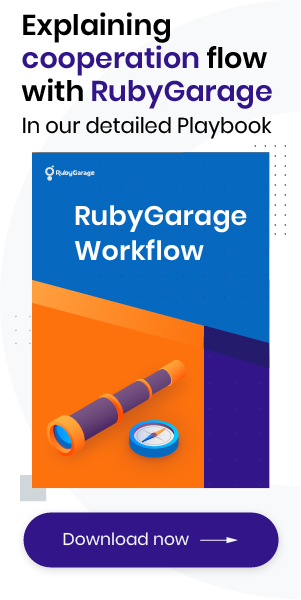 Although the value of the global outsourcing market reached $85.6 billion in 2018, some business owners still avoid working with offshore QA teams even though they lack quality assurance engineers within their own organizations. One reason for that is concerns and myths connected with outsourcing. In this article, we provide useful tips on how to manage an offshore QA team efficiently and get the most out of outsourcing testing tasks. 
How to overcome the challenges of managing offshore QA teams 
In this article, we list the challenges business owners most frequently face while working with offshore QA teams and give some ideas on how to overcome them.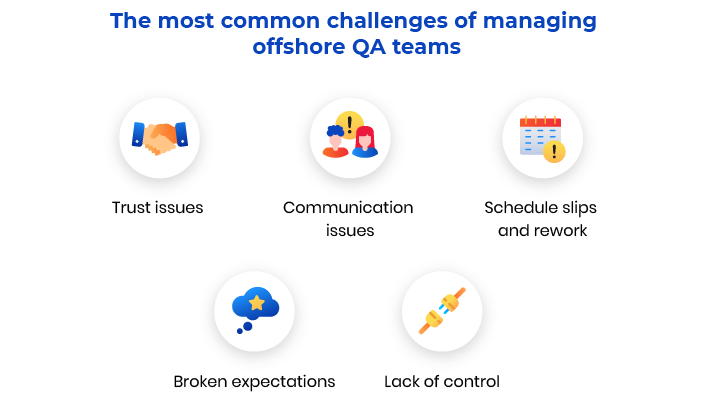 #1 Trust issues
The first challenge you may encounter is choosing a trustworthy team so you can be sure your company's products and information are safe and sound. Outsourcing requires more trust from your side than working with an in-house team, as you don't have a chance to supervise the testing process. Let's review some tips that can help you solve trust issues with an offshore quality assurance team.
Check reviews
As there are many offshore development companies to choose from, outsourcing teams strive to provide the best service to their clients and protect their reputations. There are a lot of websites that allow you to check reviews of outsourcing companies and their services and leave your own feedback about companies you've cooperated with. On Clutch, Goodfirms, and G2 you can check out detailed company reviews by clients outlining the specifics of projects, results of cooperation, things that could be improved, and overall feedback.
Ask for recommendations
Entrusting your quality assurance check to a company that was recommended by your colleagues or partners is much easier than entrusting it to an unknown entity. You can ask someone you know about the process they've been through with a team of testing engineers, the drawbacks of working with this particular team, and other vital details.
Sign a non-disclosure agreement
A non-disclosure agreement (NDA) is a contract between two or more parties that establishes the confidentiality of information they share. This agreement should be signed before any confidential information is disclosed. 
An NDA helps to protect confidential information about your project and the whole idea behind your startup. If you're concerned about telling an offshore QA team about the particulars of your product, sign an NDA before giving any details.
#2 Communication issues
Effective communication is a critical part of project management. When working with an offshore QA team, it's even more important. There are several common issues that may be an obstacle to effective collaboration with an offshore QA team. 
Language barrier
When you're searching for testing specialists with strong technical skills and lots of expertise, don't forget about their level of English. 
Let's look at the most common issues that may arise because of language barriers.
Issues with implementing new processes
As software testing progresses, you or your team might find ways to optimize product development. This may require several changes to the flow of quality assurance checks. In such a case, you need to provide your offshore QA team with documentation regarding new procedures and things you want to change. If your team's knowledge of English is insufficient, they may have a hard time understanding the changes you want to implement and following the new procedures. 
Issues with giving and receiving feedback
When cooperating with an offshore QA team, feedback is essential for your developers to fix bugs fast. Language barriers may get in the way of necessary feedback from testing engineers or may result in misunderstanding feedback provided by developers. These issues can cause huge delays in testing and development. 
Besides, comments may be misinterpreted by team members, which can deteriorate the work climate and lower the efficiency of testing. 
Issues with goals and objectives
All your team members, both in-house and offshore, must agree on the same goals. However, goals are hardly achievable when they're misunderstood. When offshore team members lack the necessary English skills, you need to put additional effort into delivering your view of the project's goals.
Issues with management efficiency
Project or team leaders help to organize a team's workflow to enhance both efficiency and quality. However, if there are language barriers, managing a team becomes quite a challenge.
To make sure members of the offshore team you're going to cooperate with speak English fluently, you can try interviewing several key team members rather than only interviewing the team leader.
Cultural differences
Although cultural differences may not seem the most vital in organizing a productive workflow, they can significantly influence the overall testing process. 
The cultural environment where your testing team is located and the social context in which your team members live influence the way they make business decisions, solve problems, and cooperate with others. 
Here are the key points to pay attention to when working with an offshore team from a different culture.
Attitude toward authorities
The way a team communicates with management may influence the testing process. Social behaviors that may affect communication with management include striving to be polite and respectful, avoiding disagreements and contradictions, and saying what's expected. This may result in a distorted view of the testing process.
Level of formality
Pay attention to differences in formality between your in-house and offshore teams. People in some cultures and teams address each other formally, while others prefer informal communication. Most outsourcing companies try to notice how communication takes place in the client's company and adjust their communication to match the client's standards. 
Communication styles
Prejudices and stereotypes affect the way people communicate. Team members might avoid asking for clarification or help when needed, admitting mistakes, or saying no (even if they want to), as it's considered rude in some cultures. 
Definitions of common concepts
Mind that your in-house and offshore teams may have a different view of the main concepts they're working with. Discuss concepts that are critical for your project with your offshore team to ensure you're on the same page. 
Decision-making
People in different cultures make decisions differently. For example, Americans tend to make decisions fast, while Scandinavians strive to reach consensus, which takes considerably more time. Scandinavians base their decisions on social factors, while Arab cultures rely more on personal connections and opinions of friends and family members. When working with an offshore QA team, get acquainted with their organizational structure and decision-making process. 
Talking about mistakes
Get to know how team members treat discussions about mistakes. Learn whether they're okay openly talking about mistakes, as some cultures think this may hurt and discourage team members. 
Sometimes, people may require clarification of things that seem obvious to you. To learn how to manage an offshore QA team efficiently, learn the team's cultural peculiarities and always clarify crucial moments in the testing process to ensure you're on the same page with your test engineers. 
Time differences
A huge time difference may lead to delays in communication and feedback and can slow down the overall testing process. According to a survey by GoodFirms, 30.77% of respondents consider time differences a huge challenge in outsourcing.
If possible, try to find a QA team with at least several overlapping working hours. This way you and your team can give and receive feedback and answer questions with little or no delay.
The RubyGarage quality assurance team uses a communication plan as an efficient solution to deal with time differences. This plan defines the activities to be performed, people who should be given specific information about the testing process, timeframes when information should be delivered, and communication channels to be used. Here's an example of a communication plan we created for an Agile project: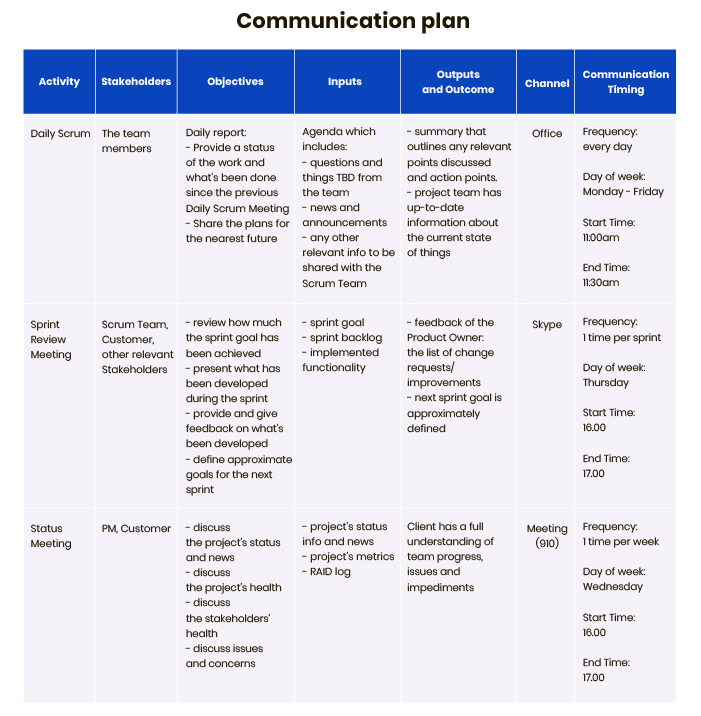 Misunderstandings
You and your team may view the testing process and its goals differently. Let's review several ways to ensure your quality assurance check goes the way you want.
Use a communication plan
This document helps you deal not only with time differences but with misunderstandings. It explains when, how, and to whom particular information should be delivered to drive positive testing outcomes. Besides, having a communication plan can provide you with the following benefits:
Understanding of the big picture. A communication plan makes sure team members and the customer communicate frequently, see how the testing process is going, and can track progress toward reaching testing goals. 
Increased productivity. A communication plan helps managers establish each team member's tasks and role on a project. When employees see the tasks they are in charge of, they feel that they contribute to the project and are valuable. As a result, their motivation and efficiency rise. 
Better management. By conducting regular meetings, leaders can monitor the testing process and keep team members engaged to avoid delivery delays.
Follow-up emails
Regular meetings with your offshore team are essential for successful testing. However, they aren't enough. To ensure that all points discussed in your meetings are clear to all team members, one party to the meeting should send a follow-up email. A good follow-up email should include the following:
Topics discussed. A follow-up serves as a meeting recap. Include the points you discussed in the meeting chronologically or by topic.
Takeaways. List the decisions you made during the meeting and the main points you agreed on. 
Actions to be taken. Include the actions and steps all participants are expected to take after the meeting. 
Date of the next meeting. Mention the date of the next meeting you're going to have with the team. 
It's essential to send a follow-up email as soon as possible when team members still have the main points of the meeting in mind. Also, don't forget to reply to a follow-up email if you're the one who receives it. 
Efficient communication between QA and development teams
Software development and software testing are indivisible processes, and it's vital to get the development and testing teams to work together. 
To provide smooth and efficient cooperation between teams, make them communicate as often as possible. Set up communication channels to allow developers and QA engineers to interact easily. Clarify the role of each team member so it's clear who should be contacted in each particular case. 
Even though you're working with an offshore team of testing engineers that's located far away from your in-house team, try to treat them as your own team and don't let the distance be a barrier.
#3 Schedule slips and rework
When developing a software product, the time to market matters, especially for startups. It's crucial that an offshore QA team can keep up with the deadlines and deliver bug reports fast. How can you achieve that?
Set a clear workflow
To avoid delays in product testing and allow your developers to fix bugs as soon as possible, an offshore QA team should have a clear workflow. Get to know the way your test engineers work and coordinate their actions with the workflow of your developers. 
Provide your offshore testing team with as much information on your company processes as possible. Specify the project management approach your development team follows and the stage of the software development lifecycle your project is currently in. This will provide insights into your company's workflow and will help you create a clear plan of cooperation between teams. 
Create a RACI matrix
A RACI matrix is used to assign roles and responsibilities for each task on a project. RACI stands for the roles of people on a project: responsible, accountable, consulted, and informed. 
Responsible — The person responsible for completing the task
Accountable — The person that delegates tasks to others and approves the work delivered
Consulted — The person who gives input before the work is started; usually a subject matter expert
Informed — Someone who should be kept up to date on project progress and decisions made; the informed person usually does not directly contribute to tasks or decisions
A RACI matrix can be created for the whole team of developers and quality assurance engineers as well. Here's an example of a RACI matrix created by the RubyGarage team: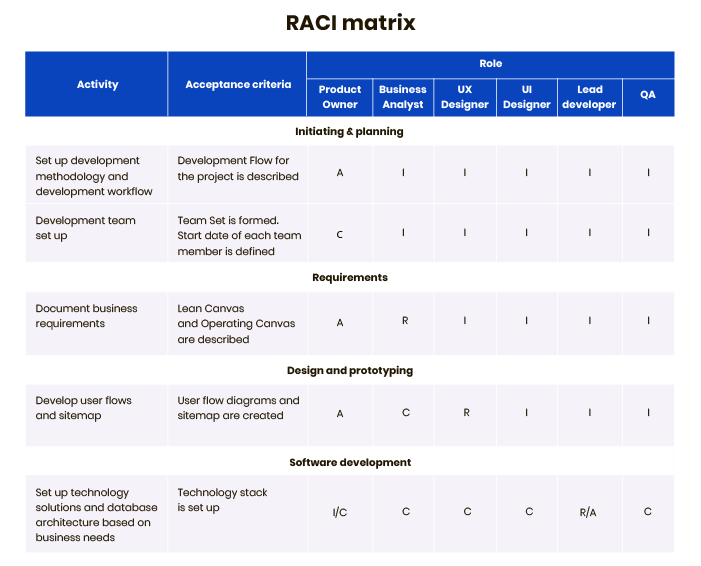 A RACI matrix may help you:
Reduce confusion. A RACI matrix makes it easy to understand the responsibilities and tasks of each team member so all team members know exactly what is expected of them. 
Assess workloads. A RACI matrix allows managers to track the workload of team members. Thus, managers know exactly who can take additional tasks and who has already taken more than they can handle. 
Set priorities. Creating a matrix allows you to use resources wisely and stay within your project budget.
Facilitate communication. With a RACI matrix, team members can see who has what responsibility and know exactly whom to contact if they have a question. 
Recap
Schedule slips and delivery delays are common issues for any project. However, you can minimize them if you're using the right tools. 
#4 Broken expectations
You and an offshore team you hire to conduct testing may look at the quality assurance check from different angles. Thus, at the end of the process, you may receive results that don't meet your expectations. Let's see how to avoid such a situation. 
Set clear expectations
At the beginning of collaboration, experienced offshore QA teams usually elicit a client's expectations of the testing process and ask about the results the client wants to get by the end of the quality assurance check. Here are the main things you need to share to avoid broken expectations at the end of the testing process:
General testing expectations. Before starting the testing process, QA engineers need to know the problems you want to solve, criteria for evaluating the success of testing, time frames, and resources you can devote to testing. Having this information allows the testing team to assess your product issues and see if it's possible to meet the deadlines with the given resources.
Testing priorities. You and your vendor need to discuss the functionality to be tested, the main users of the product, and the platforms and devices to be included in the testing process. Your testing team should inform you about types of testing applicable to your project and the benefits they can bring so you can decide what types of testing to use. 
Expected results. Specify the content and format of bug reports as well as the necessity to attach logs. You and your team should discuss what bugs are important and which are not significant and choose a bug tracking system. You should also agree on the format for reporting results and the information reports should contain. Test engineers need to know what activities, on top of the testing itself, will be included, such as tools configuration and environment setup. Also, you need to decide how often regression testing and retesting will be performed and how often new builds will appear. 
Communication. Choose communication channels and agree on the frequency for regular meetings and other types of reports. You should also clarify what information you want your team to provide, such as test descriptions or time reports. 
#5 Lack of control
Not being able to ensure that test engineers are making progress on your project testing is one of the biggest challenges of managing offshore QA teams.
As soon as you start working with an offshore testing team, show your intention to receive regular reports on testing results. Specify the exact information you want to be included in the reports, the report format, and other details to keep the testing process transparent.
Wrapping up
Although managing an offshore QA team may seem challenging and risky, you can organize smooth and fruitful cooperation between your in-house and offshore teams by applying the right approaches and working with an experienced software testing team.
.
FAQ
The most common challenges businesses face when managing offshore QA teams are:

Trust issues
Communication issues
Schedule slips and rework
Lack of control

You can avoid misunderstandings in communication with an offshore QA team by:

Creating a communication plan
Sending follow-up emails after meetings
Ensuring efficient communication between developers and QA engineers

You can check reviews and clients' feedback about software testing companies on Clutch, GoodFirms, and G2.

If you're searching for a trustworthy vendor of quality assurance services, contact RubyGarage. We'll make your software product testing smooth and straightforward.